| | |
| --- | --- |
| Guests | 6 |
| Bedrooms | 3 |
| Bathrooms | 2 |
| Allows Pets | No |
Property Info
THIS PROPERTY ONLY RENTS ON A FRIDAY TO FRIDAY SCHEDULE - 7 NIGHT MINIMUM REQUIRED
ROOM LAYOUT:
1st Floor: King Bedroom, Full Bedroom, Two-Twin Bedroom, Bathroom with tub shower, Covered Deck
2nd Floor: Kitchen, Dining Room, Living Room, 1.2 Bathroom, Laundry room, Deck
Top Level (Open Balcony): Queen Bed - Futon sitting area with amazing views

DOGS PERMITTED? Dogs are NOT considered at this property.

Once you arrive at this beautiful setting at the southern end of Rackliff Island, you won`t want to leave.

'The View' has incredible views of Norton Island and the wide-open Atlantic Ocean. Seals and birds as well as lobster boats frequent the area in front of the property. Rackliff Island is located in the town of St George near the Village of Spruce Head Island. This island is accessible via a car-driven causeway. Private, yet close to Rockland, Thomaston and Camden, Rackliff Island is a popular vacation destination. A beach is located 1/2 mile from the house - see photos for reference.

This short drone video shows the property and surrounding landscape/seascape in August 2016...
Details
OWNER BOATS INCLUDED?: No, in fact - this property is not appropriate for boating from.
LINEN/TOWEL RENTAL FEE: Yes, a linen/towel towel rental fee of $125 per rental applies. Guests may add additional towels through the reservation process. Learn more about our linen & towel rentals on the Rental Guidelines Page of our website.

SECURITY DEPOSIT: No, the owner of this property does not require a security deposit, however, guests are still financially responsible for non-accidental damages at the property.

PROPERTY SPECIFICS:
Cleaning: The property will be professionally cleaned before and after the rental. Above normal cleaning charges will be billed to guest at $30 per hour.
Washer & Dryer: Yes
Dishwasher: Yes
Coffee Maker: Yes, Standard automatic drip with filters
Trash Removal: Included with rental
Water Source: Well water, OK to drink from tap
Air Conditioning: No, but fans are located in each bedroom
Heat Source: Forced hot air furnace
Fireplace Usable: Yes
Outdoor Fire pit: Yes
Internet Access: Yes, with Wi-Fi
TV: Yes, basic cable service with DVD
Grill Yes - Propane Gas Grill
Closest Shopping Village: Rockland, 9 Miles away
Number of Restaurants within 5 Miles: 4
Water Frontage: Ocean
Property Good For Fisherman: No
Beach Access: Not at Property, but a beach is 1/2 mile walk away (shared access on island for all residents)
Dock/Pier Access: No
Additional Amenities: Minimum Standards List
Google Map
Calendar
Jun - 2017
S
M
T
W
T
F
S

1

2

3

4

5

6

7

8

9

10

11

12

13

14

15

16

17

18

19

20

21

22

23

24

25

26

27

28

29

30
Jul - 2017
S
M
T
W
T
F
S

1

2

3

4

5

6

7

8

9

10

11

12

13

14

15

16

17

18

19

20

21

22

23

24

25

26

27

28

29

30

31
Aug - 2017
S
M
T
W
T
F
S

1

2

3

4

5

6

7

8

9

10

11

12

13

14

15

16

17

18

19

20

21

22

23

24

25

26

27

28

29

30

31
Sep - 2017
S
M
T
W
T
F
S

1

2

3

4

5

6

7

8

9

10

11

12

13

14

15

16

17

18

19

20

21

22

23

24

25

26

27

28

29

30
Oct - 2017
S
M
T
W
T
F
S

1

2

3

4

5

6

7

8

9

10

11

12

13

14

15

16

17

18

19

20

21

22

23

24

25

26

27

28

29

30

31
Nov - 2017
S
M
T
W
T
F
S

1

2

3

4

5

6

7

8

9

10

11

12

13

14

15

16

17

18

19

20

21

22

23

24

25

26

27

28

29

30
Dec - 2017
S
M
T
W
T
F
S

1

2

3

4

5

6

7

8

9

10

11

12

13

14

15

16

17

18

19

20

21

22

23

24

25

26

27

28

29

30

31
Jan - 2018
S
M
T
W
T
F
S

1

2

3

4

5

6

7

8

9

10

11

12

13

14

15

16

17

18

19

20

21

22

23

24

25

26

27

28

29

30

31
Reviews
Write a Review
Robert
Lebanon, US
Reviewed: May 7, 2017
Property Manager
From booking to checking out it was a pleasure to work with On the Water in Maine. The staff was very knowledgeable, easy to work with and reliable.
Property
Property was exactly as expected, very clean and comfortable with gorgeous 'bold ocean' views.
Sandy
Wolcottville, US
Reviewed: Oct 19, 2016
Property Manager
Very good agency to work with.
Property
the view is awesome!wonderful stone fireplace too!
Walter
Gettysburg, US
Reviewed: Oct 6, 2016
Property Manager
Very polite and responsive to our needs.
Property
The view of the ocean is wonderful. The island is a quiet area. The beds and furniture are comfortable. Great outside decks, and a nice large dining room table.
Joann
Holland, US
Reviewed: Aug 27, 2016
Property Manager
Maine is our favorite vacation destination, and finding the right vacation home in the right location for our family is very important to me. I worked with another agency for our last vacation and there were glitches in their system which complicated the payment process and other issues which I found to be frustrating. The reservation, contract and payment process with On the Water in Maine was easy and painless. Contact by phone and via email was easy and all interaction was professional and appreciated.
Property
This rental was perfect for our multi-generational family (grandparents, parents and their children). My husband and I (grandparents) had the loft (3rd floor), which was large and spacious and easily accommodated our needs. I was especially appreciative of the very comfortable leather chair and ottoman situated by a large window which overlooked the beautiful ocean view. It was the perfect location to read or to sit in quiet reflection. The queen size bed was very comfortable, and screened windows allowed cool evening air and the sound of the ocean into the loft each night. Our two granddaughters (ages 8 and 3) shared a wonderful children's room with twin beds, while their parents each had a bedroom located in the same hall on the lower level (king bedroom for our daughter and son-in-law, and a double bedroom for our daughter) (1st floor). Both of these rooms overlooked the ocean and had direct access via sliding doors to the lower deck. In addition, we enjoyed the upper deck off the living room (2nd floor). The dining room with a very large table and benches allowed our entire family to enjoy meals and time together. We loved the direct ocean access to explore, the privacy and location, and the spaciousness of the home which was the perfect size for us.
Donna
Tewksbury, US
Reviewed: Jun 19, 2016
Property Manager
Agency is excellent to deal with. Please note that Justin at 'On The Water' was very responsive, helpful and professional with regard to the the barking dogs issue.
Property
Setting for this property is peaceful, the view is absolutely beautiful and overlooks the ocean with Norton island to the left. We enjoyed the sound of the water lapping against the rocks below. This house has big generous rooms throughout. The top floor has plenty of windows letting in the light and features ocean views from both the living room, dining room and loft. The first floor has 3 large bedrooms (2 with ocean views), and beds are comfortable. If additional sleeping space is needed, there is a bonus of a large loft area above the living room furnished with a couple of futons.
Disclosures
Smoking Is Not Permitted anywhere on or inside of any of our rental properties nor are those who may partake in tobacco smoking allowed to occupy any of our properties.

Occupancy may not exceed what is posted for each home. Maximum occupancy could include infants and children.

Amenities offered through On the Water in Maine Inc. are not available at all the properties we offer for rent. Boat Rentals through Maine Watercraft Rentals Inc. are offered Sunday morning to Friday after 4pm and include free delivery to the property. Check with an agent to find out what boats are available to rent at this property, or, when you process the booking here online, only the boats available for the property will be listed as available to rent.

Please see our Rental Guidelines Page for further questions regarding how to book this property and additional charges and fees. Contact a reservation agent for more details or to ensure you are booking the right property for you.
Town Info - St. George Peninsula (Rackliff Island, Port Clyde, Tenants Harbor)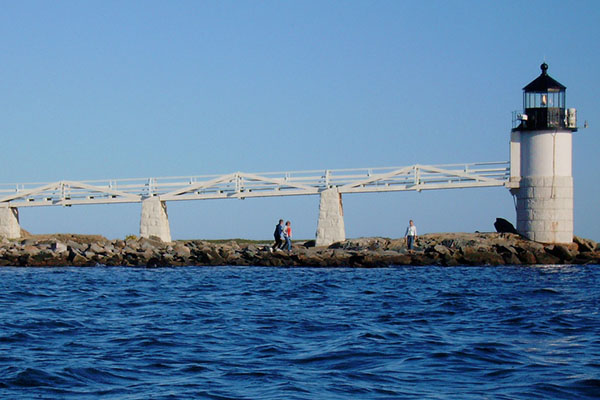 Primarily a fishing and lobstering community, St. George is made up of several distinct villages Clark Island, Wiley's Corner, Martinsville, Tenants Harbor, and Port Clyde. Although the harbor villages of Tenants Harbor and Port Clyde are the best known (and most visited), you'll find dining facilities, art galleries, and small businesses all along the diverse and beautiful coastal town.
| | |
| --- | --- |
| Shopping | 6 miles |
| Restaurants | 1 mile |
| Golf Course | 8 miles |
| Airport | 4 miles |
| Groceries | 3 miles |
Learn More