| | |
| --- | --- |
| Guests | 8 |
| Bedrooms | 4 |
| Bathrooms | 2.5 |
| Allows Pets | Yes |
| Property Size | 2,500 sq. ft. |
Property Info
THIS PROPERTY ONLY RENTS ON A FRIDAY TO FRIDAY SCHEDULE - 7 NIGHT MINIMUM REQUIRED
ROOM LAYOUT:
1st Floor- Living Room, Dining Area, Kitchen, Half Bath, Library, Laundry, Sunporch, Outdoor Deck
2nd Floor- Queen bedroom, Full Bedroom, Shared Tub-Shower Bathroom (renovated new in 2013), King Bedroom with En Suite Stall Shower Bath (renovated new in 2013), Bedroom with two twin beds.

DOGS PERMITTED? Dogs are considered at this property. All dogs must first meet our Pet Guidelines before being considered. J1

One of our signature properties, the Bayberry Cottage is located in the heart of one of Maine`s most beautiful areas- Cushing. This exquisite 4 bedroom cape is a beautifully appointed waterfront home with views of the Saint George River and Penobscot Bay from almost every room.

Located conveniently in the Midcoast area, the Bayberry Cottage offers the best opportunity for a vacation retreat. Relax in the stately comfortable rooms that are appropriately decorated in antiques with a nautical flair. The wicker sun porch is a comfortable place for evening cocktails and has a painted compass rose on the floor reminding you of the ever present allure of the sea. Travel outside to the open patio/deck, a great spot to watch the lobster boats traveling by while enjoying your morning coffee or a glass of wine.

A beautiful English garden separates the house from the ocean. The pier offers a good place to dock a large vessel if needed or provides a perfect spot for launching kayaks from the property. As a private dock, it is all yours to enjoy!


Details
BOATS INCLUDED? None, however SUP & Kayak Rentals are available from Maine Sport, 40 minutes north in Rockport. Sometimes, if the order is big, Ducktrap Kayaks will deliver to this property.

OFF-SEASON PRICING: In order to make some of our larger properties more attractive to smaller groups in the Off-Season, we`ve created a Custom Pricing Option. Pricing for rentals that occur in the advertised Off Season (1/1/18 - 6/14/18 & 8/31/18 - 12/31/18) for this property are based on 4 people. Additional people, up to the maximum allowed for the property, will be charged an additional $175 per person - per week if a rental occurs in these time-periods. Guest must select this option during the reservation process.
LINENS & TOWELS: The rental of this property includes all bed linens and towels. Beds will be made up upon arrival and there will be one bath towel and wash cloth per listed occupancy, two hand towels per bathroom, one bath mat per full bathroom, and two kitchen towels in the kitchen. Additional bath towels can be rented.

SECURITY DEPOSIT: No, the owner of this property does not require a security deposit, however, guests are still financially responsible for non-accidental damages at the property.

PROPERTY SPECIFICS:
Cleaning: The property will be cleaned before and after the rental. Above normal cleaning charges will be billed to guest at $35 per hour.
Washer & Dryer: Yes
Dishwasher: Yes
Coffee Maker: Yes, Standard automatic drip with filters
Air Conditioning: No - but fans are located in each bedroom
Heat Source: Furnace
Usable Fireplace: No
Outdoor Firepit: No
Grill : Propane Gas Grill
Trash Removal Service : Included with rental
Internet Access: Yes, with Wi-Fi
TV: 40 inch flat screen smart TV with WiFi and BlueRay DVD player, with basic cable
Water Source : Well water
Closest Shopping Village: Thomaston, 8 miles away
Number of Restaurants within 5 Miles: None
Water Frontage: Directly on the Tidal St George River
Beach Access: Rocky
Dock Access: Yes, Pier and shared Dock (with swim ladder), please note, there is only 2' of water at low tide at the dock.
Property Good For Fisherman: No
Additional Amenities: Minimum Standards List
Google Map
Calendar
Oct - 2017
S
M
T
W
T
F
S

1

2

3

4

5

6

7

8

9

10

11

12

13

14

15

16

17

18

19

20

21

22

23

24

25

26

27

28

29

30

31
Nov - 2017
S
M
T
W
T
F
S

1

2

3

4

5

6

7

8

9

10

11

12

13

14

15

16

17

18

19

20

21

22

23

24

25

26

27

28

29

30
Dec - 2017
S
M
T
W
T
F
S

1

2

3

4

5

6

7

8

9

10

11

12

13

14

15

16

17

18

19

20

21

22

23

24

25

26

27

28

29

30

31
Jan - 2018
S
M
T
W
T
F
S

1

2

3

4

5

6

7

8

9

10

11

12

13

14

15

16

17

18

19

20

21

22

23

24

25

26

27

28

29

30

31
Feb - 2018
S
M
T
W
T
F
S

1

2

3

4

5

6

7

8

9

10

11

12

13

14

15

16

17

18

19

20

21

22

23

24

25

26

27

28
Mar - 2018
S
M
T
W
T
F
S

1

2

3

4

5

6

7

8

9

10

11

12

13

14

15

16

17

18

19

20

21

22

23

24

25

26

27

28

29

30

31
Apr - 2018
S
M
T
W
T
F
S

1

2

3

4

5

6

7

8

9

10

11

12

13

14

15

16

17

18

19

20

21

22

23

24

25

26

27

28

29

30
May - 2018
S
M
T
W
T
F
S

1

2

3

4

5

6

7

8

9

10

11

12

13

14

15

16

17

18

19

20

21

22

23

24

25

26

27

28

29

30

31
Jun - 2018
S
M
T
W
T
F
S

1

2

3

4

5

6

7

8

9

10

11

12

13

14

15

16

17

18

19

20

21

22

23

24

25

26

27

28

29

30
Jul - 2018
S
M
T
W
T
F
S

1

2

3

4

5

6

7

8

9

10

11

12

13

14

15

16

17

18

19

20

21

22

23

24

25

26

27

28

29

30

31
Aug - 2018
S
M
T
W
T
F
S

1

2

3

4

5

6

7

8

9

10

11

12

13

14

15

16

17

18

19

20

21

22

23

24

25

26

27

28

29

30

31
Sep - 2018
S
M
T
W
T
F
S

1

2

3

4

5

6

7

8

9

10

11

12

13

14

15

16

17

18

19

20

21

22

23

24

25

26

27

28

29

30
Reviews
Write a Review
Tim
Key Biscayne, US
Reviewed: Aug 26, 2017
Property Manager
On theWater in Maine works like a Swiss watch. The owners and staff are professional and extremely welcoming and helpful
Property
The house and the views from everywhere were absolutely stunning. The house itself was beautifully laid out and perfectly suited for the number of people who stayed there. Every - and I mean every - kitchen item was perfect.
Jonathan
Long Beach, US
Reviewed: Jul 29, 2017
Property Manager
I have used vacation rentals many times and in several countries. On The Water in Maine is the most well-managed and detail-oriented agency I have used. They were very helpful and knowledgeable.
Property
Bayberry Cottage is an amazing property in a beautiful setting. Everything we could ever need for a perfect vacation was provided. The comfortable furnishings, beautiful decor and obvious love the owner puts into the cottage made our stay perfect.
Nicholas
Guilford, US
Reviewed: Sep 14, 2016
Property Manager
This is our third year renting through On the Water and, true to form, the agency was efficient, friendly and helpful before and during our stay at our rental. Because of personal circumstances, we had to arrive a couple of days late, and very late in the evening, at the start of our two weeks at the cottage, and Justin was helpful and very accommodating in response to this change in our plans.
Property
Bayberry Cottage is the perfect vacation property! We loved the gardens, the location and the thoughtful details for a comfortable stay that the owners have provided. The house is very comfortable ~ even on a rainy day (which we didn't experience the entire two weeks we were there!) when snuggling up on a couch with tea and a good book would be delightful! We toured the Olson property (A. Wyeth fame) while there ~ which is just down the road from Bayberry Cottage. We had our daughter and her husband with us for part of our stay, and they loved the place as much as we did. Thank you for offering this wonderful property for us to enjoy!
Paul
Woodstock, US
Reviewed: Aug 22, 2016
Property Manager
Very professional and courteous and thorough and welcoming.
Property
The location of the house is perfect. Wonderful views of, and access to, the water. On a quiet road, off a quiet road, in the quiet town of Cushing, but just a 25 minute drive to Rockland. Beautiful sunrises, sunsets and moonrises over the water. We'd be delighted to return.
Bert
Tarpon Springs, US
Reviewed: Sep 26, 2015
Property Manager
Smooth as silk, without any problems.
Property
The property is beautiful, the view perfect. We're sad to be going home.
Diana
Bridgewater, US
Reviewed: Sep 2, 2015
Property Manager Property
Kara
Needham, US
Reviewed: Aug 16, 2015
Property Manager Property
Theodore
San Francisco, US
Reviewed: Aug 1, 2015
Property Manager
Everything was great! We booked everything relatively last minute and overall it was seamless.
Property
When we arrived, we were immediately content with the decor of the house and the modern kitchen. Checking in was a breeze and we were able to kickoff our holiday without any headaches.
Anonymous
Reviewed: Sep 13, 2014
Property Manager
When we experienced a problem with the well, it was immediately fixed.
Property
The property is absolutely beautiful! As a gardener I was enchanted with the vast array of flowers, hydrangeas, lovely deck and dock. The decorating is comfortable and pleasing to the senses. Kitchen supplied better than mine! I can't think of anything one might need that isn't there.
Emil
Gainesville, US
Reviewed: Sep 13, 2014
Property Manager
It was great. No problems at all.
Property
We loved the location. Right on the water. Watching the lobster boats each morning was wonderful. The furnishing were beautiful. The gardens are amazing. Flowers blooming everywhere.
Patrick
Camarillo, US
Reviewed: Jun 28, 2014
Property Manager
Very well organized clear instructions makes makes things very easy for both the renter and the property owner.
Property
A really great house and property. It is more of a three bedroom versus four bedroom house . The view is tremendous.
Thomas
Reviewed: Oct 30, 2013
Property Manager
This is our 4th year of renting a vacation home with On the Water in Maine (and 2nd year at Bayberry Cottage). Everyone at your office is very friendly and accommodating. Just when we already thought you were the best at what you do, you top it. Delivering my husbands prescription medicine packages after we forgot that home to us at the house after we had sent to your office seemed like an easy thing, until we later learned that your office is over a 1/2 hour from the Bayberry Cottage. You delivered them as if it was an easy thing to do - and free of charge. Kudos to you!
Property
This was our 2nd year at the Bayberry Cottage - next year will be our 3rd! We've stayed in a lot of vacation homes around the world - and Bayberry Cottage has fit us the best. We love the well equipped "cooks kitchen", the deck off the back of the house, the new patio area down by the dock - and even just sitting on the dock itself. The welcoming furnishings that include a mix of antiques and Pottery Barn flare are just as I would furnish the house if it were ours. We especially love kayaking trips from the dock. Next summer, we may rent a power boat to explore a little further. You are truly lucky to have such a fabulous home!
Thomas
Omaha, US
Reviewed: Oct 19, 2013
Property Manager Property
G. Peter
Greenwich, US
Reviewed: Sep 1, 2013
Property Manager
This was the third time we rented a house through "On the Water in Maine" and we know the drill by now and are comfortable with it. Everything is efficiently organized and the entire renting and the arrival and departure process is hassle free. We would definitely not have repeated renting from OTWIM if it were different. We had three wonderful family vacations. As far as Bayberry Cottage - The house is exceptionally well maintained. Its kitchen and two bathrooms have obviously recently been renovated.
Property
Disclosures
Smoking Is Not Permitted anywhere on or inside of any of our rental properties nor are those who may partake in tobacco smoking allowed to occupy any of our properties.

Occupancy may not exceed what is posted for each home. Maximum occupancy could include infants and children.

Amenities offered through On the Water in Maine Inc. are not available at all the properties we offer for rent. Boat Rentals through Maine Watercraft Rentals Inc. are offered Sunday morning to Friday after 4pm and include free delivery to the property. Check with an agent to find out what boats are available to rent at this property, or, when you process the booking here online, only the boats available for the property will be listed as available to rent.

Please see our Rental Guidelines Page for further questions regarding how to book this property and additional charges and fees. Contact a reservation agent for more details or to ensure you are booking the right property for you.
Town Info - Cushing, Friendship & Waldoboro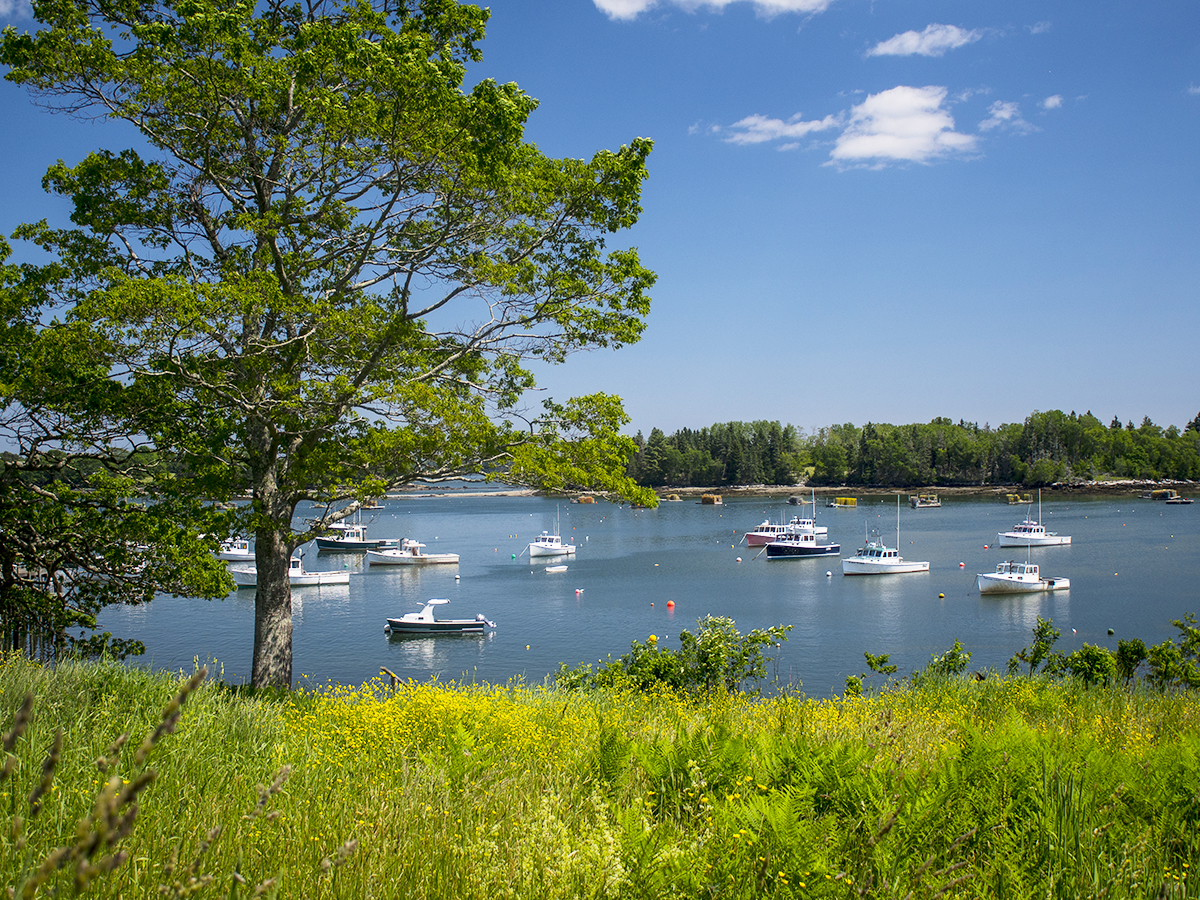 Cushing, situated on its own peninsula southwest of Thomaston, is famous for its saltwater farms and is at the heart of Maine's "Wyeth Country." Friendship is predominantly a fishing village whose major industry is lobstering and associated enterprises. Located west of Cushing on the same peninsula, Friendship the birthplace of the distinctive Friendship Sloop. Waldoboro is a pleasant town with a number of agricultural, commercial, and industrial enterprises. ...
Learn More