| | |
| --- | --- |
| Guests | 8 |
| Bedrooms | 3 |
| Bathrooms | 3 |
| Allows Pets | Yes |
| Property Size | 1,500 sq. ft. |
Property Info
THIS PROPERTY ONLY RENTS ON A SATURDAY TO SATURDAY SCHEDULE - 7 NIGHT MINIMUM REQUIRED
ROOM LAYOUT:
1st floor- Living Area, Dining Area, Gourmet Kitchen, Full bedroom, Bathroom with stall shower, Deck
2nd floor- King bedroom with en suite tub-shower bathroom and balcony, Bedroom with 2 Queen beds, Bathroom with tub-shower, Laundry
DOGS PERMITTED? Dogs are considered at this property. All dogs must first meet our Pet Guidelines to be considered.
This is an exceptionally well decorated and unique cottage, offering uncommon quality and comfort in Bayside and is on the southern end of the village. A short walk will have you at the beach in Kellys Cove, or at the park, beach and pier in the Bayside Village center. Looking out from the cottages deck, sliding glass doors or from the 2nd floor master bedroom balcony you can enjoy the ocean views in front of the house. There are some cottages and trees but the ocean is visible.

Entering the cottage you are greeted by the open living area including a well equipped gourmet kitchen, dining area for 8, and a comfortable sitting area. Tasteful furnishings and decor compliment the space. Although traditionally Bayside has become synonymous with times gone by; Altus Cottage is the opposite. Every space in the cottage offers the finest modern quality and craftsmanship with accents of simpler rustic details here and there.

Belfast is 4 miles to the north, Camden and Rockland are 15 miles to the South. Bar Harbor/Acadia National Park is less than 2 hours to the North and Portland is less than 2 hours to the south. It is a great home base property for exploring the Maine coast and enjoying a great historic summer community.

LEARN MORE ABOUT BAYSIDE: You can learn more about Bayside by visiting the Local Area Guide on Bayside on our website.
Details
BOATS INCLUDED?: None - there is no place to launch any from the property.
LINEN/TOWEL RENTAL FEE: Yes, a linen/towel towel rental fee of $150 per rental applies. Guests may add additional towels through the reservation process. Learn more about our linen & towel rentals on the Rental Guidelines Page of our website.

SECURITY DEPOSIT: No, the owner of this property does not require a security deposit, however, guests are still financially responsible for non-accidental damages at the property.

PROPERTY SPECIFICS:
Cleaning: The property will be cleaned before and after the rental. Above normal cleaning charges will be billed to guest at $30 per hour.
Air Conditioning: No - but fans are located in each bedroom
Heat Source: Furnace and radiant floor heating
Washer & Dryer: Yes
Dishwasher: Yes
Coffee Maker: Yes, Combination standard automatic drip with filters and K-Cup
Internet Access: Yes, with Wi-Fi
TV: Yes, with Blu-Ray/DVD player, No cable-satellite-antenna service. The Blu-Ray-DVD is Smart enabled for Netflix movie streaming (guests must provide their own account information)
Grill: Propane Gas Grill
Usable Fireplace: No
Outdoor Firepit: No
Water Source : Town water - okay to drink from tap
Trash Removal : Picked up on Saturdays
Closest Shopping Village: Belfast, 4.5 Miles away
Number of Restaurants within 10 Miles: 30 Plus
Water Frontage: No, this is a water view property
Beach Access: Yes, Public nearby
Dock/Pier Access: Yes, Public nearby
Deep Water Boat Mooring: Yes, Moorings are available for rental in the village
Additional Amenities: Minimum Standards List
Exploring Area
Google Map
Calendar
Jun - 2017
S
M
T
W
T
F
S

1

2

3

4

5

6

7

8

9

10

11

12

13

14

15

16

17

18

19

20

21

22

23

24

25

26

27

28

29

30
Jul - 2017
S
M
T
W
T
F
S

1

2

3

4

5

6

7

8

9

10

11

12

13

14

15

16

17

18

19

20

21

22

23

24

25

26

27

28

29

30

31
Aug - 2017
S
M
T
W
T
F
S

1

2

3

4

5

6

7

8

9

10

11

12

13

14

15

16

17

18

19

20

21

22

23

24

25

26

27

28

29

30

31
Sep - 2017
S
M
T
W
T
F
S

1

2

3

4

5

6

7

8

9

10

11

12

13

14

15

16

17

18

19

20

21

22

23

24

25

26

27

28

29

30
Oct - 2017
S
M
T
W
T
F
S

1

2

3

4

5

6

7

8

9

10

11

12

13

14

15

16

17

18

19

20

21

22

23

24

25

26

27

28

29

30

31
Nov - 2017
S
M
T
W
T
F
S

1

2

3

4

5

6

7

8

9

10

11

12

13

14

15

16

17

18

19

20

21

22

23

24

25

26

27

28

29

30
Dec - 2017
S
M
T
W
T
F
S

1

2

3

4

5

6

7

8

9

10

11

12

13

14

15

16

17

18

19

20

21

22

23

24

25

26

27

28

29

30

31
Jan - 2018
S
M
T
W
T
F
S

1

2

3

4

5

6

7

8

9

10

11

12

13

14

15

16

17

18

19

20

21

22

23

24

25

26

27

28

29

30

31
Reviews
Write a Review
Jane
Deland, US
Reviewed: Sep 20, 2016
Property Manager
On the Water in Maine is a great agency to work with to plan your vacation. This is the 3rd year we have used them and again,it wss a wonderful experience. We wouldn't use anyone else!
Property
Altus Cottage is an excellent place to stay while vacationing in Maine. The owner spared no expense building or furnishing this home. We have rented this house the last 2 yrs and love it. The view is great, it is perfectly located and is just comfortable to live in. I would recommend this home to anyone to rent for their vacation. You won't be disappointed.
Thea
Willow Grove, US
Reviewed: Sep 12, 2016
Property Manager
The agency is overall good, which is why this was the 4th house we have rented with OTWIM.
Property
Altus cottage was less than comfortable. While the location was nice, and the gas range in the kitchen made it easy to cook, that is about where it ended. This cottage is obviously for people who don't expect to spend much time there. The living space is tiny, despite the cottage sleeping 8. It is a place to hang your hat while spending time elsewhere.
Carol
Grove City, US
Reviewed: Aug 23, 2016
Property Manager
Working with your agency was great. It was easy to rent and the paperwork was clear.
Property
I liked having 3 available bathrooms and a nice kitchen in the house. The location is great with many adventures available. This was the first year we went whale watching out of Bar Harbor and it was amazing. Let guests know to dress warm! The city pool in Belfast is free and a great way to wrap up a day.
Mark
Wyomissing , US
Reviewed: Aug 29, 2015
Property Manager
On the water is professional, organized and we rent from them yearly. They make it easy and I love having towels and sheets provided
Property
Beautiful home very comfortable and as nice as home. Love the kids artwork on the walls, beds were wonderfully comfortable. Great location.
Jane
Deland, US
Reviewed: Aug 22, 2015
Property Manager
This is our second year dealing with On the Water in Maine and they did not disappoint. The rental process was easy. We had to call about a couple of ghings and Justin and Benjamin were wonderful. We plan on coming back in the spring and will be using their services again.
Property
The house was clean, well stocked, plenty of room. The appliances were new and quiet. The house was centrally located for all of our travel needs and Shore Rd is a great place to take daily walks.
Deb
Kent, US
Reviewed: Sep 7, 2014
Property Manager
The agency was very friendly and helpful and easy to work with from beginning to end.
Property
We had a great vacation at the Altus cottage. The house was lovely and perfectly met our needs. The modern, eclectic decor was lovely and comfortable. Especially enjoyed the peace and quiet and the water view location.
Mary
Rochester, US
Reviewed: Aug 12, 2014
Property Manager
Everyone that we spoke with at On the Water in Maine was very friendly and helpful. When we could not find a blender in the house (which was supposed to be there), a representative worked fairly quickly to resolve the problem. They were always prompt and courteous in our correspondences.
Property
We had a great time at the Altus Cottage! The home was beautiful, and the neighborhood was mostly quiet. We loved the family-friendly touches (like toys and a baby gate) that made us feel extra welcome when we walked in the door. The two (small) beaches near the house we nice, but we mostly drove to other cities for fun (Belfast, Lincolnville, Rockland, and Acadia/Bar Harbor).
Erin
Chicago, US
Reviewed: Jul 19, 2014
Property Manager Property
Michael
Oak Park, US
Reviewed: Aug 12, 2013
Property Manager
Our contact person at On the Water in Maine, Ben, was very prompt in getting back to us and very helpful.
Property
Everything was very thoughtful and considerate. Both adult and child amenities were extremely well done and beyond what one typically sees in these situations. The stocked cabinets of some basic grocery items was a real surprise and came in handy on occassion. Although I didn't avail myself of it, the botttle of Crown Royal was an exceptional touch. The only negatives we can think of are minor. The problem with the rain splashing in, which we were warned of and asked to close doors and windows, is annoying. Spent an entire rainy day indoors and it was uncomfortably stuffy with everything shut. Maybe that design flaw could be corrected? The outside chairs are not the most comfortable if one wants to have a drink or snack outside. A small table on the lower porch, lime the one upstairs, would be a nice addition for an outdoor breakfast or drink. In general, we found everything to be excellent, really enjoyed the house and had a great week.
Disclosures
Smoking Is Not Permitted anywhere on or inside of any of our rental properties nor are those who may partake in tobacco smoking allowed to occupy any of our properties.
Occupancy may not exceed what is posted for each home. Maximum occupancy could include infants and children.
Amenities offered through On the Water in Maine Inc. are not available at all the properties we offer for rent. Boat Rentals through Maine Watercraft Rentals Inc. are offered Sunday morning to Friday after 4pm and include free delivery to the property. Check with an agent to find out what boats are available to rent at this property, or, when you process the booking here online, only the boats available for the property will be listed as available to rent.
Please see our Rental Guidelines for further questions regarding how to book this property and additional charges and fees. Contact a reservation agent for more details or to ensure you are booking the right property for you.
Town Info - Bayside Village, Northport & Belfast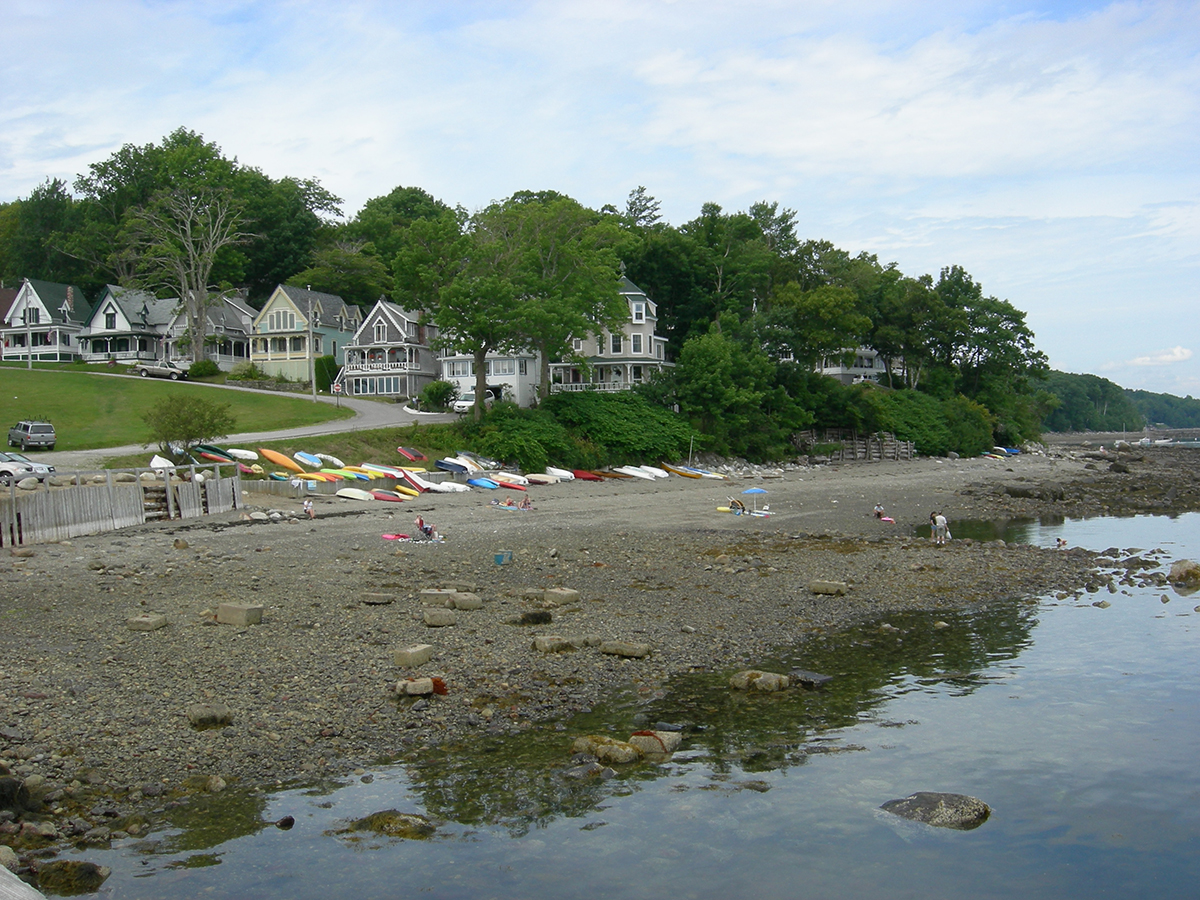 Really two towns (legally) - Belfast and Northport are neighbors, and then Bayside is located inside of the town of Northport. While only a short distance from coastal Route 1, Bayside remains a well-kept secret; a small hamlet that takes one back to a simpler, uncomplicated time. A few years back, DownEast Magazine did a great article on Bayside that is still mostly relevant today. Click HE...
Learn More