| | |
| --- | --- |
| Guests | 6 |
| Bedrooms | 3 |
| Bathrooms | 3 |
| Allows Pets | No |
| Property Size | 2,172 sq. ft. |
Property Info
THIS PROPERTY ONLY RENTS ON A SATURDAY TO SATURDAY SCHEDULE - 7 NIGHT MINIMUM REQUIRED

ROOM LAYOUT:
1st Floor- Kitchen with Dining Area, Living Room, Shower bathroom, Laundry, Deck, Covered Porch
2nd Floor- Bedroom with 2 Twins, King Bedroom, Shared Tub Shower Bathroom
3rd Floor- Master suite with AC, King bed, bathroom with shower (Read notes about 3rd Floor Bedroom Below)
DOGS PERMITTED? Dogs are NOT permitted at this property.
Camden is the premier location in Mid-Coast Maine. The Grove Street Cottage is a charming and updated New England-style home with top to bottom renovations in 2011. The house is furnished with lovely furniture and tasteful decor - all thoughtfully selected by the owners. The main level has the eat-in kitchen with fireplace as well as a comfortable living room, a lovely front porch and deck with grill, laundry and a shower bathroom. Stairs lead from the entry hall to a 2nd floor offering 2 bedrooms and a shared full bathroom. The 3rd floor master suite has an en suite bath and AC and enjoys mountain views from the skylights.

The recent renovation has left many classic features while providing all of the modern conveniences of a new furnishings, new kitchen and updated tasteful decor.

A short walk to town brings you to the beautiful Camden harbor, several restaurants and cafes, shops, and sightseeing. All under the backdrop of mountains and the sea.

The 3rd floor bedroom is where essentially the attic used to be. While it is a beautiful and accommodating bedroom with an ensuite bathroom, it should be noted that a wooden plank floor is the only separation between that room and the two bedrooms on the 2nd floor. Guests staying in the 2nd floor can easily hear every noise coming from the 3rd floor as a result, especially from the bathroom. This may not be a problem for some, but for others, when 6 people are in the house, may be bothered by the normal sounds people make coming from the 3rd floor.
Details
LINEN/TOWEL RENTAL FEE: Yes, a linen/towel towel rental fee of $125 per rental applies. VIP Towels are included at this rental. Guests may add additional towels or bed linens through the reservation process. Learn more about our linen & towel rentals on the Rental Guidelines Page of our website.

SECURITY DEPOSIT: No, the owner of this property does not require a security deposit, however, guests are still financially responsible for non-accidental damages at the property.

Property Specifics:
Cleaning: The property will be professionally cleaned before and after the rental. Above normal cleaning charges will be billed to guest at $30 per hour
Washer & Dryer: Yes
Dishwasher: Yes
Coffee Maker: Yes, Standard automatic drip with filters
Grill: Propane Gas Grill
Air Conditioning: There is an AC unit in the 3rd floor bedroom. There are fans for the rest of the house.
Heat Source: Furnace
Usable Fireplace: Yes, Guests must supply their own wood
Outdoor Fire Pit: No
Trash Removal: Included with rental
Water Source: Town water, Okay to drink from the tap
Internet Access: Yes, with Wi-Fi
TV: Yes, TV with DVD and cable service
Closest Shopping Village: Camden, the center of downtown is 0.4 Mile away
Number of Restaurants within 5 Miles: 30 Plus
Water Frontage: No, Public Nearby
Beach Access: No, Public Nearby
Dock/Pier Access: Public Nearby
Additional Amenities: Minimum Standards List
Exploring Area
Google Map
Calendar
Aug - 2017
S
M
T
W
T
F
S

1

2

3

4

5

6

7

8

9

10

11

12

13

14

15

16

17

18

19

20

21

22

23

24

25

26

27

28

29

30

31
Sep - 2017
S
M
T
W
T
F
S

1

2

3

4

5

6

7

8

9

10

11

12

13

14

15

16

17

18

19

20

21

22

23

24

25

26

27

28

29

30
Oct - 2017
S
M
T
W
T
F
S

1

2

3

4

5

6

7

8

9

10

11

12

13

14

15

16

17

18

19

20

21

22

23

24

25

26

27

28

29

30

31
Nov - 2017
S
M
T
W
T
F
S

1

2

3

4

5

6

7

8

9

10

11

12

13

14

15

16

17

18

19

20

21

22

23

24

25

26

27

28

29

30
Reviews
Write a Review
Kerys
Dublin, IE
Reviewed: Aug 5, 2017
Property Manager
Excellent professional service
Property
Beautiful house, good location, well equipped and tastefully decorated.
John
Vero Beach, US
Reviewed: Jul 25, 2017
Property Manager
Great response at all times.
Property
Always a pleasure to return to Grove Street!
Daniel
Wallingford, US
Reviewed: Jul 8, 2017
Property Manager Property
Mark
Charleston, US
Reviewed: Sep 24, 2016
Property Manager
Perfect experience booking, checking in/out.
Property
Great location. Beautfully furnished. Everything well thought out. Enjoyed our stay.
Vicki
Boca Raton, US
Reviewed: Sep 17, 2016
Property Manager
Very responsive and professional managers.
Property
Grove Street Cottage is a very thoughtfully and tastefully furnished home in a very convenient location. Everything in the home was very comfortable; the beds, the living room and patio furniture, and even the benches at the kitchen table. Lovely indeed. In almost every way this rental was absolutely wonderful. The only drawbacks for us were that, having the windows open on the third floor, the traffic noise at night was significant and being an old house, and being that the owner has chosen to leave floor joists exposed, sound between the second and third floors is also significant.
Kay
Clearwater, US
Reviewed: Aug 20, 2016
Property Manager
They made the process very simple.
Property
Camden downtown area, all the local towns: especially Belfast. The beautiful spacious property so close to downtown.
Paloma
St Thomas, VG
Reviewed: Aug 7, 2016
Property Manager Property
Angela
Lexington, US
Reviewed: Aug 1, 2016
Property Manager
The staff at On the Water in Maine was very thorough in preparing us for our trip and we never had any issues
Property
Everything about our rental was perfect, including the decor and space for our family of 5.
Jonathan
Severn, US
Reviewed: Jul 9, 2016
Property Manager
Very convenient and friendly.
Property
Great location, close to hiking trails and downtown. Wonderful kitchen and family area with a very relaxing front porch. Great house and location to explore the area.
Susan
Surry, US
Reviewed: Oct 19, 2015
Property Manager
On the Water in Maine is a very well organized company. Our questions were answered as fast as we asked and then some. Information for everything you could think of was provided.
Property
Grove Street Cottage was perfect for our visit to Maine. The house is a short walk to the town of Camden. Information packet in the house as well as the info when we checked in helped our stay be even more enjoyable. Loved the Unity Fair. Our one day with a downpour and flooding in the area, we found puzzles to spend our time and could still sit on the wonderful front porch! Our three couples were very comfortable there.
Paula
Beverly, US
Reviewed: Sep 21, 2015
Property Manager Property
Thomas
Tolland, US
Reviewed: Aug 30, 2015
Property Manager
Super-easy to work with and all the info and extra emails were really helpful.
Property
Actually better than the pictures. A truly lovely vacation home.
Kimberly
Marblehead, US
Reviewed: Aug 15, 2015
Property Manager
On the Water in Maine is one of the best when it comes to summer vacation rentals. They make the entire process so easy and are so accommodating offering suggestions of thighs to do during your stay.
Property
We had a fantastic stay at 18 Grove. The house is immaculate and was a perfect spot to be able to take advantage of all that Camden has to offer. We hiked Mt Battie, kayaked and swam in Lake Megunticook, biked the point at Rockport Harbor and enjoyed a harbor cruise with the kids. We will definitely be back.
Alicia
Wauwatosa, US
Reviewed: Aug 13, 2015
Property Manager
On the Water in Maine was very professional and thorough, and we loved their insider recommendations for what to do in the area. We asked where to buy lobster and got a great tip to go find Mike Hutchings barn -- something we never would have found on our own.
Property
The property was extremely well appointed and decorated in a beautiful quintessential Maine style. It was a great home base for the week.
Gregory
San Antonio, US
Reviewed: Jul 13, 2015
Property Manager
Everything was wonderful.
Property
Loved the front porch. Like traveling back in time.
Joseph
Patchogue, US
Reviewed: Jun 20, 2015
Property Manager
Property
Great kitchen, porch was nice, great spot for a fireplace.
Ronald
Hurst, US
Reviewed: May 30, 2015
Property Manager Property
William
Centerville, US
Reviewed: Jan 8, 2015
Property Manager Property
Harry
Richboro, US
Reviewed: Sep 20, 2014
Property Manager
First time, great experience
Property
Great home very enjoyable. Looking forward to returning
Heather & Angie
Reviewed: Jun 13, 2014
Property Manager
The booking process was super simple. I appreciated having in writing anything we would need to know and although I didnt have questions that were not addressed on the website, they made it very clear that they were happy to respond to any questions I might have had. We were given the option to check-out by e-mail which we found easier because we were visiting from Canada and having issues with our cellphone.
Property
We loved pretty much everything about the property from the moment we arrived. I have stayed at places that looked nice in photos but, in person, showed flaws that were not visible online; Grove Street was every bit as nice, if not nicer, in person -the convenience of having a keypad for access instead of having to carry a key -the closeness to the harbor, shops and hiking trails -the beautiful street/neighbourhood; lovely for walks and many beautiful homes to admire - the neighbourhood was quiet and felt safe. The neighbours were very friendly too! -the beautifully landscaped yard -the nice sized & quite private patio with cute little white round table with rattan chairs & bright yellow comfy cushions (in addition to the pic-nic table) that were not pictured online -the spacious mudroom and attached bathroom with vaulted ceilings -the kitchen is larger than it appears online and we found it to be well equipped -the house is so beautifully/tastefully decorated and we love the pops of colour; it is clear that a lot of care was put into it. -we loved relaxing on the front porch on a rainy morning-so peaceful -we were two friends vacationing together & both thought wed be fighting over the third floor bedroom/ensuite but when we got there, we both agreed that it was a tough decision which room we preferred-both were equally lovely -we were both sad to leave the property because we loved it so much -Im sure we could go on forever listing all the wonderful things about the property
Disclosures
Smoking Is Not Permitted anywhere on or inside of any of our rental properties nor are those who may partake in tobacco smoking allowed to occupy any of our properties.

Occupancy may not exceed what is posted for each home. Maximum occupancy could include infants and children.

Amenities offered through On the Water in Maine Inc. are not available at all the properties we offer for rent. Boat Rentals through Maine Watercraft Rentals Inc. are offered Sunday morning to Friday after 4pm and include free delivery to the property. Check with an agent to find out what boats are available to rent at this property, or, when you process the booking here online, only the boats available for the property will be listed as available to rent.

Please see our Rental Guidelines Page for further questions regarding how to book this property and additional charges and fees. Contact a reservation agent for more details or to ensure you are booking the right property for you.
Town Info - Camden / Rockport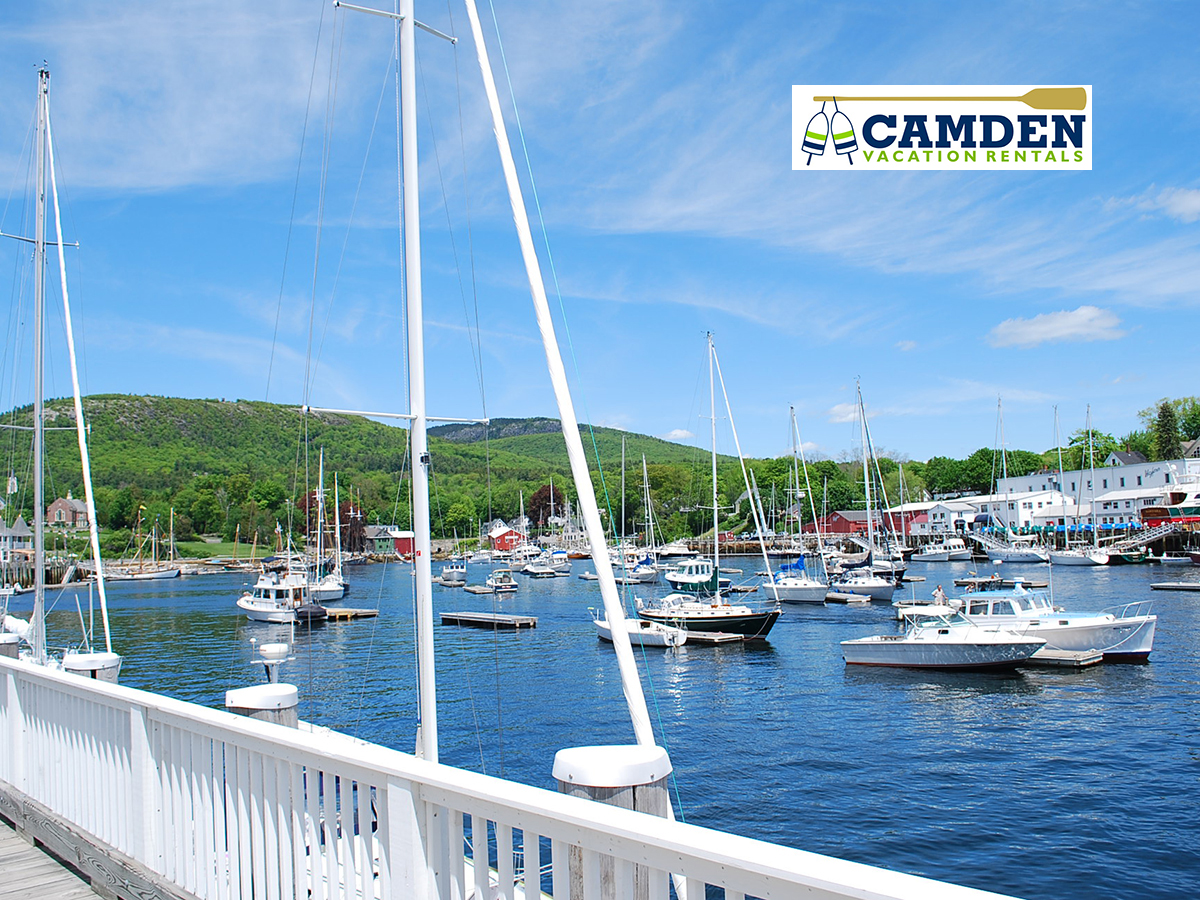 Well-loved by visitors and residents alike, the towns of Camden and Rockport were one until 1890. Even though governed separately today, they are essentially the same town combined with village centers a mile apart. The mountains tumble down to meet the ocean's edge, creating some of the best views and hiking opportunities in the state.
| | |
| --- | --- |
| Shopping | In Camden Village |
| Restaurants | Over 30 Restaurants in both towns combined, several recent James Beard Award winners |
| Golf Course | Goose River & Samoset Resort courses in Rockport |
| Airport | Knox County Regional (RKD) 20 minutes, Portland (PWM) 1.5 hrs, Bangor (BGR) 1 hour, Boston (BOS) 3 Hours, Manchester NH (MHT) 3 Hours |
| Groceries | French & Brawn, Megunicook Market, and Hannaford in Camden |
Learn More