About Us - Company History
On the Water in Maine ® Inc. is a member of the Better Business Bureau with an A+ rating, the Vacation Rental Professionals of Maine and the national Vacation Rental Managers Association. They are also members in good standing of the Penobscot Bay Regional Chamber of Commerce and the Boothbay Harbor Region Chamber of Commerce. They were recognized internationally in the September 2013 issue of Travel & Leisure Magazine as offering one of the World's 50 Greatest Dream Trips at one of their Megunticook Lake rental properties.


Celebrating it's 12th year in business in 2018, On the Water in Maine ® Inc. has it's roots back to 1997 when Owner's Justin & Tiffany Ford purchased and rented out a vacation property in Union on Crawford Lake. Dissatisfied with the service of the rental company they worked with back then, they moved off on their own and On the Water in Maine ® Inc. was born. Since 2006, many others have joined On the Water in Maine ® seeking the same desires as Justin & Tiffany - a company with great service, and lots of amenities - On the Water in Maine ® has since grown leaps and bounds. It is now one of the largest vacation rental companies in the northeastern USA. Additionally, On the Water in Maine ® offers more amenities than any other vacation rental company in New England. They were recently recognized by their website partner, LiveRez, for being an outstanding company in the New England region of the US.
In 2012, On the Water in Maine® branched out into the Boothbay vacation rental market and opened an office there. While still marketing all the Boothbay properties with On the Water in Maine ®, a separate division and website was created to market that region specifically under 'Boothbay Vacation Rentals Inc.. Later that same year, another division, 'Camden Vacation Rentals Inc.' was also created and operates out of the main office in Rockport.
While he is no longer involved in day-to-day operations at On the Waterin Maine, Co-Owner Justin, the lead "Property Manager" of the company, grew up in Camden, Maine and is a US Coast Guard licensed ship captain. He has operated yachts for major corporations and individuals. Through that experience, he has learned how important being a host is, as well as, ensuring that every detail is attended to. Until 2005, he worked for a large major financial institution, MBNA America, and that led him from the ship's wheel to the back of an office desk. There, he worked in Customer Service for several years. This experience, as well as, his hands-on knowledge of property management has positioned him perfectly for this new business venture. Justin is also a volunteer firefighter with the Rockport Fire Department. Working as a volunteer firefighter, in addition to his occasional work at sea as a relief captain on commercial ships, helps remind him of safety. Justin is always working to be aware of the safety for the renters at the properties On The Water In Maine® Inc. rents. More recently, he has become a national expert on vacation rental safety and travels around the US helping other rental agencies and organizations improve their safety plans. Justin hosts a Facebook page on vacation rental safety which you can visit here.
Justin is a great resource for information on owning lakefront homes in Maine. He was extensively interviewed for an article in DownEast Magazine on lake home ownership. Click here to read the article. Many people interested in owning waterfront rental properties in Maine often seek advice from Justin, which he is happy to share. Prior to owning vacation rental homes, Justin's ancestors were early summer vacationers in Maine. Justin's 99 year old grandmother, who recently passed, had been vacationing every summer at their ancestor's home that was built in 1803 on the shores of Lincolnville.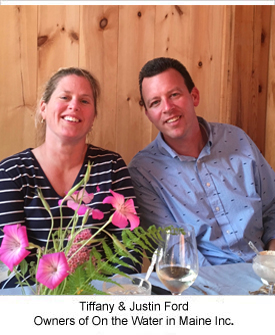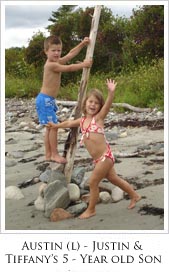 Tiffany, the "Operating Owner" of the company, grew up in Freeport, Maine back when L.L. Bean was the only retail store in town. Her house was on the ocean at Maquoit Bay and she spent a lot of time around the water on her family's beach there. Tiffany attended Penn State and the University of Southern Maine where she received a Bachelor's degree in Biology. She followed up her bachelor's degree with a Master's degree in Forensic Science. As a forensic scientist, she worked for the Dept of Justices' Bureau of Alcohol, Tobacco, Firearms and Explosives as a Forensic Document Examiner. Today, in addition to working jointly with Justin, she is a licensed real estate agent and co-owner of On the Water Real Estate. She also owns and operates Ford Forensic Documents.
Justin and Tiffany moved back to Maine in 2004 after 5 years in Washington D.C. They realized that Maine was home and also where they wanted to raise their now 14 year old son Austin and their now 8 year old daughter Ainsley. They built a new house on a family farm and now live in Rockport with their kids. Austin and Ainsley are true "on the water in Maine" kids. They love the rocky beaches of Maine and will spend all day, if allowed, searching tide pools and under rocks for crabs. They are also a big fan of the lakes in Maine and will jump off the dock and swim until their skin falls off from being wet too long. Austin is always available to share tips on how to enjoy the water frontage of Maine with vacationing families. Ainsley will join him as she grows.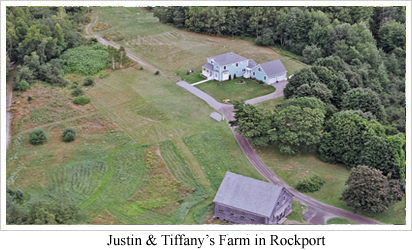 When they aren't attending to business, Justin and Tiffany are often out downhill skiing from their Sugarloaf Ski Resort property, which they occasionally offer for rent through this site, relaxing at their summer cottages that they used to offer as vacation rentals on this site called Blue Waters Cottage, boating, hiking and enjoying all the wonderful things that Maine has to offer.

Paige Teel took the reigns as the General Manager of the company during the summer of 2017. She runs all day-to-day operations of the company.

Sara Allenwood joined the company in June of 2013 as a Housekeeper and is now the Head Housekeeper as well as an Assistant Property Manager.
Kelsey Liversidge joined them in June of 2015 as a summer intern, but came back full-time starting in June 2016 and was promoted to a Property Manager in December 2016.