| | |
| --- | --- |
| Guests | 8 |
| Bedrooms | 5 |
| Bathrooms | 2 |
| Allows Pets | Yes |
Property Info
NEW LISTING for 2017 - 11/1/16

THIS PROPERTY ONLY RENTS ON A FRIDAY TO FRIDAY SCHEDULE - 7 NIGHT MINIMUM REQUIRED

ROOM LAYOUT:
1st Floor - Main entry, Storage area, Laundry
2nd Floor - Kitchen, Living Room, Dining Area, Library with TV, 2 Shared bathrooms with tub/showers, Bedroom with 2 Twins, King Bedroom, Single Twin Bedroom and Single Twin Bedroom
3rd Floor - Two- Twin Bedroom

DOGS PERMITTED? Dogs are considered at this property. All dogs must first meet our Pet Guidelines before being considered. J1

The Boat House is a beautifully unique home that offers an expansive view of a private compound and the Atlantic Ocean. Situated on the famed Beauchamp Point, the property features proximity to Rockport and Camden, as well as access to the water. Take a walk through the wooded trails that lead to a community pier and the deep water dock - a convenience for those who wish to bring their boat with them. Wide open spaces provide serenity and peace, for a relaxing vacation in a comfortable home for your family.

Boat House is conveniently located to all that the Midcoast Maine area has to offer. The quaint and beautiful Rockport village is on the west side of Penobscot Bay, between Rockland and Camden. Fifty years ago, Rockport was home to lobstermen and fishermen who built their weirs in the harbor, but today the harbor is mainly for pleasure boats (although there are still several lobsterman).

If you like to take walks, follow Beauchamp Point Rd from the cottage where there are public access points to the rocky shore overlooking the harbor. Enjoy walking past large estates owned by some of the oldest families in the area that helped build this community. Camden is a short 5 minute drive to shopping, dining, and sightseeing. Rockland, which boasts the areas largest cultural center, is a quick 15 minute drive.

This is a drone video we took of the property in late August 2016....
Details
BOATS INCLUDED? None, however our Maine Sport in Rockport will deliver kayaks to the community dock that is included with the rental of the property.

CLEANING FEE & LINEN/TOWEL RENTAL FEE: Yes, a cleaning and linen/towel towel rental fee of $300 per rental applies. Guests may add additional towels or bed linens through the reservation process. Learn more about our linen & towel rentals on the Rental Guidelines Page of our website. Guests may reduce this fee to $150 if they choose to bring their own bed linens and towels.

SECURITY DEPOSIT: No, the owner of this property does not require a security deposit, however, guests are still financially responsible for non-accidental damages at the property.

OFF-SEASON PRICING: In order to make some of our larger or "Elite" properties more attractive to smaller groups in the Off-Season, we've created a Custom Pricing Option. Pricing for rentals that occur in the advertised Off Seasons (1/1/17 - 6/16/17 & 9/1/17 - 12/31/17) for this property are based on 4 people. Additional people, up to the maximum allowed for the property, will be charged an additional $175 per person - per week if a rental occurs in these time-periods. Guest must select this option during the reservation process.

PROPERTY SPECIFICS:
Washer & Dryer: Yes
Dishwasher: Yes
Coffee Maker: Yes, Standard automatic drip with filters
Air Conditioning: No, fans located in each bedroom
Grill: Propane Gas Grill
Usable Fireplace: Yes - a gas fireplace is in the main house living room
Outdoor Firepit: No
Trash Removal Service: Included with rental
Water Source: Town water, OK to drink from the tap
Internet Access: Yes, with Wi-Fi
TV: Television with a DVD and basic cable service in the library
Closest Shopping Village: Rockport Village - 1 mile, Camden - 3 miles away, Rockland - 8 miles
Number of Restaurants within 10 Miles: 50 Plus
Water Frontage: Yes
Beach Access: Yes (There is a rocky, gravely, and pebbly shore at the property, convenient for swimming)
Dock/Pier Access: Yes - Community Dock
Boat Mooring: No
Property Good For Fisherman: No
Additional Amenities: Minimum Standards List
Google Map
Calendar
Aug - 2017
S
M
T
W
T
F
S

1

2

3

4

5

6

7

8

9

10

11

12

13

14

15

16

17

18

19

20

21

22

23

24

25

26

27

28

29

30

31
Sep - 2017
S
M
T
W
T
F
S

1

2

3

4

5

6

7

8

9

10

11

12

13

14

15

16

17

18

19

20

21

22

23

24

25

26

27

28

29

30
Oct - 2017
S
M
T
W
T
F
S

1

2

3

4

5

6

7

8

9

10

11

12

13

14

15

16

17

18

19

20

21

22

23

24

25

26

27

28

29

30

31
Nov - 2017
S
M
T
W
T
F
S

1

2

3

4

5

6

7

8

9

10

11

12

13

14

15

16

17

18

19

20

21

22

23

24

25

26

27

28

29

30
Reviews
Write a Review
Disclosures
Smoking Is Not Permitted anywhere on or inside of any of our rental properties nor are those who may partake in tobacco smoking allowed to occupy any of our properties.

Occupancy may not exceed what is posted for each home. Maximum occupancy could include infants and children.

Amenities offered through On the Water in Maine Inc. are not available at all the properties we offer for rent. Boat Rentals through Maine Watercraft Rentals Inc. are offered Sunday morning to Friday after 4pm and include free delivery to the property. Check with an agent to find out what boats are available to rent at this property, or, when you process the booking here online, only the boats available for the property will be listed as available to rent.

Please see our Rental Guidelines Page for further questions regarding how to book this property and additional charges and fees. Contact a reservation agent for more details or to ensure you are booking the right property for you.
Town Info - Camden / Rockport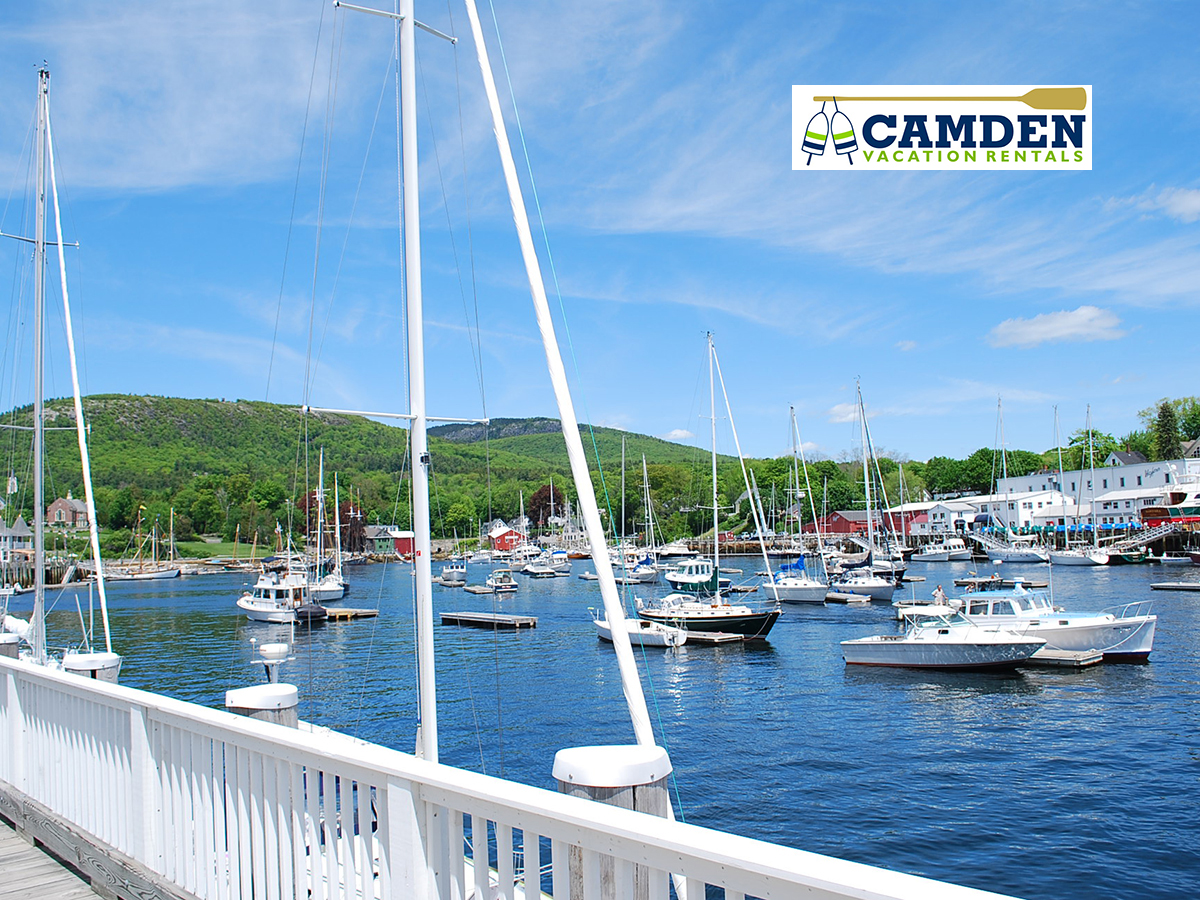 Well-loved by visitors and residents alike, the towns of Camden and Rockport were one until 1890. Even though governed separately today, they are essentially the same town combined with village centers a mile apart. The mountains tumble down to meet the ocean's edge, creating some of the best views and hiking opportunities in the state.
| | |
| --- | --- |
| Shopping | In Camden Village |
| Restaurants | Over 30 Restaurants in both towns combined, several recent James Beard Award winners |
| Golf Course | Goose River & Samoset Resort courses in Rockport |
| Airport | Knox County Regional (RKD) 20 minutes, Portland (PWM) 1.5 hrs, Bangor (BGR) 1 hour, Boston (BOS) 3 Hours, Manchester NH (MHT) 3 Hours |
| Groceries | French & Brawn, Megunicook Market, and Hannaford in Camden |
Learn More
Similar Properties