| | |
| --- | --- |
| Guests | 7 |
| Bedrooms | 3 |
| Bathrooms | 2 |
| Allows Pets | Yes |
| Property Size | 1,400 sq. ft. |
Property Info
THIS PROPERTY ONLY RENTS ON A SATURDAY TO SATURDAY SCHEDULE - 7 NIGHT MINIMUM REQUIRED

ROOM LAYOUT:
1st Floor- Living Room, Dining Room, Kitchen, King Bedroom, Shared tub-shower bathroom, Unscreened covered Porch, Side Deck
2nd Floor- Bedroom with 1 Queen bed and 1 Twin bed, Bedroom with 2 Twin beds
Basement- Shared stall shower bathroom, Laundry
DOGS PERMITTED? Dogs are considered at this property. All dogs must first meet our Pet Guidelines to be considered. J2
This classic Bayside cottage was recently finished being lovingly made over with many new features throughout including a freshly painted exterior. All of the Bayside charm has remained intact.

Hillcrest Cottage is just steps from the Bayside Village green and pier and within a short drive to Belfast, Lincolnville Beach and Camden amenities. Enjoy sitting on the open covered porch or sitting in the rear garden patio area. Entering into the cottage, you are greeted by the open living and dining areas that offer comfortable furniture. Continuing on the first level, the kitchen is fully equipped. There is a full bath and a bedroom with king sized bed. An additional full bath is located in the lower basement level. Going up the stairs from the living room there are two bedrooms. One bedroom has two twin beds and the other bedroom has a full bed and a twin bed.

BEACH CLASSIFICATION: We have categorized this property as having or being near a sandy beach. More specifically for this property, as with all our Bayside properties - there is a public beach about 200 feet wide at the center of the village, a 3 minute walk away. There is not an actual usable sandy beach at this property, but the nearby beach is great for kids and that is why we have classified it as being on or in this case - "near" a sandy beach.

LEARN MORE ABOUT BAYSIDE: You can learn more about Bayside by visiting the Local Area Guide on Bayside on our website.
Details
BOATS INCLUDED? None, however if you are looking to rent kayaks, Water Walker or Ducktrap Kayaks offer those and can deliver them to the Property.

CLEANING FEE: Not Required.

SECURITY DEPOSIT: No, the owner of this property does not require a security deposit, however, guests are still financially responsible for non-accidental damages at the property.

Property Specifics:
Linens & Bath Towels: Yes, one set of bed linens and one bath towel set for each guest are included (beds are made up prior to guest arrival)
Cleaning: The property will be professionally cleaned before and after the rental. Above normal cleaning charges will be billed to guest at $30 per hour
Washer & Dryer: Yes
Dishwasher: Yes
Coffee Maker: Yes, Standard automatic drip with filters
Grill: Propane Gas Grill
Air Conditioning: Window AC unit in King bedroom, fans are located in the other bedrooms
Heat Source: Monitor Heater and Pellet stove
Usable Fireplace: No
Outdoor Firepit: No
Water Source : Town water (okay to drink from tap)
Trash Removal: Picked up on Saturdays
Internet Access: No
TV: TV with DVD player (no cable/satellite/antenna service)
Closest Shopping Village: Belfast, 4 Miles away
Number of Restaurants within 5 Miles: 20 Plus
Water Frontage: Not direct ocean frontage. Public access 500 feet away
Beach Access: Public small pebble stone beach 500 feet away
Dock/Pier Access: Public pier and dock 500 feet away.
Deep Water Mooring available: Boat moorings are available for rent
Additional Amenities: Minimum Standards List
Google Map
Calendar
Aug - 2017
S
M
T
W
T
F
S

1

2

3

4

5

6

7

8

9

10

11

12

13

14

15

16

17

18

19

20

21

22

23

24

25

26

27

28

29

30

31
Sep - 2017
S
M
T
W
T
F
S

1

2

3

4

5

6

7

8

9

10

11

12

13

14

15

16

17

18

19

20

21

22

23

24

25

26

27

28

29

30
Oct - 2017
S
M
T
W
T
F
S

1

2

3

4

5

6

7

8

9

10

11

12

13

14

15

16

17

18

19

20

21

22

23

24

25

26

27

28

29

30

31
Nov - 2017
S
M
T
W
T
F
S

1

2

3

4

5

6

7

8

9

10

11

12

13

14

15

16

17

18

19

20

21

22

23

24

25

26

27

28

29

30
Reviews
Write a Review
Karen
Astoria, US
Reviewed: Oct 17, 2016
Property Manager Property
Kerry
Ellington, US
Reviewed: Aug 15, 2016
Property Manager Property
Erin
Kennebunk, US
Reviewed: Aug 15, 2015
Property Manager
I have worked with On the Water in Maine Inc and have found them user friendly, available, helpful and accommodating. I have rented 3 times now with them, mainly because they offer rentals that allow dogs. The properties have been a bit more pricier (obviously, due to the dog) but these properties have been some of my favorites after 10+ years of renting in Bayside.
Property
I enjoyed Hillcrest cottage very much. It was roomy, homey and well stocked with everything we needed. It has the Bayside charm but also laundry and two full baths and beds for 7. The front sitting porch is one of my favorites in Bayside. Ample and comfortable seating for reading,socializing and watching the foot traffic. Hillcrest is central and close to the parks, beach and wharf.
Sheila and David
Chester, US
Reviewed: Jul 15, 2014
Property Manager
excellent efficient
Property
nice to be at Hillcrest, people compliment the home every day
Carol
Yonkers, US
Reviewed: Aug 3, 2013
Property Manager
Your team at On the Water in Maine is wonderful.
Property
Disclosures
Smoking Is Not Permitted anywhere on or inside of any of our rental properties nor are those who may partake in tobacco smoking allowed to occupy any of our properties.

Occupancy may not exceed what is posted for each home. Maximum occupancy could include infants and children.

Amenities offered through On the Water in Maine Inc. are not available at all the properties we offer for rent. Boat Rentals through Maine Watercraft Rentals Inc. are offered Sunday morning to Friday after 4pm and include free delivery to the property. Check with an agent to find out what boats are available to rent at this property, or, when you process the booking here online, only the boats available for the property will be listed as available to rent.

Please see our Rental Guidelines Page for further questions regarding how to book this property and additional charges and fees. Contact a reservation agent for more details or to ensure you are booking the right property for you.
Town Info - Bayside Village, Northport & Belfast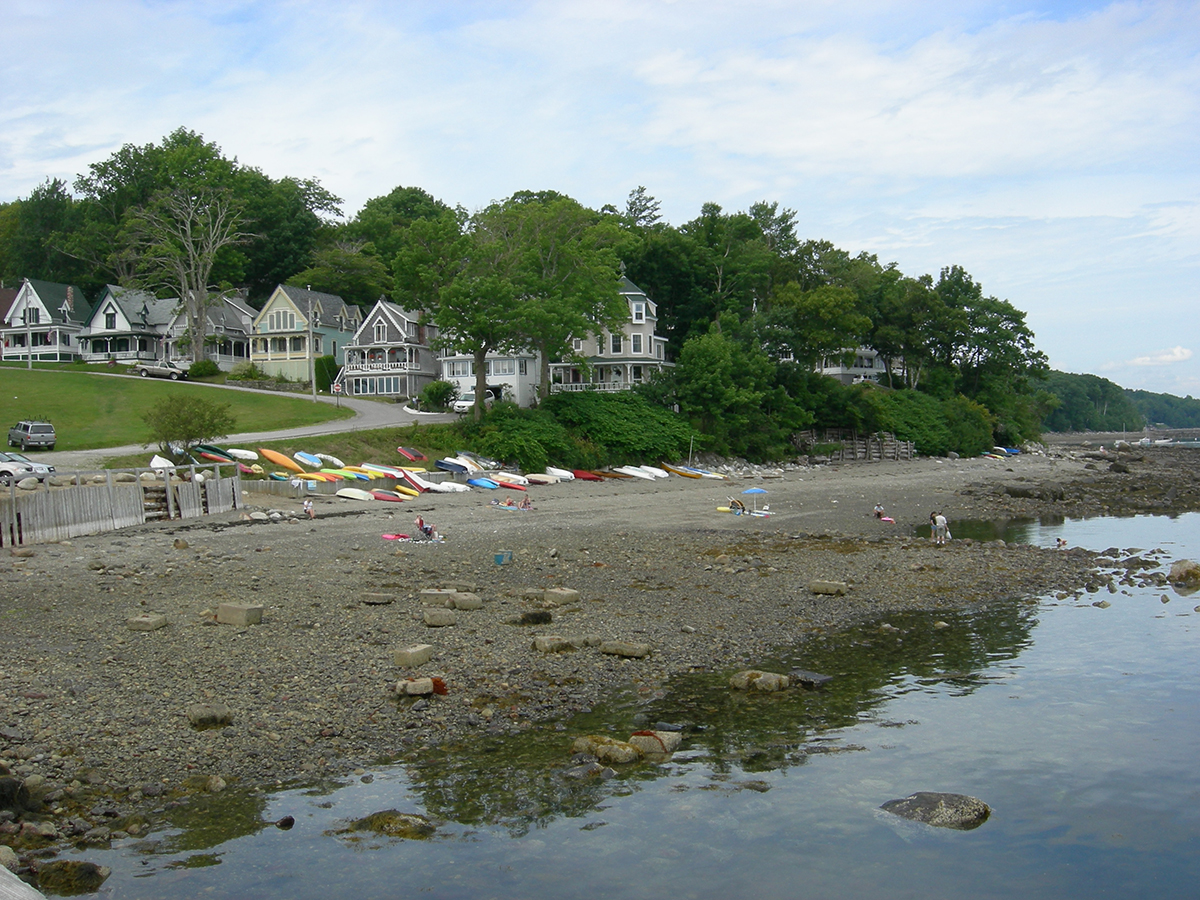 Really two towns (legally) - Belfast and Northport are neighbors, and then Bayside is located inside of the town of Northport. While only a short distance from coastal Route 1, Bayside remains a well-kept secret; a small hamlet that takes one back to a simpler, uncomplicated time. A few years back, DownEast Magazine did a great article on Bayside that is still mostly relevant today. Click HE...
Learn More