| | |
| --- | --- |
| Guests | 10 |
| Bedrooms | 5 |
| Bathrooms | 4 |
| Allows Pets | No |
| Property Size | 2,400 sq. ft. |
Property Info
THIS PROPERTY ONLY RENTS ON A SATURDAY TO SATURDAY SCHEDULE - 7 NIGHT MINIMUM REQUIRED

ROOM LAYOUT:
1st Floor: Living room, Kitchen, Dining area, Patio, Bedroom with 2 Twins with en suite tub-shower bathroom, Two Bedrooms each with King beds - both with en suite tub-shower bathrooms
2nd Floor: Queen Bedroom with en suite tub-shower bathroom (shared with Twin bedroom), Bedroom with 2 Twin Beds
DOGS PERMITTED?
Sorry, Dogs are NOT permitted at this property.
If you love to look out across the sea then this luxurious 5 bedroom guesthouse is the place for your Midcoast Maine vacation. With a wide ocean view of Penobscot Bay, two minutes from hiking and mountain climbing at Camden Hills State Park, and two miles north of downtown Camden, this property receives top grades from previous renters. After a day sailing Penobscot Bay, hiking Mt Battie, or enjoying Camden, Belfast, Rockport and the rest of the Mid-coast, come home to the Guesthouse for a barbecue on the patio and large open lawn facing the water.
The Springbrook Hill Guesthouse shares an 8+ acre landscaped estate with the main house and is recently remodeled to a high standard.
Details
CLEANING FEE & LINEN/TOWEL RENTAL FEE:
Yes, a cleaning and linen/towel towel rental fee of $425 per rental applies. VIP Towels are included at this rental. Guests may add additional towels or bed linens through the reservation process. Learn more about our linen & towel rentals on the
Rental Guidelines Page
of our website. Guests may reduce this fee to $200 if they choose to bring their own bed linens and towels.
SECURITY DEPOSIT:
Yes, a $500 Refundable Security Deposit may be required for Guests that don't have a previous/proven relationship with our company. The security deposit is due 30 Days prior to arrival and refunded within 30 days of departure.
OFF-SEASON PRICING:
In order to make some of our larger properties more attractive to smaller groups in the Off-Season, we`ve created a Custom Pricing Option. Pricing for rentals that occur in the advertised Off Seasons (1/1/17 - 6/17/17 & 9/2/17 - 12/31/17) for this property are based on 4 people. Additional people, up to the maximum allowed for the property, will be charged an additional $175 per person - per week if a rental occurs in these time-periods. Guest must select this option during the reservation process.
PROPERTY SPECIFICS:
Washer and Dryer:
Yes
Dishwasher:
Yes
Coffee Maker:
Yes, combination standard automatic drip with filters and K-Cup
Air Conditioning:
Yes, The house is equipped with central AC
Heat Source:
Furnace
Internet Access:
Yes, with Wi-Fi
TV:
Yes, with cable service
Grill:
Propane Gas Grill
Usable Fireplace:
No
Outdoor Fire Pit:
No
Closest Shopping Village:
Camden, 2 Miles away
Number of Restaurants within 5 Miles:
30 Plus
Water Frontage:
No, Water views only (Penobscot Bay)
Beach Access:
No, Public Nearby
Dock/Pier Access:
No, Public Nearby
Additional Amenities:
Minimum Standards List
Exploring Area
Google Map
Calendar
Aug - 2017
S
M
T
W
T
F
S

1

2

3

4

5

6

7

8

9

10

11

12

13

14

15

16

17

18

19

20

21

22

23

24

25

26

27

28

29

30

31
Sep - 2017
S
M
T
W
T
F
S

1

2

3

4

5

6

7

8

9

10

11

12

13

14

15

16

17

18

19

20

21

22

23

24

25

26

27

28

29

30
Oct - 2017
S
M
T
W
T
F
S

1

2

3

4

5

6

7

8

9

10

11

12

13

14

15

16

17

18

19

20

21

22

23

24

25

26

27

28

29

30

31
Nov - 2017
S
M
T
W
T
F
S

1

2

3

4

5

6

7

8

9

10

11

12

13

14

15

16

17

18

19

20

21

22

23

24

25

26

27

28

29

30
Reviews
Write a Review
Susan
Newtown Square, US
Reviewed: Jul 31, 2017
Property Manager Property
Marsha
Aiken, US
Reviewed: Jul 5, 2016
Property Manager Property
Norma
Simsbury, US
Reviewed: Oct 12, 2015
Property Manager
I loved working with On the Water in Maine. From the moment I started looking for a rental to the very last day, you were so helpful and professional. Thank you for making our experience enjoyable!
Property
We loved the house and it fit our needs! The only thing we really wished it had was a pantry or a cabinet to store our food. Counter space was limited, so storing our food on top of the counter was difficult. Loved having a bathroom in every bedroom!
Steve
Palatine, US
Reviewed: Aug 10, 2015
Property Manager
a satisfactory experience; very detailed follow up. We appreciated the "heads-up" about traffic issues when departing on Saturday upon checkout. We did adjust our departure time and experienced no traffic issues as a result.
Property
The property is lovely; the view of the ocean from the patio was just like the photo on the website.The bedrooms were all clean and comfortable as were all the bathrooms; something we really value having rented a wide variety of Camden-area properties over the years.
Ann
Austin, US
Reviewed: Jul 26, 2015
Property Manager
It was very easy dealing with On the Water in Maine. They did what they said they would. Their instructions for the property as well as check in and check out were clear, easy to follow and understand.
Property
The home had a beautiful view and beautiful grounds. It was close enough to Camden that we walked into town one day. There were 8 guests in our party and we had plenty of room, as well as plenty of privacy.
Monica
Sarasota, US
Reviewed: Jun 20, 2015
Property Manager
On the Water in Maine was very responsive and good to work with.
Property
GUEST COMMENTS: The views and location were great...but we didn't realize this guest house is just feet from the main, occupied house. We felt like we were trespassing at someone's home and an unwelcome guest. A few days into our stay we got a map showing the red zone we were not allowed to go into and the blue zone we were permitted to use. Not very friendly. The whole point of us renting a house with a yard is so our kids could run and play outside. Also the furniture needs to be replaced. The couches were dirty, the beds were worn and lumpy and there was water damage in one room with an odd odor. The washer/dryer was in the basement and difficult to access. ON THE WATER IN MAINE COMMENTS: The name of this property, as we advertise it, is the "Springbrook Hill Guest House". As the name says, the property is a Guest House on an estate. We ask all our Guests, as part of the rental agreement, to review the satellite image of the property - which these Guests initialed that they had. We believe the satellite map we provide is quite clear that this "Guest House" is indeed on an estate and feel that a map showing the layout of the property is appropriate, since the whole estate isn't being offered for rent. The Guest House has gone through extensive updates over the past 3 years including a new kitchen 2 years ago - and despite that, the rent has not gone up. Still, we welcome this Guest's feedback and have shared it with the Property Owner to see where improvements can be made.
Diane
Quincy, US
Reviewed: Sep 8, 2014
Property Manager
very easy and helpful! Even when we had a problem in the house, you were right out to correct the problem.
Property
My family and I love the Springbrook Hill Guest House! We now love it more now that the kitchen has been updated! Cooking for 10 was so much easier this year! The kids love being able to play on the beautiful grounds and the parents don't have to worry about the street traffic.
Andrea
Holland, US
Reviewed: Jul 20, 2014
Property Manager
No problems with agency. Everything simple and convenient .
Property
Beautiful view. Spacious home, very suitable for multiple families.
Terry
Philadelphia, US
Reviewed: Jul 7, 2014
Property Manager
Easy access and responsive. Was a definite plus -- and security level in booking -- that this was handled by agency and not just VRBO owner.
Property
As advertised. Quiet, comfortable spot ... very convenient to Camden.
Teofilo (Terry)
Scottsdale, US
Reviewed: Jun 21, 2014
Property Manager
On the Water in Maine staff was very helpful and communicative.
Property
1. The layout of the home and its acomodations were perfect 2. The entire property is beautiful 3. The view is pretty decent
Scott
Perkasie, US
Reviewed: Aug 18, 2013
Property Manager Property
Ray
Presque Isle, US
Reviewed: Jul 29, 2013
Property Manager
Ben at On the Water in Maine was great! kitchen was well-stocked each bedroom has its own bathroom quiet location spacious living area
Property
We enjoyed our stay at your guest home. Our stay was quiet and relaxing. Thank-you for opening your property to renters.
Disclosures
No Smoking is permitted anywhere on or inside of any of our rental properties nor are those who may partake in tobacco smoking allowed to occupy any of our properties.

Occupancy may not exceed what is posted for each home. Maximum occupancy could include infants and children.

Boat Rentals and other amenities offered through On the Water in Maine Inc. are not available at all the properties we offer for rent. Boat Rentals through Maine Watercraft Rentals Inc. are offered Sunday morning to Friday after 4pm and include free delivery to the property. Check with an agent to find out what boats are available to rent at this property, or, when you process the booking here online, only the boats available for the property will be listed as available to rent.

Please see our Rental Guidelines Page for further questions regarding how to book this property and additional charges and fees. Contact a reservation agent for more details or to ensure you are booking the right property for you.
Town Info - Camden / Rockport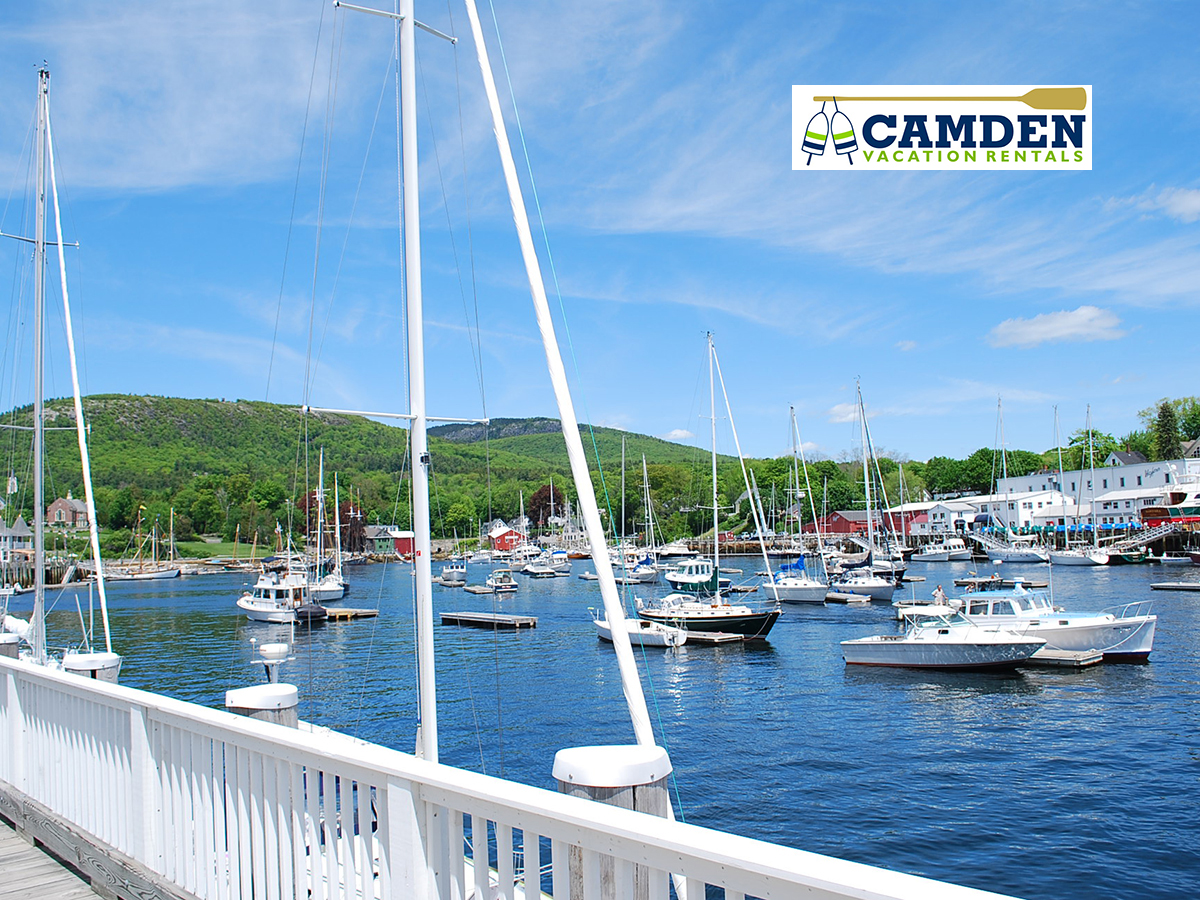 Well-loved by visitors and residents alike, the towns of Camden and Rockport were one until 1890. Even though governed separately today, they are essentially the same town combined with village centers a mile apart. The mountains tumble down to meet the ocean's edge, creating some of the best views and hiking opportunities in the state.
| | |
| --- | --- |
| Shopping | In Camden Village |
| Restaurants | Over 30 Restaurants in both towns combined, several recent James Beard Award winners |
| Golf Course | Goose River & Samoset Resort courses in Rockport |
| Airport | Knox County Regional (RKD) 20 minutes, Portland (PWM) 1.5 hrs, Bangor (BGR) 1 hour, Boston (BOS) 3 Hours, Manchester NH (MHT) 3 Hours |
| Groceries | French & Brawn, Megunicook Market, and Hannaford in Camden |
Learn More