| | |
| --- | --- |
| Guests | 6 |
| Bedrooms | 3 |
| Bathrooms | 2.5 |
| Allows Pets | Yes |
| Property Size | 2,390 sq. ft. |
Property Info
THIS PROPERTY ONLY RENTS ON A SATURDAY TO SATURDAY SCHEDULE - 7 NIGHT MINIMUM REQUIRED

ROOM LAYOUT:
1st Floor- Kitchen with Dining Area, Living room, Half bath, King Bedroom with en suite stall shower bathroom, King Bedroom with en suite/shared tub-shower bathroom, Twin daybed with Twin trundle in the sun room, Deck, Laundry room
DOGS PERMITTED? Dogs are considered at this property. All dogs must first meet our Pet Guidelines to be considered. J2
With a wide panoramic view of Penobscot Bay, two minutes from hiking and mountain climbing at Camden Hills State Park, and just over a mile north of Downtown Camden, this contemporary home is spacious and comfortable with ocean views from every room. After a day sailing on Penobscot Bay, hiking Mt Battie, or enjoying Camden, Belfast, Rockport and the rest of the Midcoast, come home for a barbecue on the large open deck facing the water.
PROPERTY FOR SALE? Yes, this property is currently for sale. If it were to go under contract, rentals through the end of the 2017 rental season would have a priority over the sale. Showings will occur on turn-over days between rentals. Our goal is to make sure the renter has a great vacation experience. The property is listed for sale at a price of $1,750,000. Parties interested in more information about the real estate listing of Weeks End can contact On the Water Real Estate at 207-236-4110.
Details
BOATS INCLUDED? None

CLEANING FEE & LINEN/TOWEL RENTAL FEE: Yes, a cleaning and linen/towel towel rental fee of $250 per rental applies. VIP Towels are included at this rental. Guests may add additional towels or bed linens through the reservation process. Learn more about our linen & towel rentals on the Rental Guidelines Page of our website. Guests may reduce this fee to $125 if they choose to bring their own bed linens and towels.

SECURITY DEPOSIT: Not required, accidental damages are covered under the Damage Waiver Plan included with rental of the cottage.

PROPERTY SPECIFICS:
Linens & Bath Towels: You will need to bring your own if you opt out of the rental linens program
Cleaning: Yes, there is a $125 cleaning fee on this property.
Washer & Dryer: Yes
Dishwasher: Yes
Coffee Maker: Yes, standard automatic drip with filters
Trash Removal: Included with rental
Water Source: Well water, OK to drink from tap
Air Conditioning: No, but fans are located in each bedroom
Heat Source: Furnace with radiant floor heat
Fireplace Usable: No, Insurance prohibits fireplace use
Internet Access: Yes, with Wi-Fi
TV: TV with basic cable service and DVD
Grill : Gas Grill
Outdoor Fire pit: No, but small campfires on the beach in front of cottage are permitted
Closest Shopping Village: Camden, 1.5 miles away
Number of Restaurants within 5 Miles: 30 Plus
Water Frontage: Yes, on Penobscot Bay (Atlantic Ocean)
Beach Access: Yes (rocky immediately in front of cottage with a small pebbly area
Property Good For Fisherman: No
Dock/Pier Access: No
Deep Water Boat Mooring: No
Additional Amenities: Minimum Standards List
Exploring Area
Google Map
Calendar
Aug - 2017
S
M
T
W
T
F
S

1

2

3

4

5

6

7

8

9

10

11

12

13

14

15

16

17

18

19

20

21

22

23

24

25

26

27

28

29

30

31
Sep - 2017
S
M
T
W
T
F
S

1

2

3

4

5

6

7

8

9

10

11

12

13

14

15

16

17

18

19

20

21

22

23

24

25

26

27

28

29

30
Oct - 2017
S
M
T
W
T
F
S

1

2

3

4

5

6

7

8

9

10

11

12

13

14

15

16

17

18

19

20

21

22

23

24

25

26

27

28

29

30

31
Nov - 2017
S
M
T
W
T
F
S

1

2

3

4

5

6

7

8

9

10

11

12

13

14

15

16

17

18

19

20

21

22

23

24

25

26

27

28

29

30
Reviews
Write a Review
Barbara
St Petersburg, US
Reviewed: Sep 9, 2016
Property Manager
We have nothing but the best things to say about all of the staff of On The Water in Maine. The entire staff is outstanding, they bend over backwards to make your stay enjoyable .
Property
Coming to the same home for 8 years now - I guess that tells you something!
Donna
North Easton, US
Reviewed: Jul 18, 2016
Property Manager Property
Barbara
St Petersburg, US
Reviewed: Oct 17, 2015
Property Manager
The Fords (who own On the Water in Maine) are a great family to work with, very caring and helpful whether you need a fishing guide or a beauty salon they know the best I the area.
Property
You can't beat sitting on a deck overlooking beautiful Penobscot Bay. And Camden offers so much to do , shopping, hiking, good restaurants, and not too far for day trips to Acadia, Bar Harbor to the north and Portland to the south.
Barbara
St Petersburg, US
Reviewed: Aug 30, 2015
Property Manager
We don't consider "On the Water in Maine" just an "agency". They are a very caring family and do their utmost to see that your stay is perfect. They cover all the bases and are there 24/7 for any needs you may have.
Property
We've stayed in the same home for six years now and it consider it our second home, not just a rental. Since we live in Florida we enjoy every single day there, rain fog or sun and being centrally located in Camden we can take advantage of the so many wonderful opportunities to enjoy either hiking, shopping, boating, swimming, visiting the many parks and lighthouses, or simply relaxing on the deck at home and of course eating lobster! How we found this home is a funny story. Six (or seven) years ago we wanted to get away from Florida summer heat. We wanted a house on the water and first searched in VRBO and found a home in Booth Bay but when we had difficulty communicating with the owner, my husband felt it would be better to deal with an agency whose sole job it was to take care of renting properties and being there for the renters, that was and is very important. So we searched again for a house, on the water, in Maine, and your agency's name popped up! We found the perfect home, the perfect family, caring "agency" to deal with, and have been coming back ever since!
Anonymous
Reviewed: Jul 22, 2015
Property Manager
I have enjoyed working with On the Water in Maine and used them/you 3 different years. One year I was a week or two late in getting my request in and Weeks End was totally booked. I tried again this year as soon as I got notified that bookings could be requested but wasn't able to get the 3 weeks I requested. I looked for similar rentals and found Camden Casa which worked out so well as our daughter and family could stay there while my husband and I stayed at Weeks End. Then I transferred to Camden Casa for another week and loved it as well. We will most likely try to rent it again next year as it is better suited for our family and grandchildren as it has another bedroom. The 3rd bed room at Weeks End doesn't work as a bedroom due to early morning light. Ben was very helpful in fixing a few problems at Weeks End, then the basement door latch at Camden Casa.
Property
The location is our favorite aspect; the privacy, the wooded forests, moss covered rocks and of course the gorgeous views and the ability to walk down to the shore. The house is roomy and nicely furnished.
Marco
White House Station, US
Reviewed: Oct 11, 2014
Property Manager
Total class. Ben at On the Water in Maine is awesome when you check in, helpful. Our second rental with you and everything is easy, no surprises, no problems. We wouldn't think of trying any other agency if we are looking in Maine.
Property
Beautiful house, very roomy, great private location, listen to the sounds of the sea in every room, watch the sunrise from you bed, see water birds swim by, a seal, see an eagle fly, and lobster fishermen checking on their pots. All this yet close to town and a stones throw away from Mt. Battie in a state park where you can hike to the top or drive there and see fantastic views.
Barbara
St Petersburg, US
Reviewed: Sep 2, 2014
Property Manager
It is a very we'll run family business, very dependable, accommodating, and always there when you need them . If I had a home to rent I would want them to handle it.
Property
This is the first house we rented and have been going back for five years! Love Weeks End!
Arthur
Wilbraham, US
Reviewed: Jun 15, 2014
Property Manager Property
Barbara
St. Petersburg, US
Reviewed: Sep 5, 2013
Property Manager Property
Dana
Blacksburg, US
Reviewed: Jul 22, 2013
Property Manager Property
Anonymous
Reviewed: Jul 9, 2013
Property Manager Property
Hope
Philadelphia, US
Reviewed: Jul 9, 2013
Property Manager Property
Disclosures
No Smoking is permitted anywhere on or inside of any of our rental properties nor are those who may partake in tobacco smoking allowed to occupy any of our properties.

Occupancy may not exceed what is posted for each home. Maximum occupancy could include infants and children.

Boat Rentals and other amenities offered through On the Water in Maine Inc. are not available at all the properties we offer for rent. Boat Rentals through Maine Watercraft Rentals Inc. are offered Sunday morning to Friday after 4pm and include free delivery to the property. Check with an agent to find out what boats are available to rent at this property, or, when you process the booking here online, only the boats available for the property will be listed as available to rent.

Please see our Rental Guidelines Page for further questions regarding how to book this property and additional charges and fees. Contact a reservation agent for more details or to ensure you are booking the right property for you.
Town Info - Camden / Rockport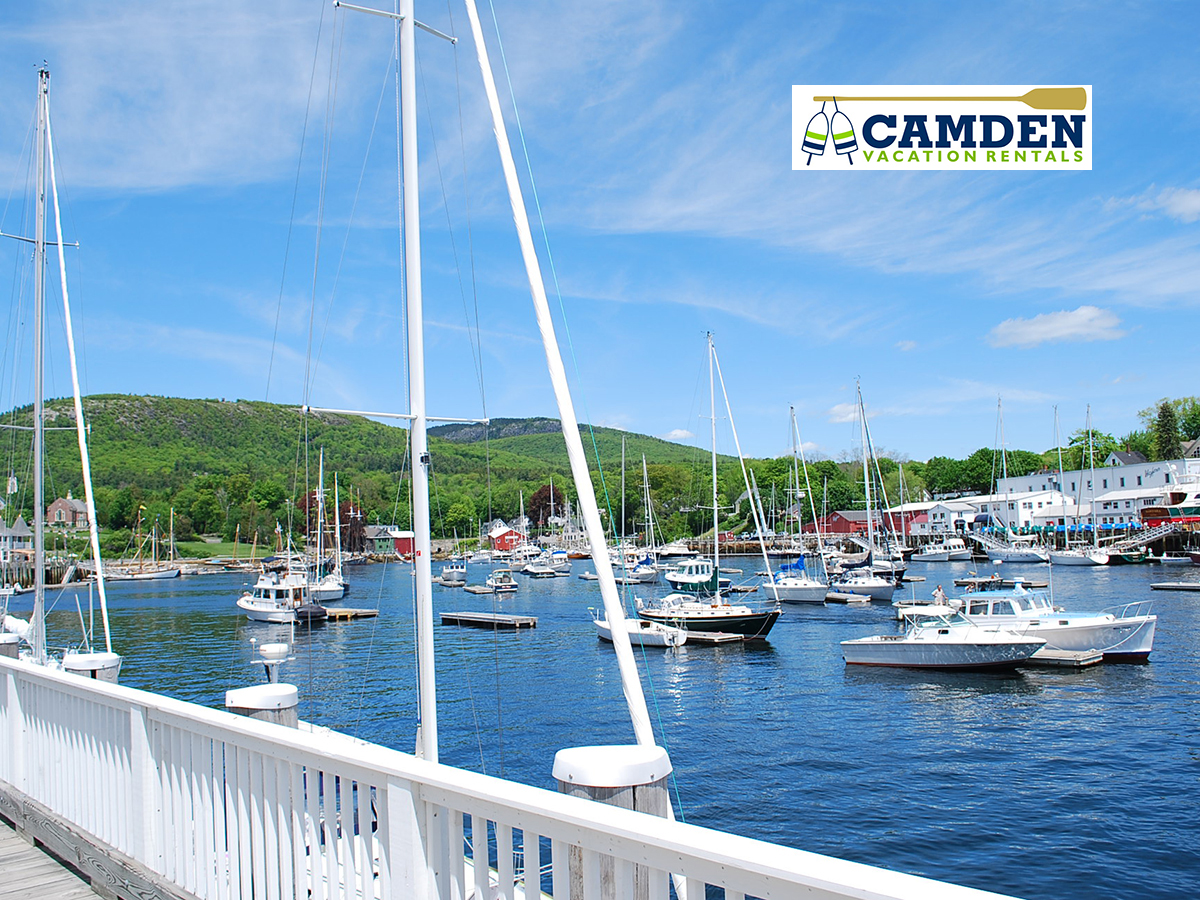 Well-loved by visitors and residents alike, the towns of Camden and Rockport were one until 1890. Even though governed separately today, they are essentially the same town combined with village centers a mile apart. The mountains tumble down to meet the ocean's edge, creating some of the best views and hiking opportunities in the state.
| | |
| --- | --- |
| Shopping | In Camden Village |
| Restaurants | Over 30 Restaurants in both towns combined, several recent James Beard Award winners |
| Golf Course | Goose River & Samoset Resort courses in Rockport |
| Airport | Knox County Regional (RKD) 20 minutes, Portland (PWM) 1.5 hrs, Bangor (BGR) 1 hour, Boston (BOS) 3 Hours, Manchester NH (MHT) 3 Hours |
| Groceries | French & Brawn, Megunicook Market, and Hannaford in Camden |
Learn More