| | |
| --- | --- |
| Guests | 12 |
| Bedrooms | 4 |
| Bathrooms | 5 |
| Allows Pets | Yes |
| Property Size | 5,000 sq. ft. |
Property Info
THIS PROPERTY ONLY RENTS ON A SATURDAY TO SATURDAY SCHEDULE - 7 NIGHT MINIMUM REQUIRED

ROOM LAYOUT:
Lower Floor- Queen "2nd" Master Bedroom with twin bed and en suite bathroom with tub/shower, Shared Full Bathroom with Stall Shower off open family room with a bunk bed, game area (ping pong table), caterer's kitchen area, outdoor seating and cocktail area under the deck
Main Level - Open Living Room/Dining Room and Kitchen, Large deck, Study with a curtain to block off as a sleeping area with a Queen Pullout Sofa, King Master Bedroom with en suite bathroom with a tub/shower, Shared Full Bathroom with Stall Shower, Laundry Area
2nd Floor - Queen Bedroom, Bunk Bedroom with extra single (3 twins total), Shared Full Bathroom with stall shower
DOGS PERMITTED?
Dogs are considered at this property. All dogs must first meet our
Pet Guidelines
before being considered. J2
Located at the peaceful north end of Megunticook Lake, Northern Lights is under new ownership as of June 2016 and luxuriously appointed awaiting the arrival of guests looking to enjoy this exclusive private lakeside retreat.

Entering the home you are greeted by the open cathedral ceilings of the main living room with large windows and doors facing the lake as well as the handcrafted spiral stairs to the upper level. The living room is appointed with comfortable furniture and opens to the expansive deck. A 40" SmartTV is visible in both the living room, or from the kitchen. The gourmet kitchen is fully equipped and ready to prepare any meal. Stools around the island are perfect for sitting and watching any culinary masters at work. A dining area is also in place for a more formal meal. Off of the kitchen and dining area there is a den with queen pullout couch that can be curtained off. A second sitting room opens to the deck. Continuing through the main level is a laundry area and a common bathroom with stall shower. Finishing out the main level of the house is a king-sized master bedroom with balcony and en suite bathroom with a tub/shower and double sink.

Proceeding up the spiral staircase to the upper level, there are two bedrooms, one with a queen bed, the other a bunk bed with an extra single twin. They share a bath with stall shower.

Going downstairs from the kitchen is the finished lower level family room with a large flat screen TV, comfortable lounge style seating area and a common bathroom with stall shower and bunk beds for 2 guests. A fourth bedroom includes a queen and a single twin bed as well as a full bathroom with tub/shower and double sinks.

Going outside from either the living room, sitting room or the lower level family room takes you to the spectacular deck and patio areas. With plenty of seating, great lake views and access to the large flat, lakeside lawn you will find this is where you spend most of your time.

Down at the waters edge there is a small pebbly area for smaller children to wade or to launch a kayak or canoe. The large new dock is suitable for swimming, fishing and tying up most lake watercraft and there is a swim ladder and approximately 4-5 feet of water.

This is a short video taken from a drone that we put together in July 2016...
Details
BOATS INCLUDED? None, however, our affiliate company Maine Watercraft Rentals Inc. will rent and deliver/pick-up the following boats at the property 22' Trophy, 17' Glastron, 13' Boston Whaler, and 14' Aluminum Fishing boat w/ 15hp. Click HERE to view pricing and to reserve a boat through us. If you are looking to rent kayaks, Maine Sport or Ducktrap Kayaks offer those and can deliver them to the Property.

CLEANING FEE & LINEN/TOWEL RENTAL FEE: Yes, a cleaning and linen/towel towel rental fee of $500 per rental applies. VIP Towels are included at this rental. Guests may add additional towels or bed linens through the reservation process. Learn more about our linen & towel rentals on the Rental Guidelines Page of our website. Guests may reduce this fee to $250 if they choose to bring their own bed linens and towels.

SECURITY DEPOSIT: Yes, a $500 Refundable Security Deposit may be required for Guests that don't have a previous/proven relationship with our company. The security deposit is due 30 Days prior to arrival and refunded within 30 days of departure.
OFF-SEASON PRICING:
In order to make some of our larger properties more attractive to smaller groups in the Off-Season, we`ve created a Custom Pricing Option. Pricing for rentals that occur in the advertised Off Seasons (1/1/17 - 6/17/17 & 9/2/17 - 12/31/17) for this property are based on 4 people. Additional people, up to the maximum allowed for the property, will be charged an additional $175 per person - per week if a rental occurs in these time-periods. Guest must select this option during the reservation process.
PROPERTY SPECIFICS:
Cleaning: The property will be professionally cleaned before and after the rental with the cleaning fee. Above normal cleaning charges will be billed to guest at $30 per hour
Air Conditioning: No - but there are fans throughout house
Heat Source: Oil-heated boiler and two wood-burning fireplaces (Guests supply own wood)
Washer & Dryer: Yes
Dishwasher: Yes
Coffee Maker: Yes, standard automatic drip with filters
Internet Access: Yes, with Wi-Fi - DSL - not super fast - but typically fast enough to stream one movie.
TV: 2 TVs with basic cable service. Main level TV is a SmartTV (TV Operating Instruction Video), the lower level TV has a DVD player
Grill: Propane Gas Grill - also a propane-fired outdoor seafood cooker
Usable Fireplace: Yes - renter must supply wood
Outdoor Firepit: Yes, renter must supply wood
Water Source : Well water
Trash Removal : Included with rental, put in yellow bags in shed. Picked up on Wednesday
Closest Shopping Village: Camden, 6 Miles away
Number of Restaurants within 5 Miles: 30 Plus
Water Frontage: Yes
Beach Access: Yes - small rocky beach are
Dock/Pier Access: Yes, Great dock for swimming and boating
Additional Amenities: Generator at the property, Minimum Standards List
Exploring Area
Google Map
Calendar
Jul - 2017
S
M
T
W
T
F
S

1

2

3

4

5

6

7

8

9

10

11

12

13

14

15

16

17

18

19

20

21

22

23

24

25

26

27

28

29

30

31
Aug - 2017
S
M
T
W
T
F
S

1

2

3

4

5

6

7

8

9

10

11

12

13

14

15

16

17

18

19

20

21

22

23

24

25

26

27

28

29

30

31
Sep - 2017
S
M
T
W
T
F
S

1

2

3

4

5

6

7

8

9

10

11

12

13

14

15

16

17

18

19

20

21

22

23

24

25

26

27

28

29

30
Oct - 2017
S
M
T
W
T
F
S

1

2

3

4

5

6

7

8

9

10

11

12

13

14

15

16

17

18

19

20

21

22

23

24

25

26

27

28

29

30

31
Nov - 2017
S
M
T
W
T
F
S

1

2

3

4

5

6

7

8

9

10

11

12

13

14

15

16

17

18

19

20

21

22

23

24

25

26

27

28

29

30
Dec - 2017
S
M
T
W
T
F
S

1

2

3

4

5

6

7

8

9

10

11

12

13

14

15

16

17

18

19

20

21

22

23

24

25

26

27

28

29

30

31
Jan - 2018
S
M
T
W
T
F
S

1

2

3

4

5

6

7

8

9

10

11

12

13

14

15

16

17

18

19

20

21

22

23

24

25

26

27

28

29

30

31
Feb - 2018
S
M
T
W
T
F
S

1

2

3

4

5

6

7

8

9

10

11

12

13

14

15

16

17

18

19

20

21

22

23

24

25

26

27

28
Reviews
Write a Review
Barbara
Onancock, US
Reviewed: Jul 10, 2017
Property Manager
Great folks to work with at On the Water in Maine, willing to meet all your needs.
Property
Spacious house with great views of the lake (at least until the young trees grow up to block it). Dock offers boat tie-up and kayak launching and excellent opportunities for jumping into the water.
Clark
Omaha, US
Reviewed: Jun 5, 2017
Property Manager
Justin and team at On the Water in Maine were incredibly organized and responsive. I could not imagine a better team to rent from.
Property
Phenomenal location and amenities. The rental had everything we could have wished for.
Anne & Rodney
Ottawa Hills, US
Reviewed: Aug 14, 2016
Property Manager
Your agency was very cooperative and we enjoyed working with you!
Property
We stayed at Northern Nights from July 30 to Aug 6th. This was out 3rd year at the house and we love it! This year we were thrilled with some of the upgrades to the property and house. The dock was our favorite. The e xtension made it terrific. Also the outdoor furniture was added and the deck tables made outdoor living excellent. Also the rearrangement of rooms worked for us. Also the kitchen was wall stocked.
Beth
Searsmont, US
Reviewed: Aug 13, 2016
Property Manager
Property
Lovely quiet place, well appointed and in a great location. Perfect place for our large family.
Disclosures
Smoking Is Not Permitted
anywhere on or inside of any of our rental properties nor are those who may partake in tobacco smoking allowed to occupy any of our properties.
Occupancy
may not exceed what is posted for each home. Maximum occupancy could include infants and children.
Amenities offered through On the Water in Maine Inc. are not available at all the properties we offer for rent.
Boat Rentals
through Maine Watercraft Rentals Inc. are offered Sunday morning to Friday after 4pm and include free delivery to the property. Check with an agent to find out what boats are available to rent at this property, or, when you process the booking here online, only the boats available for the property will be listed as available to rent.
Please see our
Rental Guidelines
Page for further questions regarding how to book this property and additional charges and fees. Contact a reservation agent for more details or to ensure you are booking the right property for you.
Town Info - Megunticook Lake & Norton Pond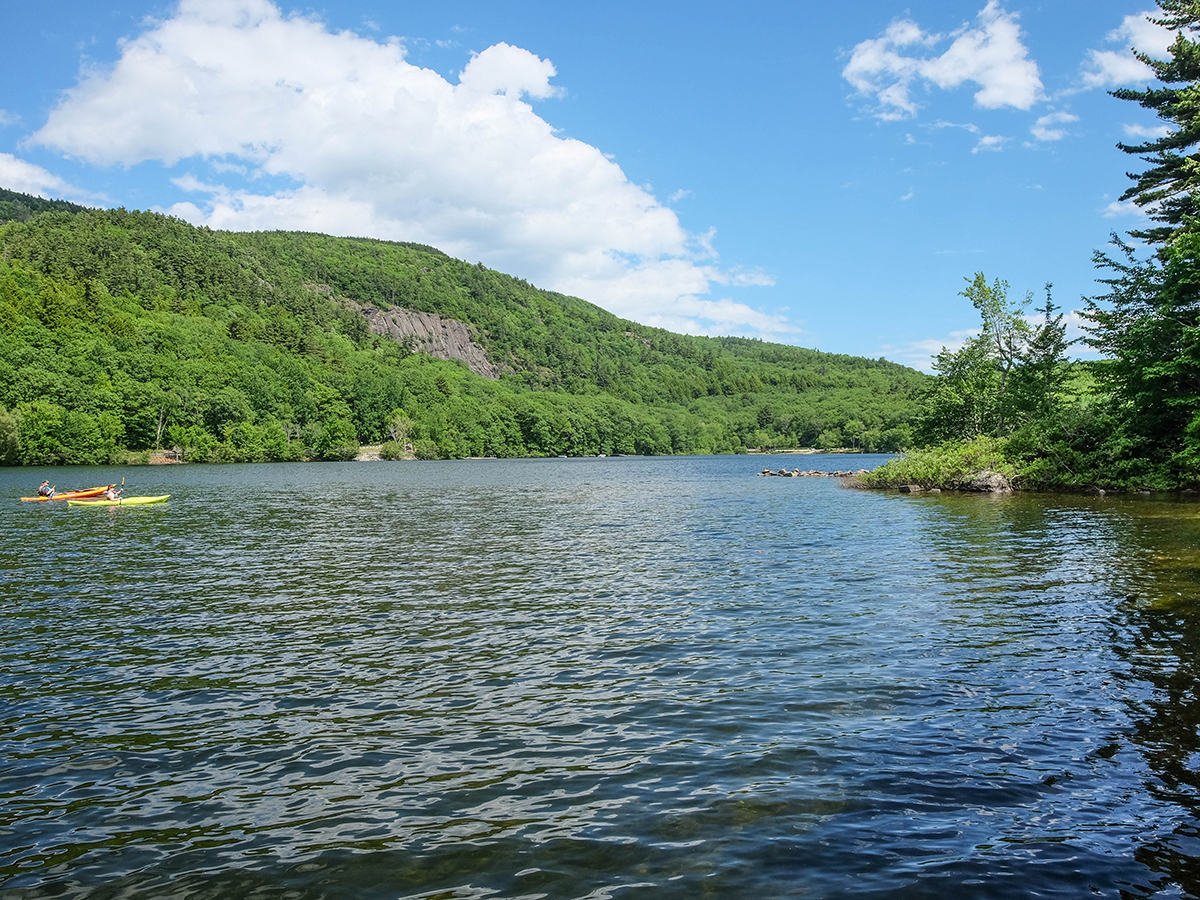 Popular connected lake and pond in the seaside towns of Camden and Lincolnville. "On Golden Pond" feel - yet in ocean-fronted towns.
Learn More