| | |
| --- | --- |
| Guests | 8 |
| Bedrooms | 5 |
| Bathrooms | 2.5 |
| Allows Pets | Yes |
Property Info
THIS PROPERTY ONLY RENTS ON A FRIDAY TO FRIDAY SCHEDULE - 7 NIGHT MINIMUM REQUIRED

ROOM LAYOUT:
1st Floor - Kitchen, Living Room, Dining Room, Half Bath, Laundry, Deck, Enclosed Screened Porch
2nd Floor - King Bedroom, Twin Bedroom, Twin Bedroom, Full Bedroom, Claw Foot Tub-Shower
Finished Lower Level - Queen Bedroom, Tub-Shower Bathroom

DOGS PERMITTED? Dogs are considered at this property. All dogs must first meet our Pet Guidelines before being considered. J1

This historical Maine cottage, located right on Rockport Harbor with great views, a rocky beach, dock, boat mooring, screened-in porch, and large entertaining/leisure spaces such as the dining room and living room, offers an opportunity for a great vacation experience in Midcoast Maine.

Marylea Cottage is conveniently located to all that Camden/Rockport area has to offer. Small and beautiful Rockport is on the west side of Penobscot Bay, between Rockland and Camden. Fifty years ago, Rockport was home to lobstermen and fishermen who built their weirs in the harbor, but today the harbor is mainly for pleasure boats (although there are still several lobsterman).

Rockport was at the heart of the Midcoast lime industry, and you can still see remnants of several old kilns on the waterfront nearby. The kilns inspire images of the night sky aglow with fires. The harbor, crowded with kiln wooders, unloading cords of four-foot spruce logs and limers loading casks for Boston and New York. Great piles of white lime tailings are still visible in Walker Park and on the banks of the Goose River. One story is told that a locomotive is buried in one of these piles, and small boys dig and dream.

If you like to take walks, follow Beauchamp Point Rd from the cottage where there are public access points to the rocky shore overlooking the harbor. Enjoy walking past large estates owned by some of today`s most elite business people.

Launch a kayak from the shared property dock and paddle the harbor, swim from the beach, or keep a watchful eye out for harbor seals from the many decks on the property.
Details
BOATS INCLUDED? None, however our Maine Sport in Rockport will deliver kayaks.

CLEANING FEE & LINEN/TOWEL RENTAL FEE: Yes, a cleaning and linen/towel towel rental fee of $300 per rental applies. Guests may add additional towels or bed linens through the reservation process. Learn more about our linen & towel rentals on the Rental Guidelines Page of our website. Guests may reduce this fee to $150 if they choose to bring their own bed linens and towels.

SECURITY DEPOSIT: No, the owner of this property does not require a security deposit, however, guests are still financially responsible for non-accidental damages at the property.

PROPERTY SPECIFICS:
Washer & Dryer: Yes
Dishwasher: Yes
Coffee Maker: Yes, Standard automatic drip with filters
Grill : Propane Gas Grill
Usable Fireplace: No
Outdoor Firepit: No
Trash Removal Service : Included with rental
Water Source: Town Water
Internet Access:Yes, with Wi-Fi
TV: Television with a DVD and basic cable service
Closest Shopping Village: Camden, 1 mile away
Number of Restaurants within 5 Miles:30 Plus
Water Frontage: Yes
Beach Access: Yes
Dock/Pier Access: Yes (The dock is shared with the Owner's sister who comes and goes on a side-path at the edge of the property to access the dock. She keeps a dingy on the dock to access her approximately 35 foot sailboat and occasionally brings the sailboat into the dock to load and offload supplies and people. She uses great discretion to not disturb the privacy of renting guests.)
Boat Mooring: No
Property Good For Fisherman: Yes
Additional Amenities: Minimum Standards List
Exploring Area
Google Map
Calendar
Aug - 2017
S
M
T
W
T
F
S

1

2

3

4

5

6

7

8

9

10

11

12

13

14

15

16

17

18

19

20

21

22

23

24

25

26

27

28

29

30

31
Sep - 2017
S
M
T
W
T
F
S

1

2

3

4

5

6

7

8

9

10

11

12

13

14

15

16

17

18

19

20

21

22

23

24

25

26

27

28

29

30
Oct - 2017
S
M
T
W
T
F
S

1

2

3

4

5

6

7

8

9

10

11

12

13

14

15

16

17

18

19

20

21

22

23

24

25

26

27

28

29

30

31
Nov - 2017
S
M
T
W
T
F
S

1

2

3

4

5

6

7

8

9

10

11

12

13

14

15

16

17

18

19

20

21

22

23

24

25

26

27

28

29

30
Reviews
Write a Review
Robert
The Woodlands, US
Reviewed: Sep 13, 2016
Property Manager
As always, OTW is the easiest, most professional rental agency I have dealt with.
Property
The location is superb.
Kris
Austin, US
Reviewed: Sep 7, 2016
Property Manager Property
John
Arlington, US
Reviewed: Jan 5, 2016
Property Manager
The property managers (Sara specifically) were very accommodating and helped resolve a WiFi issue on the first day. Although a router was replaced, the WiFi reception was still very poor and unreliable.
Property
The pictures on the website are not a great representation of the house. The house is more charming in person and has much more space than you can see in the pictures. The kitchen was actually a pleasant surprise. While it is not new, it has great space. Anything a cook needs to prepare a meal can be found in one of the many cabinets.
Patrick
Baltimore, US
Reviewed: Sep 16, 2015
Property Manager
Absolute gem! Had a minor issue and Justin(owner) came over the house that night. The issue was completely resolved the following morning. They clearly care about the guests well being and as well as the home owners.
Property
This old family home is a very special place to stay. It is clear when walking in this home that you are entering a vacation home that has been shared by generations of one family. We were so fortunate that they offered it as a rental. The views of the harbor are unbeatable. We loved having family meals together at the dining room table that overlooked the water. The path outside the house acts as a private trail. It was perfect for a quick hike around the mouth of the harbor. Checking Vesper's Chapel on hike not to missed. The house was perfect for our family. Unexpected treats were all the kids toys that our baby could get into.
Rosemary
Verplanck, US
Reviewed: Sep 6, 2015
Property Manager
On the Water Maine was incredibly easy to work with. Very organized and detailed. I loved that all the information we needed was available in advance.
Property
We loved Marylea Cottage. Our most favorite thing was the screened in porch and deck where we spent much of our time. The quiet relaxing view of Rockport Harbor was incredible.
Carl
Brooklin, US
Reviewed: Aug 7, 2015
Property Manager Property
Harold
Farnham, US
Reviewed: Jul 10, 2015
Property Manager
On the Water in Maine was extremely easy to work with and very professional. We would definitely rent with them again!
Property
We spent a beautiful week at Marylea cottage. The harbor views are picturesque and tranquil. The kitchen was well appointed and the living areas were welcoming and comfortable. The deck and screened porch were great for Al fresco dining! The gardens and landscaping was lovely. This grand home is centrally located for easy day trips for sightseeing to Camden, Rockland, Owl's head, Lincolnville, Marshall Point light house and other sites. Many fabulous restaurants are within a 10 minute drive. We loved all of the family portraits and memorabilia in the cottage, evidence that this special home has been loved by generations.
Richard
Houston, US
Reviewed: Sep 16, 2014
Property Manager
This is our first time to work with On the Water in Maine, and our experience has been very positive. The one time that we needed assistance, Justin responded immediately and fixed the problem.
Property
Our favorite feature of this cottage is its location on the water with a wonderful full view of the harbor.
William
COLCHESTER, GB
Reviewed: Aug 13, 2014
Property Manager
Very efficient.
Property
Great location, loved the terrace and the dock by the water. Our kids especially enjoyed playing the piano. House very well equipped.
Neal
Philadelphia, US
Reviewed: Jun 23, 2014
Property Manager
The staff was very efficient in dealing with our reservations, providing directions and instructions, and helping when we wanted to modify our departure date so we could stay a few extra days.
Property
MaryLea Cottage is a wonderful home and property. The location is idyllic, with beautiful views of Rockport Harbor, and it is right next to the walking trail along Beauchamp Point. The house is rustic and is filled with music-loving family history. It has a comfortable dining room, a living room with a picture window overlooking the harbor and a wraparound porch, including a screened-in part where we ate dinner by candelight most evenings. We loved the camp-style pathways leading down to the boathouse deck where we watched the sailboats go by. We feel fortunate to have had the chance to stay in such a beautiful place. The downstairs bedroom suite felt a little "damp" one evening when the humidity was very high - otherwise everything was quite comfortable.
Paul
Tunkhannock, US
Reviewed: Sep 24, 2013
Property Manager Property
Patricia
Morristown, US
Reviewed: Aug 4, 2013
Property Manager
The OTWIM staff is warm, knowledgeable, and responsive to all questions and requests for help. It's a well run organization that I enjoying dealing with. Very Mainelike! The living room view of the harbor is the house's best feature. Also, the basement bedroom for others to stay in privacy, away from the main bedrooms.
Property
Disclosures
Smoking Is Not Permitted anywhere on or inside of any of our rental properties nor are those who may partake in tobacco smoking allowed to occupy any of our properties.

Occupancy may not exceed what is posted for each home. Maximum occupancy could include infants and children.

Amenities offered through On the Water in Maine Inc. are not available at all the properties we offer for rent. Boat Rentals through Maine Watercraft Rentals Inc. are offered Sunday morning to Friday after 4pm and include free delivery to the property. Check with an agent to find out what boats are available to rent at this property, or, when you process the booking here online, only the boats available for the property will be listed as available to rent.

Please see our Rental Guidelines Page for further questions regarding how to book this property and additional charges and fees. Contact a reservation agent for more details or to ensure you are booking the right property for you.
Town Info - Camden / Rockport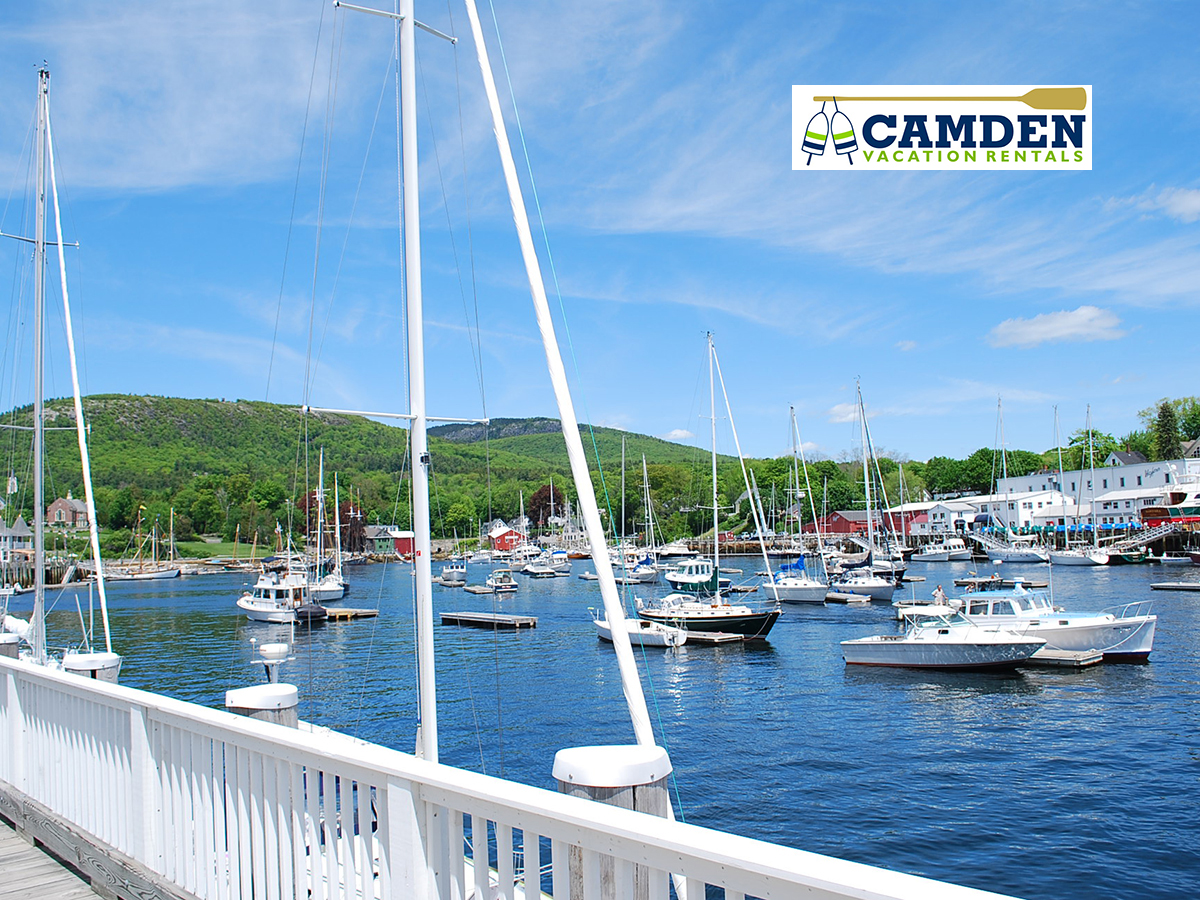 Well-loved by visitors and residents alike, the towns of Camden and Rockport were one until 1890. Even though governed separately today, they are essentially the same town combined with village centers a mile apart. The mountains tumble down to meet the ocean's edge, creating some of the best views and hiking opportunities in the state.
| | |
| --- | --- |
| Shopping | In Camden Village |
| Restaurants | Over 30 Restaurants in both towns combined, several recent James Beard Award winners |
| Golf Course | Goose River & Samoset Resort courses in Rockport |
| Airport | Knox County Regional (RKD) 20 minutes, Portland (PWM) 1.5 hrs, Bangor (BGR) 1 hour, Boston (BOS) 3 Hours, Manchester NH (MHT) 3 Hours |
| Groceries | French & Brawn, Megunicook Market, and Hannaford in Camden |
Learn More