| | |
| --- | --- |
| Guests | 8 |
| Bedrooms | 4 |
| Bathrooms | 3.5 |
| Allows Pets | No |
Property Info
THIS PROPERTY ONLY RENTS ON A FRIDAY TO FRIDAY SCHEDULE - 7 NIGHT MINIMUM REQUIRED
ROOM LAYOUT:
1st Floor -
Kitchen with Dining Area, Living room, Half bath, Queen Bedroom with en suite tub/shower bathroom, Family Room with large flat screen TV
2nd Floor -
Queen Bedroom, Bedroom with two Twins, Full Bathroom
Finished Walk-out Basement -
Game Room, Full Bathroom, Queen Bedroom, and Laundry Room
DOGS PERMITTED?
Sorry - no pets are allowed at this property.

Featuring wide panoramic views of Penobscot Bay and three lighthouses in view, five minutes from hiking and mountain climbing at Camden Hills State Park, and situated right between Rockport and Rockland - 4 miles south of Camden village, this home is spacious and comfortable with ocean views from every room. After a day sailing on Penobscot Bay, hiking Mt Battie, or enjoying Camden, Belfast, Rockport and the rest of the Midcoast, come home for a barbecue on the large open deck facing the water.
Details
BOATS INCLUDED: No, in fact - this property is not appropriate for boating from because of the rocky shore.

CLEANING FEE & LINEN/TOWEL RENTAL FEE: Yes, a cleaning and linen/towel towel rental fee of $295 per rental applies. VIP Towels are included at this rental. Guests may add additional towels or bed linens through the reservation process. Learn more about our linen & towel rentals on the Rental Guidelines Page of our website. Guests may reduce this fee to $120 if they choose to bring their own bed linens and towels.

SECURITY DEPOSIT: Yes, a $500 Refundable Security Deposit is required for Guests that don't have a previous/proven relationship with our company. The security deposit is due 30 Days prior to arrival and refunded within 30 days of departure.
OFF-SEASON PRICING:
Pricing for rentals that occur in the advertised Off Seasons and (1/1/17 - 6/16/17 & 9/1/17 - 12/31/17) is stated for a maximum 4 people, Additional guests up to the maximum occupancy are an additional $175 per person plus the lodging tax and service fee.
PROPERTY SPECIFICS:
Washer & Dryer:
Yes
Dishwasher:
Yes
Coffee Maker:
Yes, Standard automatic drip with filters
Trash Removal:
Included with rental
Water Source:
Well water
Air Conditioning:
Yes, window unit in master and upstairs queen only and fans are located in each bedroom
Heat Source:
Furnace and gas monitor
Fireplace Usable:
Yes
Internet Access:
Yes, with Wi-Fi
TV:
One 70" flat screen with basic cable service and DVD player
Grill :
Propane
Outdoor Fire pit:
No
Closest Shopping Village:
Camden or Rockland each 3 miles away
Number of Restaurants within 5 Miles:
30 Plus
Water Frontage:
Yes, on Penobscot Bay (Atlantic Ocean)
Beach Access:
No - but you can access steep rocky shore
Property Good For Fisherman:
No
Dock/Pier Access:
No
Deep Water Boat Mooring:
No
Owner Boats Included?:
No
Additional Amenities:
Minimum Standards List
Exploring Area
Google Map
Calendar
Aug - 2017
S
M
T
W
T
F
S

1

2

3

4

5

6

7

8

9

10

11

12

13

14

15

16

17

18

19

20

21

22

23

24

25

26

27

28

29

30

31
Sep - 2017
S
M
T
W
T
F
S

1

2

3

4

5

6

7

8

9

10

11

12

13

14

15

16

17

18

19

20

21

22

23

24

25

26

27

28

29

30
Oct - 2017
S
M
T
W
T
F
S

1

2

3

4

5

6

7

8

9

10

11

12

13

14

15

16

17

18

19

20

21

22

23

24

25

26

27

28

29

30

31
Nov - 2017
S
M
T
W
T
F
S

1

2

3

4

5

6

7

8

9

10

11

12

13

14

15

16

17

18

19

20

21

22

23

24

25

26

27

28

29

30
Reviews
Write a Review
Joanne D.
Tyler, US
Reviewed: Aug 14, 2017
Property Manager
Always professional, courteous and helpful,
Property
My third year at Sea Cliff - we love it. The best view!
Gail
Tampa, US
Reviewed: Aug 13, 2016
Property Manager Property
Aileen
Miami, US
Reviewed: Jul 17, 2016
Property Manager
On the Water in Maine Inc. is a professional company. They emailed often with all the detailed information we'd need to be able to settle into the property once there. They provided excellent directions, supermarket location, boating and water sports information, etc. They were always quick to answer any questions or needs.
Property
This cottage is a dream. Its location is beyond beautiful. It has the ocean in the back, a brook on the right side of the property that empties out into the ocean, majestic trees all around, and lovely landscaping. It is decorated inside with an ocean theme and the furniture is very comfortable. We felt right at home. It has a large living room area with cathedral ceilings, perfect for the 7 of us. Nice kitchen. Beautifully decorated bedrooms. It has gorgeous outdoor seating areas. The wood deck is a great place to sit and enjoy the great outdoors. We loved to walk down the outdoors stairs that lead out to the rocks and sit on them to watch the smaller islands and the amazing view of the rocky coast. I can't say enough of this property. We could not ask for more. We fell in love with Sea Cliff Cottage.
David
Eden Prairie, US
Reviewed: Jul 5, 2016
Property Manager
On the Water was amazing to work with...helpful, knowledgeable, friendly, responsive. A fabulous experience.
Property
Amazing week on the coast! Breathtaking view of Penobscot Bay, perfect deck to enjoy sunise and sundown, comfortable and well-equipped home. We'll be back next year!
Tricia
Stuart, US
Reviewed: Jun 13, 2016
Property Manager
Excellent Minor problem with grill Spoke to Justin (owner) and was taken care of in less than an hour. Could not have been more accommodating. Great team!!
Property
Lower deck overlooking the bay.. Just stunning!!! The view was a 10+ Great house.. Comfortable and clean.. Hated to leave We'll be back next year.
John
Reviewed: Oct 16, 2015
Property Manager
The team at On the Water in Maine are extremely friendly, efficient, helpful and hands on.
Property
My wife and I spent two very happy weeks in Sea Cliff Cottage last month. We thought that the edge-of-the-ocean location was stunning, and we never tired of the views over Penobscot Bay from the deck and the terrace. We also very much liked the internal dcor of the property, and its furnishings. The situation is also ideal for both Camden and Rockland.
Ann
Hinsdale, US
Reviewed: Oct 5, 2015
Property Manager
On the Water in Maine is an extremely professional organization. They made our rental experience so easy with website information, prompt answers to questions, suggestions, payment facilitation and reminders. They left helpful brochures and maps at the house. The staff was available for assistance at any time. They even went out their way to help us send a fax for an emergency situation that arose during our stay. We send a special thanks to Justin, Meg and to the young man who helped with our fax.
Property
This home is not only beautiful but comfortable too. Three different sleeping areas afford privacy for guests, while family room, dining room and decks provide areas to accommodate entire families. The views of the water are incredible! The homeowners have provided very comfortable seating arrangements on two different decks in order to take advantage of the extraordinary scenery. The lot also contains a picturesque stream. Furnishings inside the house are attractive and inviting.
Victoria
Reno, US
Reviewed: Aug 31, 2015
Property Manager
Your agency is very friendly and accommodating - the whole process was very easy.
Property
Beautiful house, beautiful property with great views! House was very comfortable and the location was perfect - private yet close to shopping and towns.
Kathy
Newark, US
Reviewed: Aug 2, 2015
Property Manager
Everyone I dealt with at On the Water in Maine was knowledgeable and professional. Meg helped a great deal in selecting the property; Justin stopped out on our first day to assist with internet connectivity issues and even changed a light bulb over the ping pong table before he left.
Property
We loved Sea Cliff cottage. The decks and steps to the water view were amazing. Nothing better than sitting on the upper or lower deck with a cup of coffee and watching the lobster boats check their traps each morning. We had a great view of Indian Island Lighthouse. The Tour de France was taking place during our stay; watching the coverage on the large TV was terrific. The toddlers in our group loved the large family room; plenty of place for toys.We had 3 family grouops; this property allowed each group to have their own private space on separate floors. While we were here - we did a schooner trip (the Appledore) in Camden, walked the Rockland breakwater and boardwalk, drove to the top of Mount Battie and did some hiking at Camden State Parj, shopping in Camden, Lincolnville and Rockland, breakfast at the Brass Compass (even purchased a couple of buoys painted by a local artisan there), toured Rockport Harbor; breakfast at Home Kitchen Cafe; dinner at Flatbread Pizza, lunch at Landings in Rockland, dinner at the Waterfront in Camden; lunch at Peter Otts and Cuzzies in Camden and 3 Dogs in Rockport; a day at the Lincolnville Beach; our son's reheasal dinner at 40 Paper, wedding at Union Hall in Rockport and reception at the Megunticook Golf Club.
David
Eden Prairie, US
Reviewed: Jul 12, 2015
Property Manager
On teh Water in Maine made everything so easy. The home was spotless and welcoming when we arrived, there was tons of helpful information, and the process to close the house was clear and easy to follo. We've rented from several agencies, and this was our best experience.
Property
What a beautiful property! The design o fthe house made it so easy and comfortable for the family. And, the deck, patio and waterfront were spectacular.
Marie
Cape Coral, US
Reviewed: Jun 19, 2015
Property Manager
The staff from On the Water in Maine is just right up the road and can respond quickly to any needs.
Property
Beautiful home with a view! The property was amazing and we had a wonderful time. Unlike staying in a hotel, the entire family has the ability to have their own space, and time to themselves. Kids had a blast with the numerous variety of board games. The moonrise over the water was spectacular at night.
Robert
The Woodlands, US
Reviewed: Aug 31, 2014
Property Manager
Very simple and direct. Easy to work with.
Property
Incredible views. Nice house with pretty grounds.
James
Blasdell, US
Reviewed: Jul 29, 2014
Property Manager
On the Water in Maine agency is wonderful to deal with. Very professional and honest. Everything is as they advertised and more. Stopped in the office for info and they were great! Would deal with them again and would recommend to anyone.
Property
Our experience with Sea Cliff Cottage was wonderful-for the most part. The house is beautiful, the view is spectacular, both morning and evening on the middle deck.
Pam
Oakland, US
Reviewed: Jun 21, 2014
Property Manager
Property
The home fit our needs in quality, space and amendities . We had an entire week of sunshine which we enjoyed on both decks. Since we live here in Maine and don't need to see the sights, this is a week of quiet times, reading, family reconnecting, etc. this home offered us the space for all of that.
Alan
Santa Rosa, US
Reviewed: Oct 13, 2013
Property Manager
Property
Thank you so much for sharing your beautiful home
Laura
Murrells Inlet, US
Reviewed: Oct 7, 2013
Property Manager
Justin at On the Water in Maine was very friendly and knowledgeable.
Property
Thank you for sharing your beautiful home. I don't think we could have asked for a better view off the back deck! Our favorite feature of the Seacliff property is the amazing view off the back deck! My husband also loved the view of the extra large tv.
Larry
Greenwood, US
Reviewed: Sep 24, 2013
Property Manager Property
Anne
Walkerton, US
Reviewed: Aug 19, 2013
Property Manager
The view from Sea Cliff Cottage was wonderful. The location was also very conveniently close to Rockland and Camden. The decks were perfect for relaxing in the sun, while the house and its furnishings were also most comfortable. The shower fixtures in the basement bedroom appeared to be quite old in a mostly otherwise updated home. The knobs stopped working, but we finally got the water to turn off. We waited to call until after office hours and an On the Water in Maine staff member was sent almost immediately - very impressive.
Laura
Marblehead, US
Reviewed: Aug 6, 2013
Property Manager Property
Andrew
Doylestown, US
Reviewed: Aug 3, 2013
Property Manager
Justin, the Owner of On the Water in Maine, happened to be on property by chance upon our return one afternoon. What a lucky break for us. We had shared our experiences from that day and our agenda for the following day. He was extremely helpful in making alternative suggestions and really gave us some great ideas that we hadn't been aware of. Also helpful that he is a father and understood some activities our children might enjoy. I had some questions after our discussion and left him a VM that evening. He promptly returned my call. We loved the extremely peaceful property with tons of privacy, captivating views and appealing location.
Property
Our family had our very first Maine vacation in your home this past week; We had a wonderful week in your cozy and comfortable property and enjoyed every inch of the grounds. Thank you for the experience and best regards!
Jack
Boca Raton, US
Reviewed: Jul 23, 2013
Property Manager
Just Terrific - It was nicer then we would have imagined- we do live an equally nice home, a bit larger maybe but THE PROPERTY WAS MAGNIFICENT- THE TREES, STREAM. THE WATER FALL AND THE SEA - THE VIEWS ARE BREATH TAKING EVERYDAY!!!
Property
Disclosures
Smoking Is Not Permitted anywhere on or inside of any of our rental properties nor are those who may partake in tobacco smoking allowed to occupy any of our properties.

Occupancy may not exceed what is posted for each home. Maximum occupancy could include infants and children.

Amenities offered through On the Water in Maine Inc. are not available at all the properties we offer for rent. Boat Rentals through Maine Watercraft Rentals Inc. are offered Sunday morning to Friday after 4pm and include free delivery to the property. Check with an agent to find out what boats are available to rent at this property, or, when you process the booking here online, only the boats available for the property will be listed as available to rent.

Please see our Rental Guidelines Page for further questions regarding how to book this property and additional charges and fees. Contact a reservation agent for more details or to ensure you are booking the right property for you.
Town Info - Camden / Rockport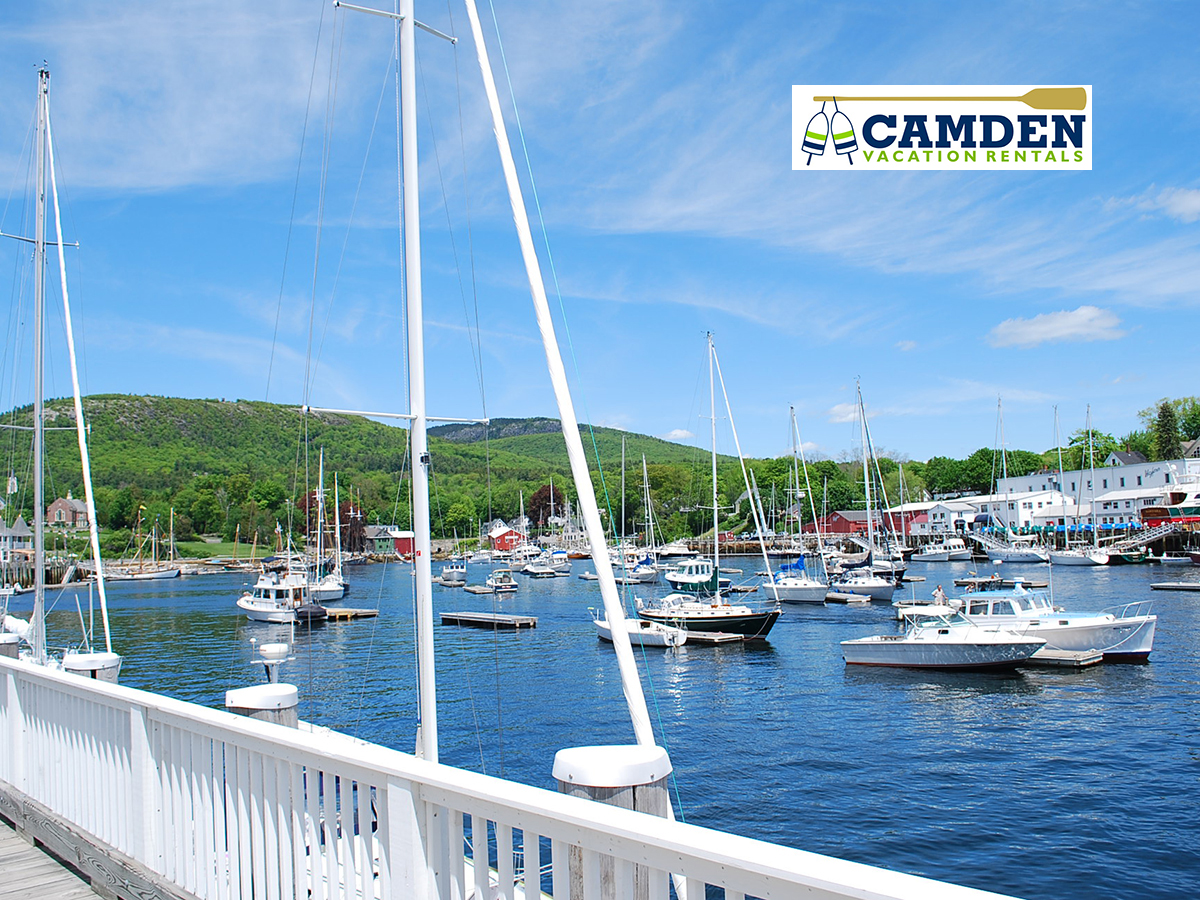 Well-loved by visitors and residents alike, the towns of Camden and Rockport were one until 1890. Even though governed separately today, they are essentially the same town combined with village centers a mile apart. The mountains tumble down to meet the ocean's edge, creating some of the best views and hiking opportunities in the state.
| | |
| --- | --- |
| Shopping | In Camden Village |
| Restaurants | Over 30 Restaurants in both towns combined, several recent James Beard Award winners |
| Golf Course | Goose River & Samoset Resort courses in Rockport |
| Airport | Knox County Regional (RKD) 20 minutes, Portland (PWM) 1.5 hrs, Bangor (BGR) 1 hour, Boston (BOS) 3 Hours, Manchester NH (MHT) 3 Hours |
| Groceries | French & Brawn, Megunicook Market, and Hannaford in Camden |
Learn More