| | |
| --- | --- |
| Guests | 8 |
| Bedrooms | 4 |
| Bathrooms | 3 |
| Allows Pets | No |
| Property Size | 3,000 sq. ft. |
Property Info
THIS PROPERTY ONLY RENTS ON A SATURDAY TO SATURDAY SCHEDULE - 7 NIGHT MINIMUM REQUIRED

ROOM LAYOUT:
Main Level- Living Room, Dining Area, Kitchen, Bathroom with stall shower
2nd Level- King bedroom, Queen bedroom, Bathroom with stall shower and jetted tub, Rooftop deck
3rd Level Loft- Sleeping area with 4 twin beds
Finished Lower Level- Family room, Bedroom with 4 Twin bunks, Stall shower bathroom with Laundry
DOGS PERMITTED? Sorry, Dogs are NOT permitted at this property.
This exceptionally well decorated cottage offering uncommon quality and comfort in Bayside is on the southern end of the village. A short walk will have you at the beach in Kelly`s Cove, or at the park and pier in the village center. From the rooftop deck you can also enjoy the panoramic ocean views right in front of the house. Stairs in front of the house are great for going down on to the pebbly beach.

Entering the cottage you are greeted by the open living area including a well equipped kitchen, dining area, and huge open living room. Tasteful furnishings, rugs and decor compliment the space. The entire scene is enhanced by the broad ocean views through the windows across the entire rear of the house. Outside there are steps from the house down to the rocky and pebbly beach at the oceans edge; a favorite spot to enjoy the scenery and ocean breezes.

The upper floors include comfortable bedrooms and downstairs from the main level is a nicely finished family room with a TV and comfortable furnishings for watching a movie on a rainy day. Additionally there is a guest room with 4 Twin bunks and a laundry.

LEARN MORE ABOUT BAYSIDE: You can learn more about Bayside by visiting the Local Area Guide on Bayside on our website.
Details
BOATS INCLUDED? None, however if you are looking to rent kayaks, Water Walker or Ducktrap Kayaks offer those and can deliver them to the Property.
LINEN/TOWEL RENTAL FEE: Yes, a linen/towel towel rental fee of $200 per rental applies. Guests may add additional towels through the reservation process. Learn more about our linen & towel rentals on the Rental Guidelines Page of our website.

SECURITY DEPOSIT: Not required, accidental damages are covered under the Damage Waiver Plan included with rental of the cottage.
OFF-SEASON PRICING:
In order to make some of our properties more attractive to smaller groups in the Off-Season, we`ve created a Custom Pricing Option. Pricing for rentals that occur in the advertised Off Seasons (1/1/17 - 7/1/17 & 9/2/17 - 12/31/17) for this property are based on
2
people. Additional people, up to the maximum allowed for the property, will be charged an additional $175 per person - per week if a rental occurs in these time-periods. Guest must select this option during the reservation process.
PROPERTY DETAILS:
Cleaning Included:
Yes, the property will be cleaned before and after the rental. Above normal cleaning charges will be billed to guest at $30 per hour
Air Conditioning:
No - but fans are located in each bedroom
Heat Source:
Furnace
Washer & Dryer:
Yes
Dishwasher:
Yes
Coffee Maker
: Yes, Standard automatic drip with filters
Internet Access:
Yes, with Wi-Fi
TV:
Yes, with DVD player, No cable-satellite-antenna service. The DVD is Smart enabled for Netflix movie streaming (guests must provide their own account information)
Grill:
Propane Gas Grill
Usable Fireplace:
No
Outdoor Firepit:
No
Water Source :
Town water - okay to drink from tap
Trash Removal :
Picked up on Saturdays
Closest Shopping Village:
Belfast, 4.5 Miles away
Number of Restaurants within 10 Miles:
30 Plus
Water Frontage:
Yes, direct ocean frontage
Beach Access:
Yes, directly in front of the cottage, public nearby
Dock/Pier Access:
Yes, Public nearby
Deep Water Boat Mooring:
Yes, Moorings are available for rental in the village
Additional Amenities:
Minimum Standards List
Exploring Area
Google Map
Calendar
Aug - 2017
S
M
T
W
T
F
S

1

2

3

4

5

6

7

8

9

10

11

12

13

14

15

16

17

18

19

20

21

22

23

24

25

26

27

28

29

30

31
Sep - 2017
S
M
T
W
T
F
S

1

2

3

4

5

6

7

8

9

10

11

12

13

14

15

16

17

18

19

20

21

22

23

24

25

26

27

28

29

30
Oct - 2017
S
M
T
W
T
F
S

1

2

3

4

5

6

7

8

9

10

11

12

13

14

15

16

17

18

19

20

21

22

23

24

25

26

27

28

29

30

31
Nov - 2017
S
M
T
W
T
F
S

1

2

3

4

5

6

7

8

9

10

11

12

13

14

15

16

17

18

19

20

21

22

23

24

25

26

27

28

29

30
Reviews
Write a Review
Anna
Belfast, US
Reviewed: Jul 9, 2017
Property Manager Property
Alex
San Mateo, US
Reviewed: Jun 19, 2017
Property Manager
Overall we had a good experience. We did find some of the materials in our binder out of date. Trash/recycling procedures were wrong, there were multiple wifi codes. These things are minor but would have saved us some time if they were up to date.
Property
we loved the location right on the beach, views cannot be beat, and the master bath was lovely.
Paul
Rehoboth Beach, US
Reviewed: Oct 30, 2016
Property Manager
all communication between the agency and ourselves worked well.
Property
we enjoyed the "BeeHive" cottage for the second year in a row. the view from the living room makes the cottage. As we look at next year we would love to see similar cottage that you have in your portfolio.
J. Eugene
Lenexa, US
Reviewed: Sep 24, 2016
Property Manager Property
Lisa
Elk Grove Village, US
Reviewed: Sep 22, 2016
Property Manager Property
Jennifer
Charlotte, US
Reviewed: Jul 24, 2016
Property Manager
Everyone was helpful and accommodating.
Property
We loved staying at Bayside again this year. The cottage was perfect for our family.
Christopher
Essex, US
Reviewed: Jul 16, 2016
Property Manager Property
Paul
Rehoboth Beach, US
Reviewed: Oct 19, 2015
Property Manager Property
Jeff
Towson, US
Reviewed: Aug 23, 2015
Property Manager
It is always very easy and seamless to work with OTW.
Property
The view was spectacular
Jennifer
Charlotte, US
Reviewed: Aug 2, 2015
Property Manager
Ben was great, very friendly and helpful and the owner even came over to help with the electronics!
Property
We had a wonderful family vacation and the cottage had the right kind of space to accommodate our needs. The views were spectacular and the downstairs area was perfect for the teenagers in our group.
Andrew
Marvin, US
Reviewed: Jul 10, 2015
Property Manager Property
Susie
Purcellville, US
Reviewed: Sep 1, 2014
Property Manager
Our experience was good overall working with On the Water in the Maine. The expectations and requirements were laid out from the get go and your company was very straightforward. I very much appreciated all of the emails prior to our stay. They were all very informative.
Property
Beehive Cottage - The view is absolutely spectacular just stunning. We LOVED being in this cottage as much as possible so that we could enjoy the views from the family room and atop the deck off of the master bedroom. I woke many mornings to watch the sunrise from the deck. Just magnificent! The kids thoroughly enjoyed the basement. The ping pong table was a huge hit!
Joanne
Reviewed: Jul 22, 2014
Property Manager
On the Water in Maine was a great agency to work with; very prompt communications.
Property
Location was absolutely perfect--loved the little town, and close to many locations to drive on daytrips. Main room was perfect with all its windows; so relaxing especially with no television to detract from nature, water,and boats! Downstairs TV room was perfect for the kids, and for family movie nights. Just four of us stayed here, so didn't need the loft bedroom or downstairs bunks, but we all keep talking about how it was perfect for us and we can't wait to go back!
Alison
Richmond, US
Reviewed: Aug 29, 2013
Property Manager
On the Water in Maine was helpful in getting a hot water situation worked out. We loved the great location on the water with great views. Can put in kayaks right from the beach, can build fire on the beach in the evening. The main bathroom is large, which is nice for larger groups.
Property
Disclosures
Smoking Is Not Permitted anywhere on or inside of any of our rental properties nor are those who may partake in tobacco smoking allowed to occupy any of our properties.

Occupancy may not exceed what is posted for each home. Maximum occupancy could include infants and children.

Amenities offered through On the Water in Maine Inc. are not available at all the properties we offer for rent. Boat Rentals through Maine Watercraft Rentals Inc. are offered Sunday morning to Friday after 4pm and include free delivery to the property. Check with an agent to find out what boats are available to rent at this property, or, when you process the booking here online, only the boats available for the property will be listed as available to rent.

Please see our Rental Guidelines Page for further questions regarding how to book this property and additional charges and fees. Contact a reservation agent for more details or to ensure you are booking the right property for you.
Town Info - Bayside Village, Northport & Belfast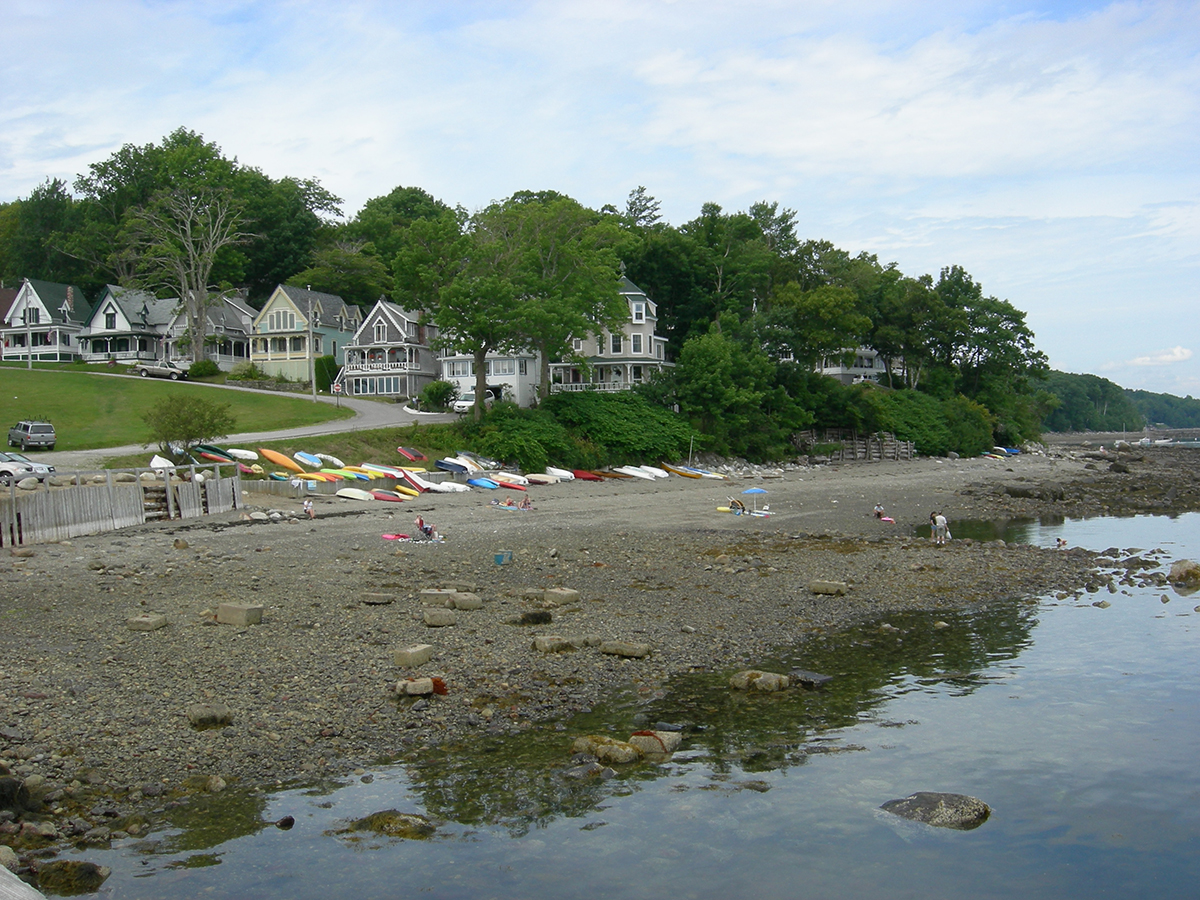 Really two towns (legally) - Belfast and Northport are neighbors, and then Bayside is located inside of the town of Northport. While only a short distance from coastal Route 1, Bayside remains a well-kept secret; a small hamlet that takes one back to a simpler, uncomplicated time. A few years back, DownEast Magazine did a great article on Bayside that is still mostly relevant today. Click HE...
Learn More