| | |
| --- | --- |
| Guests | 14 |
| Bedrooms | 6 |
| Bathrooms | 4 |
| Allows Pets | Yes |
| Pool | Yes |
| Property Size | 3,500 sq. ft. |
Property Info
THIS PROPERTY ONLY RENTS ON A FRIDAY TO FRIDAY SCHEDULE - 7 NIGHT MINIMUM REQUIRED

ROOM LAYOUT:
1st Floor- Mud room with Laundry, Study, Kitchen (with dining table for 4), Dining Room (noteworthy that only about 10 people can sit around dining table), Living Room, Master King bedroom with en suite bath with stall shower.
2nd Floor- Reading nook, King bedroom, Three bedrooms each with 2 Twin beds, Queen bedroom, Two bathrooms with tub-showers
3rd Floor-Family room with two Twin beds and one Full bed, Bathroom with claw foot tub shower
DOGS PERMITTED? Dogs are considered at this property. All dogs must first meet our Pet Guidelines to be considered. J2
This historic cottage, once used to house visitors who arrived at the steam ship landing nearby, now offers a fantastic spot for a large family get-away. The large house boasts enough space to sleep 14 people while offering the most wonderful outdoor accommodations!

The living room opens up to a large deck that looks out over the pool, gazebo and Linekin Bay. This is a fantastic spot to catch the windjammers festival, watch lobstermen haul traps and spend evenings viewing gorgeous summer sunsets. On hot days you can cool off in the pool while still taking in the view. The gazebo is a great spot for watching the boats go by while enjoying an outdoor picnic. The house has a private deep water dock as well as a mooring , if you would like to bring a boat please contact OTWIM first.
This is a short video taken by drone in August 2016...
PROPERTY FOR SALE? Yes, this property is currently for sale. If it were to go under contract, rentals through the end of the 2017 rental season would have a priority over the sale. Our goal is to make sure the renter has a great vacation experience. Parties interested in more information about the real estate listing of Ledgelawn can contact On the Water Real Estate at 207-236-4110.
Details
BOATS INCLUDED? None. Further, our sister company Maine Watercraft Rentals, Inc. does NOT service the Boothbay area. Kayaks, Stand-Up-Paddle boards and even bicycles are offered for rent through Tidal Transit Kayak Tours & Rentals. Their website with contact information is located by clicking HERE. For Power and Sail boats, check out West Harbor Recreation by clicking HERE

CLEANING & LINEN TOWEL FEE: Yes, a cleaning and laundry/linen fee of $380 per rental applies. Guests may reduce this fee to $180 if they choose to bring their own bed linens and towels. Bed linen package includes having the beds professionally made-, 1 bath towel, one hand towel & 1 wash cloth per bed sleeping space as well as a bath mat for each bathroom and 2 kitchen towels. Guests may add additional towels or bed linens through the reservation process.

SECURITY DEPOSIT: No, the owner of this property does not require a security deposit, however, guests are still financially responsible for non-accidental damages at the property.

PROPERTY DETAILS:
Linens & Bath Towels: See above under 'Cleaning & Linen/Towel Fee'
Cleaning: The property will be professionally cleaned before and after the rental assuming the average 6 hour cleaning is needed. Above normal cleaning charges will be billed to Guest at $30 per hour
Washer & Dryer: Yes
Dishwasher: Yes
Coffee Maker: Yes, Standard automatic drip with filters
Trash Removal Service : Included with rental
Water Source : Town water - safe to drink
Air Conditioning: No - but fans are located in each bedroom
Fireplace Usable : No
Internet Access: Yes, with WiFi
TV: Time Warner basic cable hooked up to a single SmartTV in the living room
Grill : Gas
Outdoor Fire pit: No
Closest Shopping Village: Boothbay Harbor - 3 miles away
Number of Restaurants within 5 Miles: 20 Plus
Water Frontage: Yes
Beach Access: No, but there are public swimming areas nearby
Swimming Pool: Yes (not heated)
Property Good For Fisherman: Yes
Dock/Pier Access: Yes
Additional Amenities: Minimum Standards List
Google Map
Calendar
Aug - 2017
S
M
T
W
T
F
S

1

2

3

4

5

6

7

8

9

10

11

12

13

14

15

16

17

18

19

20

21

22

23

24

25

26

27

28

29

30

31
Sep - 2017
S
M
T
W
T
F
S

1

2

3

4

5

6

7

8

9

10

11

12

13

14

15

16

17

18

19

20

21

22

23

24

25

26

27

28

29

30
Oct - 2017
S
M
T
W
T
F
S

1

2

3

4

5

6

7

8

9

10

11

12

13

14

15

16

17

18

19

20

21

22

23

24

25

26

27

28

29

30

31
Nov - 2017
S
M
T
W
T
F
S

1

2

3

4

5

6

7

8

9

10

11

12

13

14

15

16

17

18

19

20

21

22

23

24

25

26

27

28

29

30
Reviews
Write a Review
Irene
Holliston, US
Reviewed: Aug 11, 2017
Property Manager
I have never worked with an agency before and now, after working with your agency, I will never work without one again. For the past several years, we have searched for properties by ourselves and were terribly frustrated. I cannot believe how easy and rewarding it was to go through your agency and get exactly what we needed.
Property
This property and stay exceeded our expectations in most ways. We have been renting in this region for over 20 yrs and have not had a property so well-equipped, practical and comfortable for our large family. Naturally, our favorite features are the location, view and pool. The deck, with both a sunny side and a sheltered side was a favorite community gathering place. There were many snug little areas on the grounds to take a book and sit alone on the grass, surrounded by trees and ocean views. The dock was a delight for the children to practice their casting and fishing from, and the adults to launch their kayak and paddle boards from and to watch the sun set. In fact, this property was so user-friendly and completely satisfying that I found I did not go to town at all since I was so content to hang around Legelawn every day.
Jon
New York, US
Reviewed: Aug 8, 2016
Property Manager
Wonderful, as always.
Property
Pool! Love the house but love the pool more.
G. Peter
Greenwich, US
Reviewed: Aug 30, 2015
Property Manager
This is our fourth rental through OTWIM. We think that is perhaps the strongest recommendation. Would we have come back for more punishment so often if we were not totally satisfied.
Property
This is a charming house dating back to 1888. It was big enough to accommodate our family of nine and in addition would have been able to give a berth to our grandson and his girlfriend if they had been able to come. The pool is nice and the dining room table seated our entire group. We had a good time.
Jackie
Mount Gilead, US
Reviewed: Jul 25, 2015
Property Manager
Great communication
Property
Loved the ristix features of the home--felt like grandmas house.
Melissa
Woodbridge, US
Reviewed: Aug 31, 2014
Property Manager
The agency was great.
Property
Ledgelawn's appeal is the location, deep water dock, and pool - coupled with its ability to get both of our families together in one house (sleeps 14) we had 10, and almost all the kids got there own room. Although on the water at Maine doesn't rent boats to this area (salt water near inlet) we did have a boat for the week- and that was by far the highlight of the trip. Being able to walk out on the dock and get on the boat, Tavel to Booth bay, down the River, and around all the islands. The sunset is priceless at this property.
Jon
New York, US
Reviewed: Aug 24, 2014
Property Manager
This is our second time renting with On The Water in Maine. It is seamless, hassle-free and we've never been disappointed in any way.
Property
We love the house! The deck overlooking the water is wonderful and flexible if it rains. The pool is great and we used it every day. It is a very comfortable house and we will recommend it to our friends.
Lucy
Hartsdale, US
Reviewed: Aug 19, 2014
Property Manager Property
Barbara
Salem, US
Reviewed: Aug 3, 2014
Property Manager
Very responsive; no complaints.
Property
House had plenty of room for the family. Nice grounds and beautiful view. Grandchildren had fun catching fish on dock. Close to restaurants, shopping, entertainment, yet secluded and private. Bathrooms and kitchen could stand some upgrades.
Virginia
Cortlandt Manor, US
Reviewed: Jul 27, 2014
Property Manager
On the Water In Maine was excellent. They communicated very clearly everything we needed to do, also tried to anticipate & answer all our questions before our trip. During our vacation their staff was available to answer questions & take care of problems that arose. We could not have asked for better service.
Property
Ledgelawn was perfect for our family reunion. Plenty of space to accommodate our big group. The view from the fabulous porch is magnificent including beautiful sunsets. We also loved fishing off the dock, kayaking in the inlet, swimming in the pool and the peace & tranquility of the whole setting.
Jeff
Tewksbury, US
Reviewed: Jul 23, 2014
Property Manager
Working with On the Water in Maine was fast and easy. Most everything was automated and I never needed to follow-up on anything. On the Water in Maine provided reminders when things were due and detailed instructions for everything I needed including directions to the property. On the Water in Maine was recommended to me by a relative and I have already recommended them to others and will continue to do so.
Property
LedgeLawn greatly exceeded our expectations. It is much larger than expected. Our group consisted of 4 families and each had their own bathroom. Each day began with coffee on the large outside deck where we talked for hours. Each evening ended the with drinks and appetizers. The kids spent hours in the pool while the adult men spent time fishing off the dock. The kitchen had everything we needed to prepare meals including a 27 lobster dinner late in the week. I can't say enough positive things about this property.
Thaddeus
Westport, US
Reviewed: Jul 5, 2014
Property Manager
On the Water in Maine was exceptional as always.
Property
Pool is nice, but cold. Location is terrific. Property grounds are great. House is very dated.
Donna
Morristown, US
Reviewed: Aug 31, 2013
Property Manager Property
Antonio
Fairport, US
Reviewed: Aug 26, 2013
Property Manager
Emily and Justin at On the Water in Maine were terrific. Both were responsive and helpful. Thanks so much for your referral to a motel when I was unable to travel due to food poisoning! - Christine
Property
Overall, we loved the house and appreciate the opportunity to stay there.
Susan
Wardington, GB
Reviewed: Aug 5, 2013
Property Manager
We were a late booking as a result of another agent letting us down at the last moment. From our first call to your office we were impressed! The online booking was fantastic and Emily could not have been more helpful. Arriving to shopping and all the lights on to welcome our late arrival was wonderful. Thank you for a wonderful holiday, we can't wait to come back again and will certainly book with On the Water in Maine!
Property
We loved your house. It has such an incredible feel about it! It has clearly seen many happy days and family times over the years.
Disclosures
Smoking Is Not Permitted anywhere on or inside of any of our rental properties nor are those who may partake in tobacco smoking allowed to occupy any of our properties.

Occupancy may not exceed what is posted for each home. Maximum occupancy could include infants and children.

*Pool Disclosure - This pool, like other swimming pools in this part of Maine, is serviced by the only vendor in the area. That vendor isn't available on a day, or sometimes even a weeks' notice to attend to issues if they come up, such as mechanical problems with the pool filter, pool heater, etc. The Property Owner will make every best effort to ensure that the pool is always in good operation using the vendor - however they do not guarantee that the pool will always be in top operating condition and will not issue any rental refunds if it is not. In other words, if your sole reason for renting this property is for the swimming pool - we would encourage you to consider other rental properties. The Property Owners consider the swimming pool to be a 'bonus' amenity that is nice to have - but not required or needed to rent their home.

Amenities offered through On the Water in Maine Inc. are not available at all the properties we offer for rent. Boat Rentals through Maine Watercraft Rentals Inc. are offered Sunday morning to Friday after 4pm and include free delivery to the property. Check with an agent to find out what boats are available to rent at this property, or, when you process the booking here online, only the boats available for the property will be listed as available to rent.

Please see our Rental Guidelines Page for further questions regarding how to book this property and additional charges and fees. Contact a reservation agent for more details or to ensure you are booking the right property for you.
Town Info - Boothbay, Boothbay Harbor & Southport Island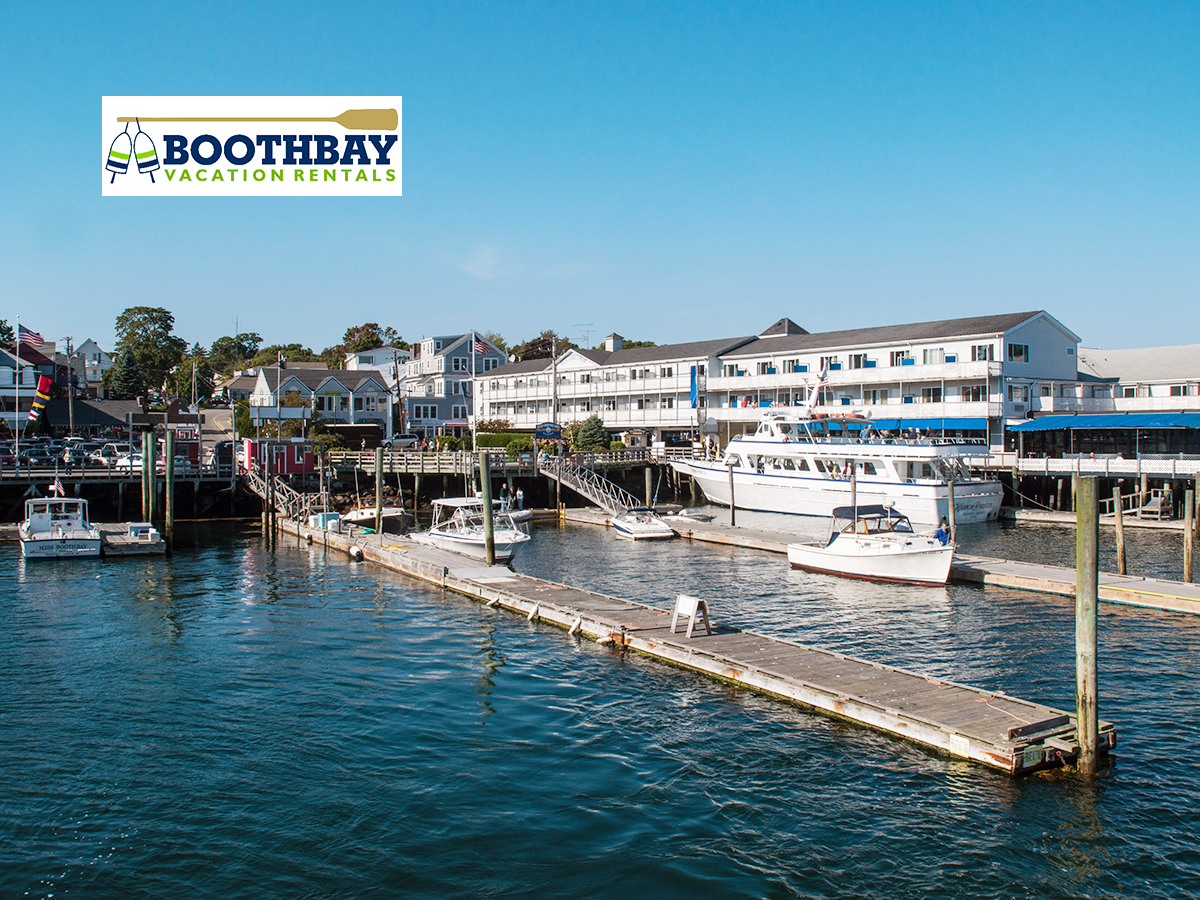 Boothbay Harbor is one of the best-known boating centers in New England and boasts a natural harbor known as "The Boating Capital of New England," home to many fishing boats as well as pleasure craft. Southport Island borders the south side of Boothbay Harbor and is accessible by a bridge.
Learn More