| | |
| --- | --- |
| Guests | 4 |
| Bedrooms | 2 |
| Bathrooms | 1 |
| Allows Pets | No |
| Property Size | 1,100 sq. ft. |
Property Info
THIS PROPERTY ONLY RENTS ON A FRIDAY TO FRIDAY SCHEDULE - 7 NIGHT MINIMUM REQUIRED

ROOM LAYOUT:
1st Floor- Kitchen, Living Room, Queen Bedroom, Queen Bedroom, Tub/Shower Bathroom, Deck, Laundry Room

DOGS PERMITTED? Sorry, Dogs are NOT permitted at this property.

This Two-bedroom home is perfect for couples looking to get away and enjoy a romantic stay in Midcoast Maine. The idyllic neighborhood setting and stylish cottage decor provide a great Maine coast retreat close to dining, shopping and sightseeing.

Located right off Rockport Harbor with great views. Built in 1881, the house has updated furnishings and appliances while maintaining classic antique charm.

Located at the head of Rockport Harbor, this property is conveniently located to all that Camden/Rockport area has to offer. Small and beautiful Rockport is on the west side of Penobscot Bay, between Rockland and Camden. Fifty years ago, Rockport was home to lobstermen and fishermen who built their weirs in the harbor, but today the harbor is mainly for pleasure boats. Launch a kayak from the dock in the harbor nearby and paddle the harbor, keeping a watchful eye out for harbor seals. The property owner provides space on a rack a short walk away at the harbor to store your kayaks, or some that you may rent, so you can have easy access to them.
Details
CLEANING FEE & LINEN/TOWEL RENTAL FEE:
Yes, a cleaning and linen/towel towel rental fee of $150 per rental applies. VIP Towels are included at this rental. Guests may add additional towels or bed linens through the reservation process. Learn more about our linen & towel rentals on the
Rental Guidelines Page
of our website. Guests may reduce this fee to $60 if they choose to bring their own bed linens and towels.
SECURITY DEPOSIT:
No, the owner of this property does not require a security deposit, however, guests are still financially responsible for non-accidental damages at the property.
PROPERTY SPECIFICS:
Cleaning:
The property will be professionally cleaned before and after the rental. Above normal cleaning charges will be billed to guest at $30 per hour
Washer & Dryer:
Yes (not available November through April months)
Dishwasher:
Yes
Coffee Maker:
Yes, Combination standard automatic drip with filters and K-Cup
Air Conditioning:
No, however fans are located in each bedroom
Heat Source:
Furnace with forced hot air heating
Usable Fireplace:
No
Outdoor Fire Pit:
No
Trash Removal Service:
Included with rental
Water Source:
Town water, OK to drink from tap
Internet Access:
Yes, with Wi-Fi
TV:
1 Television with a DVD and basic cable service in Living Room
Grill:
Propane Gas Grill
Closest Shopping Village:
Camden, 1 mile away
Number of Restaurants within 5 Miles:
20+
Water Frontage:
No, Public nearby
Beach Access:
No, Public nearby
Dock/Pier Access:
No, Public nearby
Property Good For Fisherman:
Yes, fishing on the town dock in season for Mackerel is fun!
Additional Amenities:
Minimum Standards List
Exploring Area
Google Map
Calendar
Aug - 2017
S
M
T
W
T
F
S

1

2

3

4

5

6

7

8

9

10

11

12

13

14

15

16

17

18

19

20

21

22

23

24

25

26

27

28

29

30

31
Sep - 2017
S
M
T
W
T
F
S

1

2

3

4

5

6

7

8

9

10

11

12

13

14

15

16

17

18

19

20

21

22

23

24

25

26

27

28

29

30
Oct - 2017
S
M
T
W
T
F
S

1

2

3

4

5

6

7

8

9

10

11

12

13

14

15

16

17

18

19

20

21

22

23

24

25

26

27

28

29

30

31
Nov - 2017
S
M
T
W
T
F
S

1

2

3

4

5

6

7

8

9

10

11

12

13

14

15

16

17

18

19

20

21

22

23

24

25

26

27

28

29

30
Reviews
Write a Review
Cindy
Auchterarder, GB
Reviewed: Oct 10, 2016
Property Manager Property
Mary
Oneonta, US
Reviewed: Sep 20, 2016
Property Manager
On the Water in Maine is very easy to work with and if there are any concerns, it is easy to get a response from them and they are very welcoming. The material they leave in the rentals is informative even for those of us who are frequent Maine visitors and already have our favorite places.
Property
This is an absolutely lovely place and you cannot ask for a better view...overlooking Rockport Harbor. It is comfortable and decorated nicely and has everything you could possibly need. We loved staying there.
Elaine (Candy)
West Newton, US
Reviewed: Aug 17, 2016
Property Manager
Working with On the Water was easy and efficient. I enjoyed getting email updates as the dates of our rental approached.
Property
I loved the location of this property particularly sitting on the deck and looking at the beautiful Rockport harbor. It is an easy walk to Rockport village and the 2 restaurants and galleries.
Kim
Indianapolis, US
Reviewed: Oct 19, 2015
Property Manager
On the Water in Maine is the most professional rental service I have worked with. I appreciate the attention to detail: the booking process and payment procedure; communication between booking and arriving including "what to bring" lists; and information notebook at the rental site. I felt secure that if a problem where to arise it would be handled quickly. i have already recommended On the Water in Maine to others.
Property
The Lightkeeper is a lovely home and was perfect for the two of us. The view is absolutely amazing looking directly into the harbor from the hilltop. Every thing we needed was supplied and in excellent working order. The decor of this home is very pleasing and the furniture comfortable. The kitchen is large and easy to navigate, cook and dine in. The location is peaceful and great for walks to the park or into Rockport. The central location on the coast makes it convenient for day trips in either direction.
Stan
Wilbraham, US
Reviewed: Sep 6, 2015
Property Manager
Very accommodating
Property
Very warm , felt like home, awesome view of the harbor, can't beat dining on the deck.
Elaine (Candy)
West Newton, US
Reviewed: Aug 16, 2015
Property Manager
It was a pleasure working with On the Water. Everything was clearly stated and emails about our upcoming stay came regularly and promptly with all the information necessary to make our plans.There were instructions for all of the applicances in the house and a binder with everything we needed to know about opening up and closing the house.
Property
We were thrilled with the property, the Lightkeeper's Cottage. It was clean, well stocked and perfectly located. It exceeded our expectations. I never tired of the view of the Rockport Harbor from our deck. We were within walking distance of the harbor, the village with it's lovely restaurants, the library and galleries. We enjoyed taking a walk everyday into the village and exploring the harbor from different angles. We were also a short ride into Camden. Overall, a wonderful visit. We hope to return again.
Matthew
Oxford, GB
Reviewed: Jul 20, 2015
Property Manager
The agency were very helpful, not least the advance mailings with all required information.
Property
The Light Keeper cottage was quite delightful. It was beautifully presented and afforded every comfort we could reasonably have desired.
Emiliano
Hebron, US
Reviewed: Dec 30, 2014
Property Manager Property
Jaki
Reviewed: Oct 23, 2014
Property Manager
A very efficient simple process making the booking online with friendly helpful staff when the need arose to call by phone.
Property
Stayed for 9 nights in September & could easily have stayed longer. This is a very comfortable cottage exactly as in the photos in a quiet residential area away from the main road. Sitting on the deck watching the boats to & fro to the harbour was a delight.
Jack
Boca Raton, US
Reviewed: Jul 11, 2014
Property Manager
Property
Lovely views of Rockport Harbor
Disclosures
Smoking Is Not Permitted anywhere on or inside of any of our rental properties nor are those who may partake in tobacco smoking allowed to occupy any of our properties.

Occupancy may not exceed what is posted for each home. Maximum occupancy could include infants and children.

Amenities offered through On the Water in Maine Inc. are not available at all the properties we offer for rent. Boat Rentals through Maine Watercraft Rentals Inc. are offered Sunday morning to Friday after 4pm and include free delivery to the property. Check with an agent to find out what boats are available to rent at this property, or, when you process the booking here online, only the boats available for the property will be listed as available to rent.

Please see our Rental Guidelines Page for further questions regarding how to book this property and additional charges and fees. Contact a reservation agent for more details or to ensure you are booking the right property for you.
Town Info - Camden / Rockport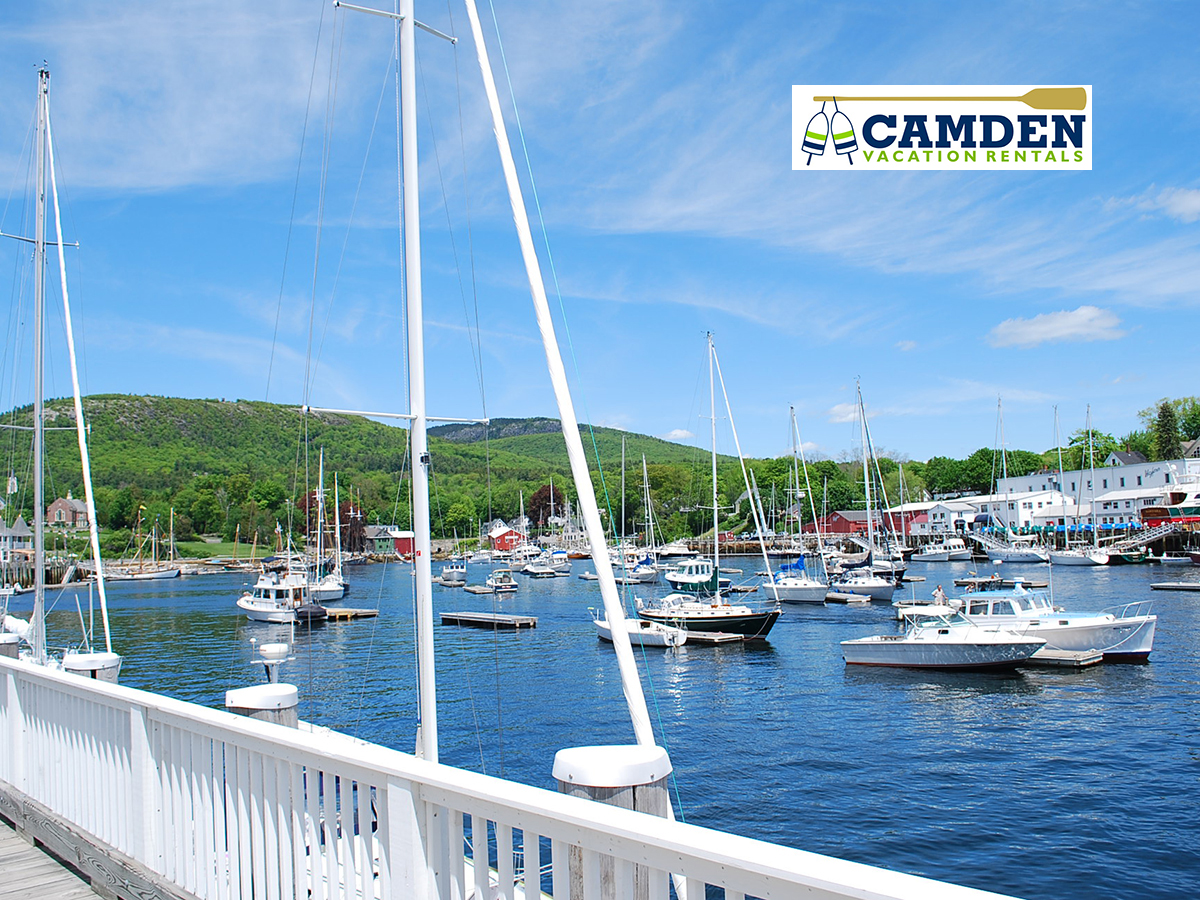 Well-loved by visitors and residents alike, the towns of Camden and Rockport were one until 1890. Even though governed separately today, they are essentially the same town combined with village centers a mile apart. The mountains tumble down to meet the ocean's edge, creating some of the best views and hiking opportunities in the state.
| | |
| --- | --- |
| Shopping | In Camden Village |
| Restaurants | Over 30 Restaurants in both towns combined, several recent James Beard Award winners |
| Golf Course | Goose River & Samoset Resort courses in Rockport |
| Airport | Knox County Regional (RKD) 20 minutes, Portland (PWM) 1.5 hrs, Bangor (BGR) 1 hour, Boston (BOS) 3 Hours, Manchester NH (MHT) 3 Hours |
| Groceries | French & Brawn, Megunicook Market, and Hannaford in Camden |
Learn More