| | |
| --- | --- |
| Guests | 7 |
| Bedrooms | 4 |
| Bathrooms | 2 |
| Allows Pets | No |
Property Info
ROOM LAYOUT:
1st Floor: Kitchen (Completely updated in 2014), Dining Room, Living Room, Bathroom with claw foot tub, Laundry room, Covered Deck
2nd Floor: Bedroom with one Twin room, Bedroom with two Twin beds, Queen bedroom, King bedroom, Bathroom with roomy stall shower
DOGS PERMITTED? Sorry, no, dogs are NOT permitted at this property.
An On the Water in Maine "Top 10" property, this classic 1907 cottage is a perfect combination of traditional Maine charm and modern amenities. The Jones cottage had a major kitchen renovation in 2014, and has undergone upgrades including new furnishings, two remodeled bathrooms, modern appliances, and a new dock in 2013. This timeless cottage has magnificent views of Boothbay Harbor, local Islands, and boating activity. Enjoy lounging on the porch or boating from your private dock. The Jones cottage offers the perfect Maine experience!

The Cottage comes with access to the Juniper Point Village Improvement Society which grants you use of associations paths, community docks, the float, and the Community house. You can also pay a small fee to use the association clay tennis courts, and even take tennis lessons!

This cottage offers something for the entire family. You will not ever want to leave! But, if you do, and you have kids with you, the Boothbay Harbor Yacht Club is just over a mile away and offers sailing and tennis lessons for non-members. They offer adult sailing classes too! Here is a link to their website - click HERE. There are also whale watching tours, the Maine State Aquarium, and the Coastal Maine Botanical Gardens to explore.
Details
BOATS INCLUDED? None, however kayaks, stand up paddle boards and even bicycles are offered for rent through Tidal Transit Kayak Tours & Rentals. Their website with contact information is located by clicking HERE.

CLEANING FEE: Not required.

SECURITY DEPOSIT: No, the owner of this property does not require a security deposit, however, guests are still financially responsible for non-accidental damages at the property.

Property Specifics:
Linens & Bath Towels: Yes, one set of bed linens and one bath towel set for each guest are included (beds are made up prior to guest arrival).
Cleaning: The property will be professionally cleaned before and after the rental. Above normal cleaning charges will be billed to guest at $30 per hour
Washer & Dryer: Yes
Dishwasher: Yes
Coffee Maker: Yes, Standard automatic drip with filters
Air Conditioning: No - Fans are located in each room however
Heat Source: Electric baseboard heaters, and fireplace
Internet Access: Yes, with Wifi through DSL
TV: Yes
Water Source : Town Water (okay to drink from tap)
Grill: Charcoal Grill
Outdoor Fire pit: No
Usable Fireplace: Yes
Parking: Yes, this rental can accommodate two cars
Closest Shopping Village: Boothbay Harbor - 2 miles
Number of Restaurants within 5 Miles: 25 Plus
Closest Restaurant: Robinson Wharf, which offers a pub, seafood market, and ice cream take out. This restaurant is 1.2 miles away, or a 20 minute walk.
Water Frontage: Yes
Beach Access: Yes, Hendricks Point Beach is located in nearby Southport.
Dock/Pier Access: Yes. If you plan on bringing your own boat, please consult with OTWIM first.
Boat Mooring: No
Property Good For Fishing: Yes
Additional Amenities: Minimum Standards List
Google Map
Calendar
Sep - 2015
S
M
T
W
T
F
S

1

2

3

4

5

6

7

8

9

10

11

12

13

14

15

16

17

18

19

20

21

22

23

24

25

26

27

28

29

30
Oct - 2015
S
M
T
W
T
F
S

1

2

3

4

5

6

7

8

9

10

11

12

13

14

15

16

17

18

19

20

21

22

23

24

25

26

27

28

29

30

31
Nov - 2015
S
M
T
W
T
F
S

1

2

3

4

5

6

7

8

9

10

11

12

13

14

15

16

17

18

19

20

21

22

23

24

25

26

27

28

29

30
Dec - 2015
S
M
T
W
T
F
S

1

2

3

4

5

6

7

8

9

10

11

12

13

14

15

16

17

18

19

20

21

22

23

24

25

26

27

28

29

30

31
Rates
* Rates are subject to change without notice. Pricing excludes taxes, additional options and fees.
| | | | | | |
| --- | --- | --- | --- | --- | --- |
| Season | Starting | Ending | Night | Week | Min Nights |
| Saturday to Saturday | 8/29/2015 | 9/4/2015 | | $2,250.00 | 7 (Sat-Sat) |
| Off-Season | 9/5/2015 | 10/30/2015 | | $1,500.00 | 7 (Sat-Sat) |
Reviews
Write a Review
Deborah
New London, US
Reviewed: Aug 1, 2015
Property Manager
It was extremely easy to work with Justin, et al. Your written communications were timely and clear.
Property
We are hardly typical, having once owned the property, but we had an absolutely wonderful time! All the changes the Owner has made are definitely for the better. We had as guests 3 old college friends who had been there 52 years ago, just before we graduated, and they too truly enjoyed seeing it again. Favorite features: the new stairs and the comfy armchairs - not to mention the wonderful shower!
Robert
Winston Salem, US
Reviewed: Jul 20, 2015
Property Manager
The agency experience was good we did not experience any issues.
Property
Great location. Wonderful views ! The dock space was a real plus....Property was a great Maine cottage home.
Diana
Berea, US
Reviewed: Jul 11, 2015
Property Manager
On the Water in Maine gives me peace of mind that everything is handled and efficient beyond any other agency!
Property
I love the authentic vintage feel of Jones Cottage. The porch and dock are my favorites
Adrian
Wallingford, US
Reviewed: Jun 28, 2015
Property Manager
Property
All around just great - great place - great cottage
Jon
Wilton, US
Reviewed: Jun 22, 2015
Property Manager
On the Water in Maine manages all the details extremely well; the house was neat, clean, fully stocked. When we phoned on a couple of small issues, OTWIM was fully and immediately responsive in every way.
Property
This was our second stay in the Jones Cottage, and we enjoyed it just as much this time. The view across the harbor is unparalleled. We love having the float, making it easy to store and launch our kayaks whenever we wish without carting them to distant launch areas. The house is neat, clean, well-furnished, roomy, and comfortable, with an excellent kitchen and clean, large bathrooms. The neighborhood is quiet, neighbors are friendly. A splendid vacation spot.
Jeffrey
Treasure Island, US
Reviewed: Aug 9, 2014
Property Manager
Extremely professional operation. Everything happened exactly as expected and then some. We were informed about everything we needed to know, even the traffic upon departure. Thank You Justin.
Property
Amazing view. Very clean and comfortable.
Scott
Bangor, US
Reviewed: Aug 4, 2014
Property Manager
On the Water in Maine was excellent to deal with. They were efficient, organized and friendly. Communication during the entire rental, from first contact to check-out was fantastic!
Property
The cottage was bright and airy with lots of ocean breezes. The wide front porch was wonderful! It had a gate and was a great place for our toddler grandchildren to play while we enjoyed watching the activity in the harbor. We appreciated that we could walk down the steps to the dock, especially when a couple of us rented a kayak for the day and tied it up there. Overall a wonderful place to stay.
Alison
Wenham, US
Reviewed: Jul 19, 2014
Property Manager
Very professional - you guys thought of nearly everything. We have rented homes extensively throughout the world, and I appreciated very much your organization and attention to detail.
Property
Beautiful location, gorgeous cottage. Perfect for our family. We had a great week.
Scott
Oakton, US
Reviewed: Jun 30, 2014
Property Manager
Everyone at the agency was very friendly and seemed dedicated to being sure the renter was happy. Justin in particular was very thorough and provided good assistance and detail.
Property
The Jones Cottage is darling! The decor is lovely--simple, soothing colors that complement and enhance the spectacular views. The porch, with its glider bench and numerous rocking chairs, was a delightful place to enjoy the breeze and to watch the boats. The family room was spacious with lots of seating variety and cozy blankets to snuggle under during the cool evenings. The walk down to the dock was great exercise and it was fantastic to be able to go down and enjoy the cool breeze right off the water.
Jon
Wilton, US
Reviewed: Jun 24, 2014
Property Manager
OTWIM was easy to work with, and we will almost surely work with you again.
Property
The Jones Cottage is a lovely home: Well decorated; comfortable features and plenty of space; impeccably clean; well maintained; with renovated kitchen; in an excellent location. Most of all, its site high on the bluff with great views of the harbor is superb. Also greatly enjoyed having our own float, which made it easy and quick to launch our kayaks.
Gary
Honeoye, US
Reviewed: Sep 21, 2013
Property Manager
Property
Beautiful cottage. Wish I could pick it up and bring it to our place in the Fingers Lakes (NY). Just love the interior and exterior of your home. My wife and the other wives kept commenting on how beautiful the place was decorated. The view from the porch will be in our minds for a life time. Enjoyed seeing the lobster fisherman, sailing boats and the small cruise ships going through the Boothbay Harbor. The Jones Cottage is the cutest place. Definitely has the feel of what you would think of as a cottage. Very comfortable for 6 people. Great shower!
Ryan
Wellesly, US
Reviewed: Aug 24, 2013
Property Manager
Emily at On the Water in Maine was great!
Property
Disclosures
Smoking Is Not Permitted anywhere on or inside of any of our rental properties nor are those who may partake in tobacco smoking allowed to occupy any of our properties.

Occupancy may not exceed what is posted for each home. Maximum occupancy could include infants and children.

Amenities offered through On the Water in Maine Inc. are not available at all the properties we offer for rent. Boat Rentals through Maine Watercraft Rentals Inc. are offered Sunday morning to Friday after 4pm and include free delivery to the property. Check with an agent to find out what boats are available to rent at this property, or, when you process the booking here online, only the boats available for the property will be listed as available to rent.

Please see our Rental Guidelines Page for further questions regarding how to book this property and additional charges and fees. Contact a reservation agent for more details or to ensure you are booking the right property for you.
Community - Boothbay, Boothbay Harbor & Southport Island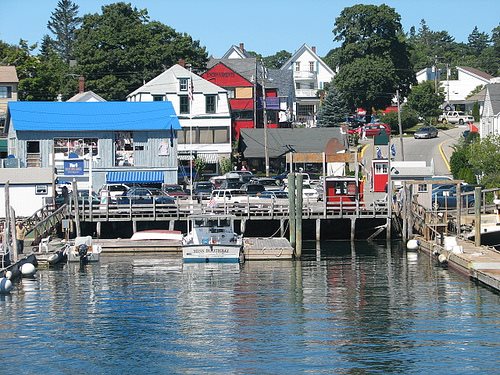 Boothbay Harbor is one of the best-known boating centers in New England and boasts a natural harbor known as "The Boating Capital of New England," home to many fishing boats as well as pleasure craft. Southport Island borders the south side of Boothbay Harbor and is accessible by a bridge.
Learn More