About Renting in Maine & From Us
Below are three topics on renting in Maine. First, about choosing a Maine vacation home, second about taxes, and finally travel advice on getting to Maine.

CHOOSING A VACATION HOME

Our Vacation Season - Maine is a wonderful place for a Summer vacation. The short vacation season in Maine usually begins early-June and continues through mid-September. The 'peak season' is the last 2 weeks in July and the first 2 weeks in August as most schools are officially on break and during this quick time-period, everyone wants to visit the beautiful State of Maine which can be reflected in the higher prices. Our shoulder seasons of June and September are lower priced, but if you ask many Mainers and guests, September is one of the best times of year to vacation in Maine; the nights are cooler and the days are warm. Keep in mind, Maine is a seasonal tourist state, so many restaurants begin closing between Labor Day and Columbus Day. Typically the peak for fall foliage colors is mid-October and with the children back in school, the State is less congested but vibrant. Many people believe that June & July are at higher risk to be rainy or buggy, but the past few years have proven that this isn't as common as one would think. June and early July have been the hottest times of the summer over the past few years and most enjoyable for the guests who come.

Why Maine? Maine is unique among the Eastern United States in that it is the only state with a majority rocky coast and coastal mountains. Beginning in Portland and traveling North, the coast is bold, rocky and full of character unlike many neighboring states that have not long stretches of sandy beaches. Maine coastline presents a unique geography that is breathtaking and wonderful to hike, swim, boat, and relax upon. With over 6,000 lakes in Maine, only Florida has more on the East coast. Maine can be seen in numerous film sets on bodies of freshwater Norther lakes. Our lakes with tall pines surrounding the bold rocky shores are a must-see.

While many consider a vacation to Maine to be a "bucket-list" trip, the majority of those renting Vacation Homes in our state have done so for generations. Back in the late 1800's, when the Vanderbilts and Rockefellers started coming to Maine to get away from the Summer heat of the cities, our Summer vacation industry was born. Over 60% of our renters at On the Water in Maine are repeat renters that come back year after year. Some stay at the same property, while others select homes between the lake, ocean, or village properties, trying a new location each summer.

Those who are planning family summer vacations face innumerable options. And with each passing year, the vacation industry contrives ever more enticing packages, promising endless distraction for kids and second-honeymoon romance for parents. If you want that kind of vacation, Maine is not going to be that way; it's a vacation with your kids. While we have a small theme-park in the southern part of the state with two small waterparks and a go-cart track - there are few of the rubber-stamped activities that you are most likely used to back home. If you want rides and waterslides - Orlando, Florida is where you want to go. If you want hiking on thousands of miles of hiking trails, fishing in hundreds of lakes, kayaking or paddleboarding on thousands of miles of coastline, daysailing on historic schooners or exploring over a hundred quaint New England villages, then Maine is the place for you. Couples will enjoy Maine too - it's not all about those with kids. In fact, a growing segment of our renter demographic is coupled friends traveling and renting homes together. Many of our renters in 2014 were a couple who know and love Maine, bringing another couple friend group with them to share the experiences and places they discovered on previous vacations. These folks enjoyed the incredible food in our restaurants. Maine is continuously being recognized for some of the best dining experiences in the country. It's not just our lobster - our Maine cold-water crabmeat has some of the best in the world, so are our soft-shell clams ("steamers" we call them), oysters, scallops, and even our beef. Maine is a popular breeding and management area for Belted-Galloway Black Angus beef cows, chickens, turkeys and even water-buffalo.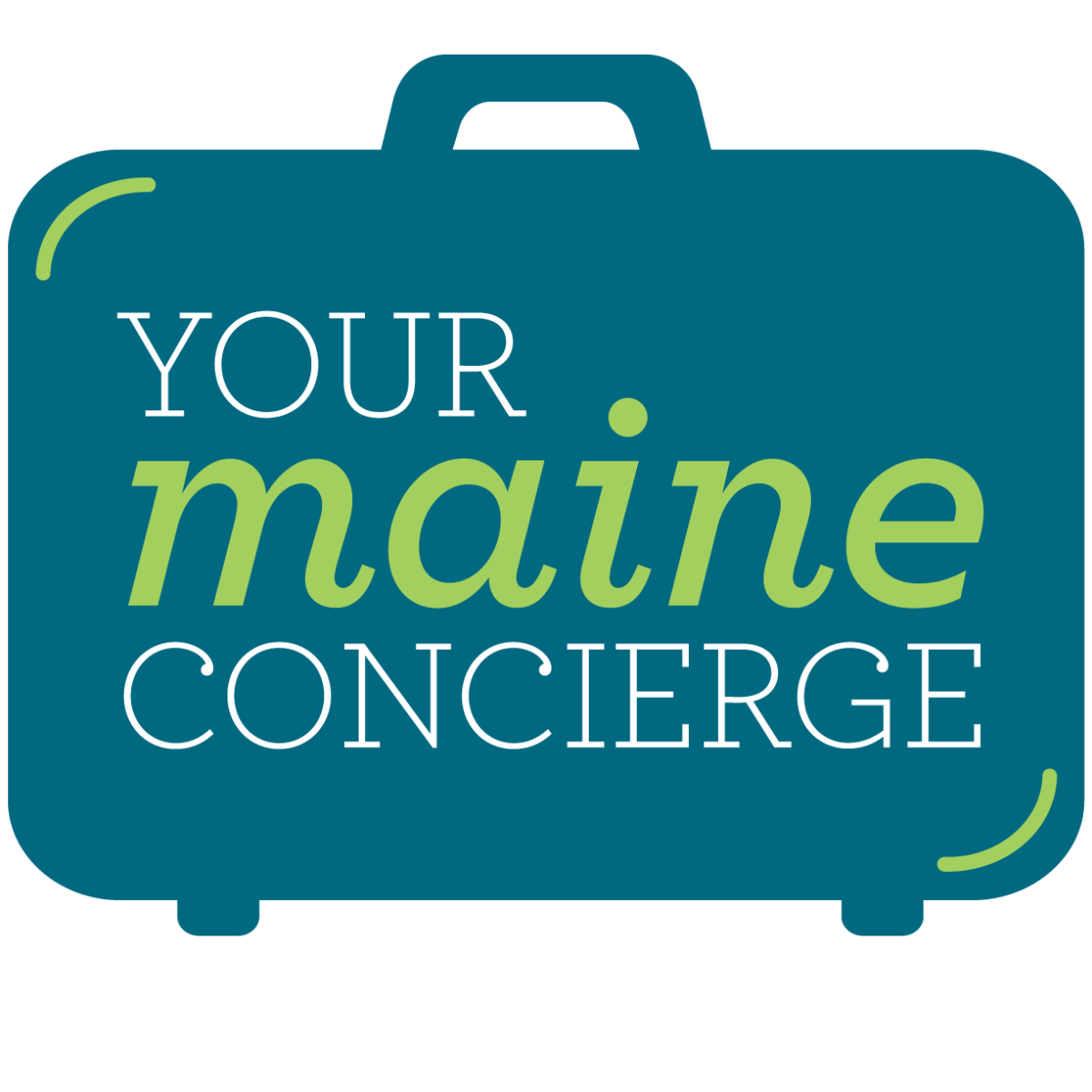 Need help planning your trip? Leave it up to an expert!
Your Maine Concierge is a professional concierge service that specializes in planning - or helping you plan - your trip to Maine. Whether it is your first trip to the state and need a place to start - or you are a long-time visitor that needs some new ideas, tips, or tricks, YMC has it all. Choose from three-tiers of service - Bronze, Silver, or Gold - for the whole week, to just one day.
YMC expertly tailors recommendations for dining, as well as indoor and outdoor activities, based on your specific interests and desires. Contact an On the Water in Maine reservationist for more information. Guests who book through OTWIM get a special discount on the service.
Learn more
HERE
About Maine Vacation Home Owners
- Because the summer season in Maine is so short, buying a vacation home as an investment to rent it out and generate income is not something many people do. There just isn't enough of a season to make a profit doing it like there is in the Carolinas, Florida, or Hawaii. There are three categories of vacation homeowners as a result. Generation families make up the first group. These are typically families that have had a Maine vacation home for many years and share usage of it. As their parent's passed on and property taxes skyrocketed in the 2000's - many of these families turned to renting weeks at their family homes that they don't use themselves to generate income to offset taxes, maintenance, and improvements. Year-round homeowners make up the 2nd segment. These are most likely people that live in Maine full-time but move out of their homes in the summer to rent them and make extra income. Some also rent out second-homes they have picked up on the path of life in Maine on a full-time basis. Want-to-be-Mainers make up the third rental homeowner group. These are people that maybe started out renting in Maine, but later decided to buy here. Many believe that the vacation home they are offering for rent and using a few weeks themselves each summer will be their future retirement home. These owners rent out their homes to offset expenses and help pay some of the mortgages.
Before booking a rental home...
for your summer vacation from one of the three aforementioned owner groups, take a moment to talk to us and review your expectations. Decide if privacy is a concern or steep stairs present problems for you. Learn as much as you can about any property you are considering to rent. Is it sunny and bright inside, or cool and shady? What is the water frontage like if you are renting a waterfront home? What does "tidal" mean in Maine? What is the difference between a Maine "beach" and a "beach" in Ft Lauderdale? There are very few ocean homes along the majority coast that we offer for rent - Portland to Eastport - that have sandy beaches directly in front of them. Sandy beaches are rare along the majority of the Maine coast and the best ones have been gobbled up and turned into state or federal parks such as Sand Beach in Acadia National Park, or Popham Beach State Park, Reid State Park, Crescent Beach State Park, or Pemaquid Beach Park. Still, there are smaller sections of sandy beach along the coast such as in Port Clyde, Owls Head, Lincolnville, or Stockton Springs. If you are looking to rent a lake home, be prepared that most have rocky water frontage. Having a dock and even a swim float should be important considerations for you. Do you want a house with an outdoor firepit? Those are becoming a popular amenity for vacationing renters today in Maine and many of our homes offer them, but not all.
Working Vacations
- If you are traveling to Maine to vacation and do work - you have found a winning combination. For generations, couples have come to vacation in Maine while one spouse can spend time at the beach, in the yard, or swimming at the lake with the kids, and the other spouse works. The majority of our homes have decent internet service - fast enough to stream one movie at a time - but certainly not manage a company from. If internet speed is important to you while on vacation, be prepared that most of our vacation homes have speeds of around 1MB up and 25MB down. Be sure to talk to us about making sure you are in the right home if internet speeds are important to you.
Bugs? Mosquitoes? -
We are asked a lot about this and it is a good thing to know about. In Maine, we call the time roughly between Mother's Day in May, and Father's Day in June - "Blackfly season". At that time of year, it is most common, especially at our lake or freshwater properties, to be caught up in a cloud of small biting flies. Some property locations are worse than others. Some see no flies at all. Ask us if you are looking to rent in May or early June. As far as mosquitoes - yes, we have them. Although there are 45 identified species of mosquitos in Maine, only about half of them are considered biting pests of humans and even fewer are sufficiently abundant to be considered important pests. We know that a few of our homes are more prone to mosquitoes than others, so ask us if this important to you. Mosquitos are most active at daybreak and dusk and on cloudy, warm days. If you want to avoid them, stay away from where they tend to concentrate - in tall grass, margins of wooded areas, or in heavily wooded areas in dense vegetation. Don't wear dark colors. Mosquitoes and other biting flies are attracted to dark greens, browns, and black. They are less attracted to light-colored clothing, especially whites and yellows. Citronella candles and bug spray help keep them away. Over a million Mainers and generations of vacationers have lived with mosquitoes on vacation in Maine and they all keep coming back.
Water and Waste
- One final quick note that is important related to water and septic systems. The majority of our vacation homes are on a well and use a septic system to treat wastewater. The coast of Maine is notorious for having a high iron content in the groundwater. Most of our vacation homes also have filters and water-treatment systems to address these issues. Occasionally, especially after a rain that was preceded by a long dry spell, the water treatment systems in some of our homes can be overwhelmed and rust colored water may appear. Occasionally, a bad sulfur smell can come from heated well-water. This is hydrogen sulfide, which can be caused by the metabolism of a non-harmful bacteria called "sulfate-reducing bacteria". Those of us who live in Maine year-round have adapted to these well-water challenges without issue. Be prepared that you shouldn't expect any water-quality issues in your rental property - but we just wanted to make sure you were aware of some of the challenges we have. Because many of our vacation homes are on sensitive septic systems to treat wastewater, we restrict the occupancy in the homes to what the recommended daily human intake of the systems are rated for.
Once you have committed to a rental, remember to stay flexible. Vacation homes are not resorts with identical rooms and furniture chosen by committee; that is why you are renting one and not going to some famous hotel. Minor inconveniences may well be part of the package, but so be it. Choose wisely and then relax. You will probably remember them as part of the charm.

MAINE TAXES

The State of Maine asks for some of the lowest Lodging Taxes in the country at 9%. Other popular states for vacationing charge upwards of 12% to 15% and still add in 2% to 4% for local taxes for a total of 14% to 19%!

Our state requires that we collect a 9% lodging tax on all vacation rentals as well as a 9% sales tax on all "extras" such as pet fees, cleaning fees (for cleaning fees, or if the cleaning time exceeds normal expectations upon departure, or you request a Mid-Stay Cleaning), shipping items back, service fees, etc. We must also charge an 9% sales tax on top of any costs associated with neglectful damages to the property or it contents.

There are some rare exemptions to paying the tax, but these exemptions apply only to people here for educational purposes or making the rental their primary residence for a time. Ask about these exemptions to see if you qualify. Sales tax is currently at 5.5% for any shopping you plan to do in Maine.

TRAVELING TO MAINE

Over 85% of our guests come to Maine by car. Maine isn't the easiest state to reach - which makes Maine such a gem to visit. There are other options though including limited train and bus service. Amtrak operates the "Down Easter" train between Boston and Brunswick, but as of 2014, this ride is still very long. A 5 hour train ride versus a 2.5 hour car drive over the same distance makes for a long ride. Additionally, it is inconvenient to switch between a train coming in from the rest of the country to Boston's South Station, and the Down Easter train that leaves from Boston's North Station. We recommend the bus versus the train if you need to take transportation into Maine other than a plane or car. However, you truly need a car at most of our rental properties unless it is right in town.

Getting to Maine by Car
From Points South of Maine, take Interstate 95 North. There is only one major road into Maine and everyone crosses into Maine at Portsmouth, NH. Once in Maine, your directions provided by us from the Maine border will get you to your rental property. Maine is about 7.5 hours from the Washington D.C. area. Over 50% of our guests drive in to Maine from the Mid-Atlantic region including the states of Virginia, North Carolina, Maryland, and Pennsylvania. This can be a longer 9 to 11 hour trip depending on when you leave. Many of our guests, especially those with children, like to leave the D.C. area around 9 pm at night and drive overnight. This way, they avoid the heavy New Jersey and New York City traffic. They swap out drivers along the way and take advantage of the cheap hotel options once they get through Connecticut. The best way to Maine through New York is to take the Tappenzee Bridge then I-684 to I-84 and across to Massachusetts. The owner's of On the Water in Maine spent 5 years living in the D.C. area and are experts at making the trip to Maine (over 50 times). Call us for more help if you need advice.

Getting to Maine by Bus
If you are taking a bus into Maine, there is only one choice - Concord Coach Lines (1-800-639-3317) (Concord operates Greyhound's bus service in Maine)

Getting to Maine by Air
If you are flying on a commercial airline, we recommend arriving at the Portland Jetport (PWM) (2-hour drive from Midcoast Maine)). Flights into Portland on Southwest Airlines or JetBlue are often the cheapest. United has direct flights from Chicago if you are coming from the west. Your other choices are Boston's Logan Airport (4-hour drive), Bangor's International Airport (60-minute drive), Augusta, and Rockland – Knox County Airport. Some people like to fly to Boston, then book a flight with Cape Air to get to Rockland. Cape Air is partnered with JetBlue, so if you fly JetBlue into Boston, Cape Air is in the same terminal and they will automatically transfer your luggage. This is a great choice for those flying in extra guests during their vacation.

Flying into Portland:
Portland International Jetport (PWM 207-774-7301) is served by Delta, United, Southwest, US Airways, and JetBlue. Car rental agencies at the Jetport include Alamo, Avis, Budget, Hertz, National, Sears, and Enterprise. Private car service: Midcoast Limo (to/from Portland, Manchester, NH, and Boston): $85 one-way for the first person, $20 each additional, runs on demand. 207-236-2424, or on the Web, www.midcoastlimo.com. Car rental is recommended in most cases. Public transportation is extremely limited in the Midcoast.

Flying into Bangor:
The Bangor International Airport (BGR 207-947-0384) is served by Allegiant Air, Delta, United, and US Air. Car rental companies at the Bangor Airport include Avis, Budget, Hertz, National, and Alamo...

Flying into Rockland:
The Rockland – Knox County Airport (RKD 207-594-4131) is served by Cape Air, a commuter airline with service to and from Boston. Cape Air is partners with JetBlue and Continental Airlines. There are four flights a day, but only 19 seats per flight, so early booking is advisable. Private planes are serviced at Rockland's Knox County Airport.
Private plane arrivals can be scheduled through one of the following FBOs:
Down East Air: 207-594-2171
Telford Aviation: 207-596-5557
Cape Air: 800-352-0714 or 508-771-6944
Car Rental: Avis Rent a Car, 800-831-2847
Budget Car Rental: 207-594-0822
Taxi Service: Schooner Bay Taxi, 207-594-5000