Welcome to On the Water in Maine's vacation search page. We believe we have the best website in Maine when it comes to searching for vacation rentals.

If you are new to our site and would like help in using it, please read below. Otherwise, begin your search in the blue box to the left.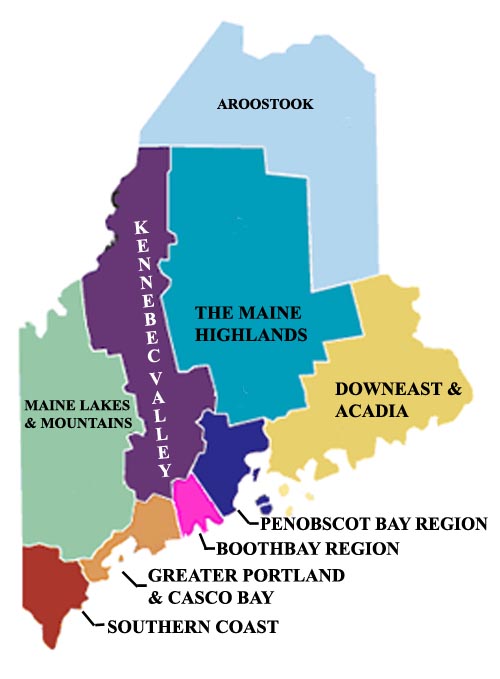 Vacation Regions in Maine:
- The map on the left shows the nine vacation regions in Maine. We currently offer vacation properties in five of the most popular regions. Here are some of the towns you can expect to see in the various regions:
Penobscot Bay Region: Camden, Belfast, Rockland, Cushing, Rockport, Vinalhaven, Bayside (Northport), Friendship, Palermo, St George, etc.
Boothbay Region: Boothbay, Southport, Bremen, Damariscotta, Westport, Wiscasset, Bristol, etc.
Greater Portland & Casco Bay: Portland, Freeport, Cape Elizabeth, Falmouth, Brunswick, Harpswell, Bath, West Bath, Popham Beach, etc.

Downeast & Acadia: Milbridge, Steuben, Bar Harbor, Ellsworth, Deer Isle, etc.
Kennebec Valley: Monmouth, Augusta, Winthrop, China, Fayette, Mount Vernon, etc.





Searching by Date:
*Preferred Method
- This is the preferred method of searching for a vacation property. Nothing is more frustrating than finding a property on another vacation rental agency's website that you don't know is available or not because they don't have availability calendars, or don't let you search by them. On the Water in Maine is one of only a few vacation rental agencies in Maine that has a website that lets you search for properties by availability. Our availability calendars are up-to-date all the time, so, we highly recommend that you use the advanced search features on the left menu bar to begin your search. Searching this way, you are only presented with properties that are actually available for you to rent during the time period you can vacation. Again,
our availability calendars are 100% up-to-date all the time, so if a property shows as available - it is. You can book it online right now! To search using the blue box to the left...
Put in the Arriving and Departing date range you are looking to vacation during. We rent 95% of our properties on a Saturday to Saturday basis. Others rent Friday to Friday and are indicated as such.
Under Regions, you can select a region, if you must be in a certain region. We recommend that you leave this as "Maine Regions" if you don't care which region you end up in, or especially if you don't know Maine very well.

Under Property Types, you can select, Lake/River if you are looking to swim, bass fish, or are really looking for a "destination property." We find that Lake/River properties are more likely to be a "destination property." Select Ocean/Tidal if the smell of the salt air and bold views are important to you. Select the "Village" category if you are looking for a comfortable property near the water or town, but because you'll be on the go - exploring Maine, don't need to pay waterfront prices. "Bayside Village" and "Megunticook Lake" categories are popular with our repeat renters and worth exploring specifically, although properties in these categories will come up in Ocean/Tidal (Bayside) and Lake/River (Megunticook Lake) searches as well.
We recommend you search by Guests rather than Bedrooms, because all our properties have a Maximum Guest Limit - however, if you are two couples and need two bedrooms, definitely search by Bedrooms in addition to Guests.

Don't select the Advanced Search items categories yet. Click the "Check Availability" button first. Then after properties have been presented, you can narrow the search down further by selecting such advanced items as "Dog Friendly" or "Romantic Retreats" to have only those properties displayed. We have picked properties that we believe meet the definition of Romantic, Elite, Great for a 1st Trip to Maine, or Great for Kids, because our guests always ask us about properties that meet this criteria.
Compare Button - Use this feature to select 3 different properties you'd like to compare side-by-side and narrow down your final decision.

Searching by Property Types:
Here at On the Water in Maine , we've organized our properties into three primary categories - Lake, Ocean, or Village. If you want to browse all our properties in these categories, without concern as to whether the properties are available or not you can do so. To begin searching by category rather than date you can click on one of the three categories below. Once you start searching by a category and not a date, you can then further sort the properties by price by clicking "Quick View". Prices displayed in "Quick View" are daily prices. This feature is valuable to those that aren't limited to a certain time-period that they can rent, or for those that just want to browse our inventory in search for their dream vacation property that they will arrange their vacation around the availability.