Sleeping Arrangement
Bedroom 1: 2nd Floor
1 King
Bedroom 2: 2nd Floor
1 Queen
Bedroom 3: 2nd Floor
1 Double / Full
Bedroom 4: 3rd Floor
2 Twins
Bedroom 5: 3rd Floor
2 Twins
Additional Barn: 2nd Floor
2 Twins
Property Info
THIS PROPERTY ONLY RENTS ON A SATURDAY TO SATURDAY SCHEDULE - 7 NIGHT MINIMUM REQUIRED
DOGS PERMITTED?
Yes, dogs are permitted at this property. J2
ROOM LAYOUT:
Main Cottage:

First Floor: Kitchen, living room with cable TV & DVD player, dining room, walk-in butler pantry, laundry room, outdoor 1/2 bathroom with breezeway off the laundry room
Second Floor: Full bedroom, King bedroom with balcony access, Queen bedroom with balcony access, full bathroom with tub/shower combination, Full bedroom, full bathroom with stall shower
Third Floor: Entertainment room with Cable TV & DVD player and futon, two twin bedroom, and two twin bedroom

Barn:
First Floor: storage for firewood and lawn games
Second Floor: Two twin beds and sitting area. Please note this is not heated.

Boat House:
Ping-pong table, stereo system, and disco ball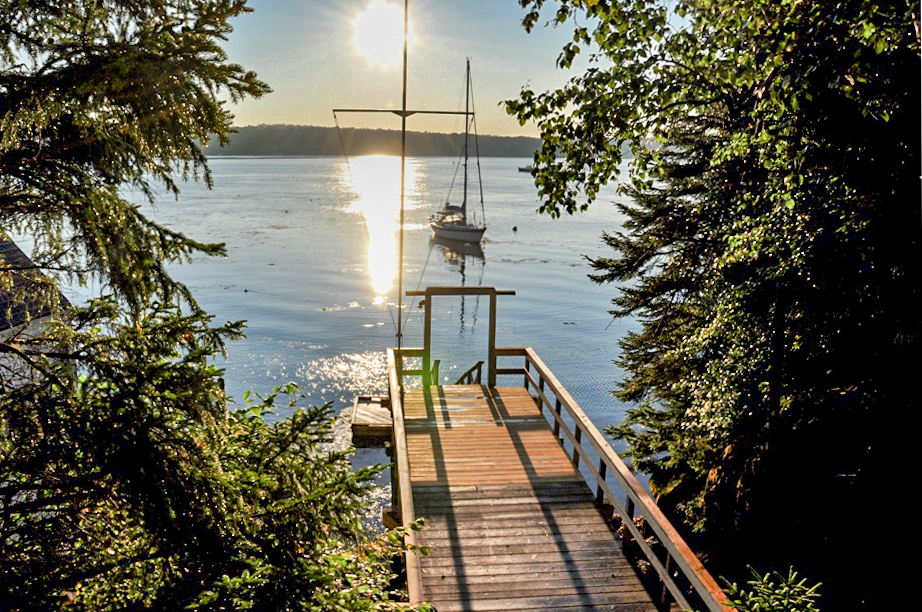 The Owls Nest Cottage is perched amongst the trees overlooking the tidal Damariscotta River and Jones Harbor just north of Farnham Point. With its private boat house and deep water dock, this property feels like your own private resort. The wrap around porch is nestled within the trees which provides privacy and a safe haven from the weather while enjoying the coastal, quintessential Maine cottage. The barn provides a quiet and private area from the main house, which is perfect for teens or a couple away from the group. The main house has a gorgeous stone fireplace upon entry with large windows at every angle to enjoy the breathtaking views of the Atlantic. Seating around the fireplace and dining area is perfect for any large party as well as a well equipped kitchen and modern appliances.
Continuing upstairs to the large queen and king suites with access to the private balcony overlooking the water; perfect to enjoy a cup of coffee in the morning or a glass of wine while enjoying the setting sun. The third floor is a great kids area with two separate rooms with twin beds as well as a common area with board games and expansive DVD selection.
The newly designed outdoor fire pit is a great place for family night of s'mores and relaxing! Adjacent to the fire pit is a large yard which is great for badminton, croquet, wiffle ball, and many more family memories.
Within walking distance is the East Boothbay General Store for basic grocery needs and amazing homemade baked goods, fresh coffee and sandwiches. The Lobsterman's Wharf Restaurant is a 5 minute walk away and has a cozy, pub atmosphere for happy hour everyday as well as fresh seafood options, prime rib, and many others.
Details
BOATS INCLUDED? None. Kayaks, Stand-Up-Paddleboards and even bicycles are offered for rent through Tidal Transit Kayak Tours & Rentals. Their website with contact information is located by clicking HERE. For Power and Sailboats, check out West Harbor Recreation by clicking HERE
LINENS & TOWELS: The rental of this property includes all bed linens and towels. Beds will be made up upon arrival and there will be one bath towel and washcloth per listed occupancy, two hand towels per bathroom, one bath mat per full bathroom, and two kitchen towels in each kitchen. Additional bath towels can be rented.
PROPERTY SPECIFICS
:
Cleaning:
The property will be professionally cleaned before and after the rental. Above normal cleaning charges will be billed to Guest at $35 per hour
Outdoor Showers:
Yes, located at the main cottage with hot water
Washer & Dryer:
Yes, in the main house
Dishwasher:
Yes
Coffee Maker:
Yes, combination standard automatic drip with filters
Air Conditioning:
None, but there are fans located in each bedroom
Heat Source:
Propane furnace, electric baseboard heat, and wood burning fireplace
Internet Access:
Yes, with Wi-Fi in the main house and boat house
TV:
TV with DVD & Cable in the first floor living room as well as the third floor entertainment/game room (Extensive DVD collection provided)
Water Source:
Town Water (okay to drink from tap)
Grill:
2 Charcoal Grills
Outdoor Firepit:
Yes
Usable Fireplace:
Yes - the Owner supplies wood and is stored in the barn
Closest Shopping Village:
Boothbay Harbor, 2.5 miles
Number of Restaurants within 5 Miles:
25 Plus
Water Frontage:
Yes
Beach Access:
No
Dock/Pier Access:
Yes. Deep water dock has a swim ladder and is always submerged even in low tide. Dock is removed, due to storms, sometime in October based on vendor's schedule.
Private Boat Mooring:
Yes - 2500 lb. block - Please check with us before bringing a boat to the property. No dinghy is provided for transport to and from mooring.
Property Good For Fisherman:
Yes
Additional Amenities:
Minimum Standards List
Exploring Area
Map
Calendar
Aug - 2020
S
M
T
W
T
F
S

1

2

3

4

5

6

7

8

9

10

11

12

13

14

15

16

17

18

19

20

21

22

23

24

25

26

27

28

29

30

31
Sep - 2020
S
M
T
W
T
F
S

1

2

3

4

5

6

7

8

9

10

11

12

13

14

15

16

17

18

19

20

21

22

23

24

25

26

27

28

29

30
Oct - 2020
S
M
T
W
T
F
S

1

2

3

4

5

6

7

8

9

10

11

12

13

14

15

16

17

18

19

20

21

22

23

24

25

26

27

28

29

30

31
Nov - 2020
S
M
T
W
T
F
S

1

2

3

4

5

6

7

8

9

10

11

12

13

14

15

16

17

18

19

20

21

22

23

24

25

26

27

28

29

30
Dec - 2020
S
M
T
W
T
F
S

1

2

3

4

5

6

7

8

9

10

11

12

13

14

15

16

17

18

19

20

21

22

23

24

25

26

27

28

29

30

31
Jan - 2021
S
M
T
W
T
F
S

1

2

3

4

5

6

7

8

9

10

11

12

13

14

15

16

17

18

19

20

21

22

23

24

25

26

27

28

29

30

31
Feb - 2021
S
M
T
W
T
F
S

1

2

3

4

5

6

7

8

9

10

11

12

13

14

15

16

17

18

19

20

21

22

23

24

25

26

27

28
Mar - 2021
S
M
T
W
T
F
S

1

2

3

4

5

6

7

8

9

10

11

12

13

14

15

16

17

18

19

20

21

22

23

24

25

26

27

28

29

30

31
Reviews
Write a Review
Property Manager
Very easy to work with. Your agency is very thorough and the info you provided answered all my questions before I had to ask. Everything about the Owl's Nest was fantastic.
Property
Property Manager
Friendly, professional, ease of booking come to mind. Being that we are a group of ten and with two small dogs, Owls Nest provided plenty of room for us ALL to choose a beautiful bedroom, as well as the house offering large and well furnished living spaces for us all to hang out and dine together. Our absolute favorite feature is the spacious boat house, which offered hours of ping pong competitions, music, while on the water. We also appreciated the wharf, the beautiful landscaping, as well as the privacy the land offered (great area to walk pups). Owls Nest Cottage is Nirvana for a getaway. The owner had the most beautiful dishes, platters, bowls, of which many reminded my sister and I of our summers in Maine with our grandparents. And we were surrounded by an excellent selection of books. I believe that most of us read (or reread) at least one book. We never once felt claustrophobic, as there are plenty of indoor and outdoor spaces on the gorgeous property to have steal some alone time.
Property
Property Manager
Great! Very positive experience
Property
Property Manager
My son Alex Begin and I have been very pleased with your team. I believe this year is our 3d year at the Owl's Nest and I must say the contacts and dealings with your agency have been nothing but positive. simply put, we love coming to this facility and the fact any questions or issues that might arise are handled in a prompt, efficient, and courteous manner make the entire stay very pleasant. Where to start...the views are superb, the house is welcoming, roomy, large enough for people to have their own space, (most valuable when surrounded by Grandkids), and combines an aura of tradition and up to date aspects. Each year we notice improvements to the site whether it is interior (outdoor bathroom redone) or exterior such as the firepit. All are done in very good taste and with excellent workmanship. The ambiance is wonderful and transcends all ages of the guests. I love the stature of the trees . They are majestic and full of birds. The bird feeders on the porch are soothing. The fireplace is wonderful. The bedrooms are very adequate and those with views of the water are spectacular. The kids love the dock, boathouse and barn.
Property
Property Manager
Property
Property Manager
I work two jobs and have three kids. When I can afford the time and $ for a vacation, I just want to relax and spend time with my kids in a property that has higher end amenities, convenience and style. Driving 18 hours I wanted a view and space. On the water in Maine has allowed me to vacation ( I think 3 times) always in properties with lots of advance info, images and without false advertising. I like to be self service and search criteria, info and images on a site are key to me feeling like I know what I might be getting. There are non negotiable amenities for me and I can search specifically for them on your site.
Property
Disclosures
Smoking Is Not Permitted
anywhere on or inside of any of our rental properties nor are those who may partake in tobacco smoking allowed to occupy any of our properties.
Occupancy
may not exceed what is posted for each home. Maximum occupancy could include infants and children.
Amenities offered through On the Water in Maine Inc. are not available at all the properties we offer for rent.
Boat Rentals
through Maine Watercraft Rentals Inc. are offered Sunday morning to Friday after 4pm and include free delivery to the property. Check with an agent to find out what boats are available to rent at this property, or, when you process the booking here online, only the boats available for the property will be listed as available to rent.
Please see our
Rental Guidelines
Page for further questions regarding how to book this property and additional charges and fees. Contact a reservation agent for more details or to ensure you are booking the right property for you.
ADDITIONAL BARN:
The additional barn space is not heated and sleeps 2 additional people with 2 twins.
Town Info - Boothbay, Boothbay Harbor & Southport Island
Boothbay Harbor is one of the best-known boating centers in New England and boasts a natural harbor known as "The Boating Capital of New England," home to many fishing boats as well as pleasure craft. Southport Island borders the south side of Boothbay Harbor and is accessible by a bridge.
Learn More
Similar Properties