Sleeping Arrangement
Property Info
THIS PROPERTY ONLY RENTS ON A SATURDAY TO SATURDAY SCHEDULE - 7 NIGHT MINIMUM REQUIRED

ROOM LAYOUT:
Main Floor: Kitchen, dining area, living room, queen bedroom, tub/shower bathroom, deck, outdoor shower
Loft: Futon and writing desk
Lower Level: Living/entertainment room with large TV

(updated leather furniture for 2022 season)

, queen bedroom, queen bedroom, 1/2 bathroom with stackable washer and dryer, walk out basement to lower patio with outdoor dining

DOGS PERMITTED? No, dogs are not allowed at the property.
This custom-built cottage was created solely from the vision of the homeowner. Constructed 20 years ago to replace a much smaller, well-loved cottage, The Boathouse was a labor of love using only traditional materials from Maine. The blueprints began on napkins and then scraps of paper and receipts. The homeowner knew he wanted to create a space where his family and others could escape and not only enjoy the waterfront, but an experience. He thought "if I'm going to do it, I'm going to do it right". From the solid copper roof to the foundation, the cottage was traditionally built to withstand the salty coastal conditions. The lovely perennial gardens around the back of the house, little yard, and outdoor shower are a perfect oasis for bird watching and relaxing.

The full bathroom on the main floor has a teak and holly floor to create a boat-like feel with a recycled sail as the shower curtain. The maple wood flooring throughout house protect the original layout and design chalked underneath. The kitchen has a one-piece stainless steel countertop prep area and is opposed by a small island with a slate top. The galley-type kitchen is well equipped and spacious overlooking the living room and dining area. A classic yawl tender built by the Abeking & Rasmussen boatyard in 1905 rests on the hewn beams above the cozy living area. Double French-doors open to a deck overlooking the beautiful Brigham's Cove - with Adirondacks and comfortable seating, hours will be spent watching the changing skies and tidal wildlife.

Overlooking the living area, a writer and reading loft is the perfect spot for inspiration and tranquility. Use to create art or finish the latest New York Times best-selling book, guests are sure to enjoy the serene space. The main level has a queen bedroom off the living room. The lower level is a dry and fully furnished basement to enjoy movies or watching sports during the rainy days. Two quiet and private queen bedrooms are also on the lower level with a half bathroom and stackable washer and dryer. The lower-level walks out to a stone patio with comfortable outdoor dining furniture.

The rolling yard leads down to a large dock and float - great spot to bring chairs or fish off the dock for stripers. This specific location is perfect for fly fishing as well. This location is a kayaers dream! The dock is ideal for launching kayaks, SUP's, or swimming. A smaller skiff or whaler could be tied to the dock, but the dock does sit in mud at low tide (the tide comes back quickly - within 2 hours usually). From the house, you can kayak or swim out too many small islands and inlets. Map of West Bath and the surrounding islands can be found HERE.

The working-town of Bath has great boutiques, restaurants, and a beautiful waterfront to walk along. Kennebec Tavern is perfect for family dinner on the riverside patio or a cocktail at sunset. Popham Beach and Reid State Park are perfect for beach days and within a 20–30-minute drive. Be sure to stop in to Winnegance Store on your way - highly recommend grabbing sandwiches and drinks; their chowder is some of the best in Maine. The Marine Museum in Bath is fabulous and offers several guided lighthouse boat tours. Brunswick is about 20 minutes from the house and provides numerous restaurants, indoor/outdoor flea markets, antiquing, shopping, and events. The Boathouse is in a perfect location for trips to Freeport to visit LL Bean or venturing to southern Maine. Acadia National Park and Cadillac Mountain are 2 hours and 45 minutes from the house and perfect for a day trip or an overnight excursion.

Brighams Cove is considered some of the best swimming in the Midcoast area: here.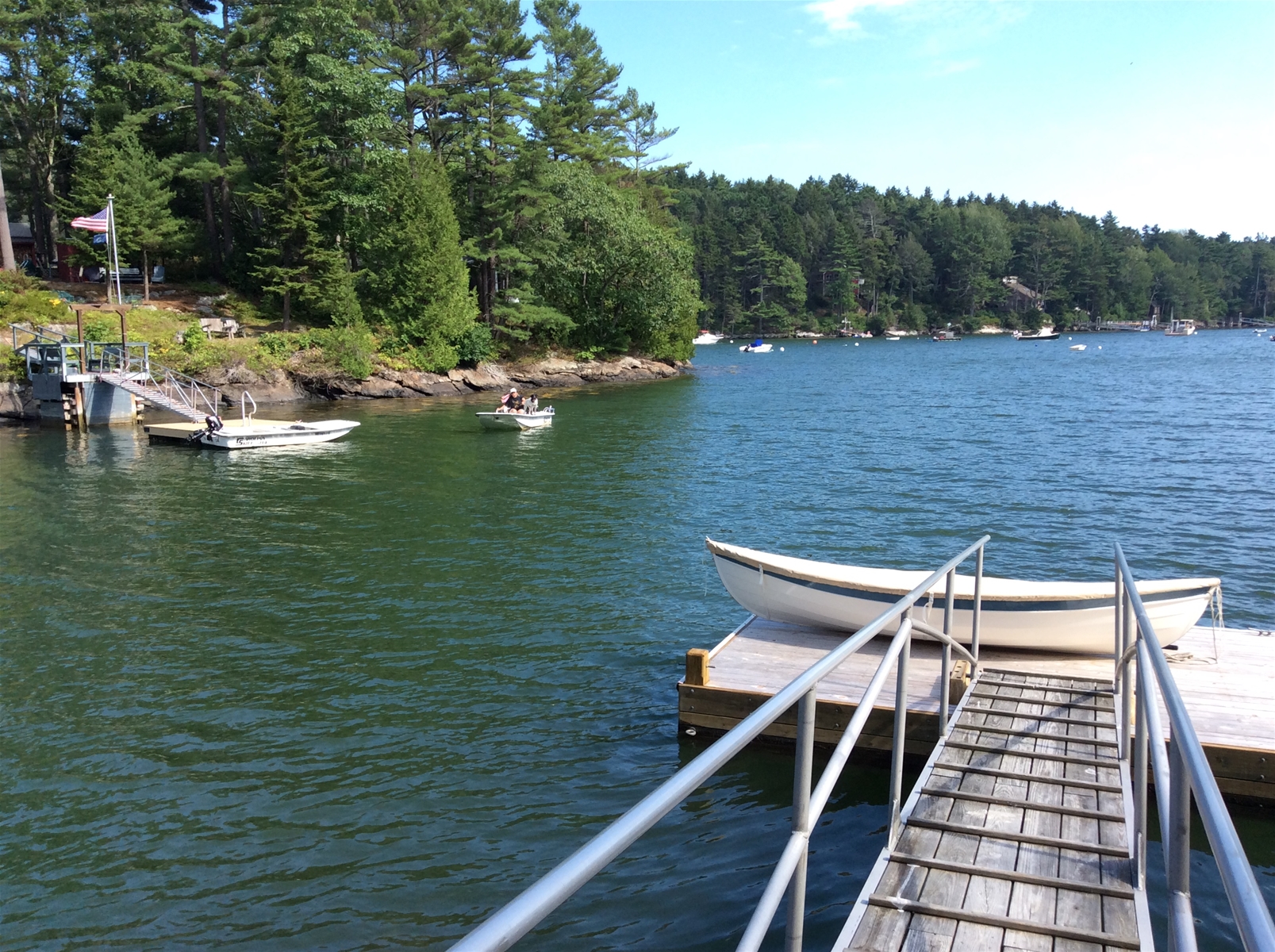 Details
BOATS INCLUDED?
No. For kayak rentals, contact
Sea Spray Kayak Rentals
; they deliver! Smaller boats are permissable at this dock, but at low tide the dock is in mud.
Property Specifics:
Linens & Bath Towels:
Yes, one set of bed linens and one bath towel set for each guest are included (beds are made up prior to guest arrival)
Cleaning:
The property will be professionally cleaned before and after the rental. Above normal cleaning charges will be billed to guest at current hourly rate
Washer & Dryer:
Yes, stackable on lower level
Dishwasher:
No
Water Source:
Tap water, OK for drinking
Usable Fireplace:
No
Outdoor Firepit:
No, but you can have a fire on the shoreline rocks
Internet Access:
Yes, high-speed Wi-Fi
Air Conditioning:
Yes! Mini split air conditioners located on the lower level and main level
Heat Source:
Mini splits on the lower level and main level
TV:
1 SmartTV on lower level with basic cable
Coffee Maker:
K-cup Keurig
Grill:
Propane Grill
Trash Removal:
Included with rental
Closest Shopping Village:
Bath - 6 miles or Brunswick - 10 miles
Number of Restaurants within 15 Miles:
35+
Water Frontage:
Yes, rocky ledges surrounding the peninsula as well as dock access
Fresh Seafood:
Winnegance Store is a short drive from the house and has amazing fresh seafood, basic groceries, and delicious food.
Beach Access:
No, Popham Beach is 12 miles away
Dock/Pier Access:
Yes, new dock float as of 2019. Possible to dock smaller skiffs or whalers, but the dock is in mud at low tide (the tide comes in and out quickly - within 2 hours usually). Best for kayaking, SUP, or fishing of the dock.
Property Good For Fisherman:
Yes, great striper fishing off the dock.
Additional Amenities:
Minimum Standards List
Exploring Area
Map
Calendar
Mar - 2023
S
M
T
W
T
F
S

1

2

3

4

5

6

7

8

9

10

11

12

13

14

15

16

17

18

19

20

21

22

23

24

25

26

27

28

29

30

31
Apr - 2023
S
M
T
W
T
F
S

1

2

3

4

5

6

7

8

9

10

11

12

13

14

15

16

17

18

19

20

21

22

23

24

25

26

27

28

29

30
May - 2023
S
M
T
W
T
F
S

1

2

3

4

5

6

7

8

9

10

11

12

13

14

15

16

17

18

19

20

21

22

23

24

25

26

27

28

29

30

31
Jun - 2023
S
M
T
W
T
F
S

1

2

3

4

5

6

7

8

9

10

11

12

13

14

15

16

17

18

19

20

21

22

23

24

25

26

27

28

29

30
Jul - 2023
S
M
T
W
T
F
S

1

2

3

4

5

6

7

8

9

10

11

12

13

14

15

16

17

18

19

20

21

22

23

24

25

26

27

28

29

30

31
Aug - 2023
S
M
T
W
T
F
S

1

2

3

4

5

6

7

8

9

10

11

12

13

14

15

16

17

18

19

20

21

22

23

24

25

26

27

28

29

30

31
Sep - 2023
S
M
T
W
T
F
S

1

2

3

4

5

6

7

8

9

10

11

12

13

14

15

16

17

18

19

20

21

22

23

24

25

26

27

28

29

30
Oct - 2023
S
M
T
W
T
F
S

1

2

3

4

5

6

7

8

9

10

11

12

13

14

15

16

17

18

19

20

21

22

23

24

25

26

27

28

29

30

31
Reviews
Write a Review
Property Manager
Property
Property Manager
Great customer service! Answered all of my questions immediately and always very friendly.
Property
Amazing views, lots of yard space, wonderful water access.
Property Manager
Great team to work with. Kind ,respond quickly to any question.
Property
Property was so inviting,relaxing..... Beautiful home! Love all the details.....
Property Manager
Team was great. Easy to reach, responsive and professional. Couldn't be easier, the on the water staff even called to let us know we could come earlier since the cleaning crew was running early.
Property
Very Quiet area lots of birds and striper fishing off the dock. Close to awesome beaches
Property Manager
Very smooth process
Property
We absolutely loved the house and property. The area was super quiet and secluded perfect for decompressing from very busy lives.
Property Manager
Everything was done in a timely manner via email or phone calls. No complaints!
Property
Our stay was very relaxing and everyone's favorite feature was the dock. We lived down there when we were at the house.
Property Manager
It was wonderful!
Property
The house decorations and the dock were my favorite features
Disclosures
Smoking Is Not Permitted
anywhere on or inside of any of our rental properties nor are those who may partake in tobacco smoking allowed to occupy any of our properties.
Occupancy
may not exceed what is posted for each home. Maximum occupancy could include infants and children.
Amenities offered through On the Water in Maine Inc. are not available at all the properties we offer for rent. Boat Rentals through Maine Watercraft Rentals Inc. are offered Sunday morning to Friday after 4pm and include free delivery to the property. Check with an agent to find out what boats are available to rent at this property, or, when you process the booking here online, only the boats available for the property will be listed as available to rent.
Please see our
Rental Guidelines
Page for further questions regarding how to book this property and additional charges and fees. Contact a reservation agent for more details or to ensure you are booking the right property for you.
This home is on a peninsula with water surrounding the home and some steeper ledges. We do not recommend this home as suitable for children under 12 years old. The home is accessible via a private bridge.
Similar Properties
Starting at (USD)
$157.00 Starting at (USD)
$200.00 Starting at (USD)
$158.00 Starting at (USD)
$235.00 Starting at (USD)
$229.00 Starting at (USD)
$393.00