Sleeping Arrangement
Property Info
THIS PROPERTY ONLY RENTS ON A SATURDAY TO SATURDAY SCHEDULE - 7 NIGHT MINIMUM REQUIRED

ROOM LAYOUT:
Main Level: Kitchen, Dining Area, Living Room, King Bedroom, 2 Bedrooms each with Two Twin Beds, King Bedroom, Twin Bedroom, Shared Stall Shower Bathroom, 2 Shared Tub-Shower Bathrooms, Deck. All Bedrooms have direct Deck access.
Lower Level: Recreation Room with Ping Pong Table, Laundry, Patio
DOGS PERMITTED? No, Dogs dogs are NOT permitted at this property.
Camden is a sought after vacation destination for thousands of vacationers every summer. With the open ocean views of Penobscot Bay, the private sandy beach, a large house and close proximity to the village, there is no better place to enjoy the entire splendor of Mid-coast Maine than On The Rocks.

Upon entry in to the house, the simple kitchen presents everything you need to cook most any meal. Off one end of the kitchen there is a bedroom with 1 twin bed connecting to a bath. The other end of the kitchen opens to the main living area with comfortable seating, a dining table and chairs and floor to ceiling windows displaying panoramic views of Penobscot Bay and Shermans Point. Additionally, a wood burning fireplace is present for a cooler summer evening. The deck off the living room is the favorite spot of any guest with several chairs and a birds eye view of the water and yard.

The property was built in the 1940s and remains relatively unchanged. This is the perfect property for family and friends looking to get away together and enjoy the area and each other in a stunning ocean side Maine setting. Please note there are no blinds on the bedroom windows. This hasn't been an issue for the generations of people who have rented this home over the past 50 years - but since some have been surprised by not seeing them - we like to disclose that information.

BEACH CLASSIFICATION: We have categorized this property as having or being near a sandy beach. More specifically for this property - there is pea-sized / pebbly beach about 100 feet long at the property. While it is not an actual fine sandy beach - it is great for kids and that is why we have classified it as being on a sandy beach.


Details
BOATS INCLUDED? None, however SUP & Kayak Rentals are available from Maine Sport, 10 minutes South in Rockport and Ducktrap Kayaks will deliver as well to this property.
LINENS & TOWELS: The rental of this property includes all bed linens and towels. Beds will be made up upon arrival and there will be one bath towel and wash cloth per listed occupancy, two hand towels per bathroom, one bath mat per full bathroom, and two kitchen towels in the kitchen. Additional bath towels can be rented.

SECURITY DEPOSIT: No, the owner of this property does not require a security deposit, however, guests are still financially responsible for non-accidental damages at the property.

OFF-SEASON PRICING: In order to make some of our larger properties more attractive to smaller groups in the Off-Season, we've created a Custom Pricing Option. Pricing for rentals that occur in the advertised Off Season (1/1/21-6/12/21 and 9/11/21-12/31/21) for this property are based on 4 people. Additional people, up to the maximum allowed for the property, will be charged an additional $175 per person - per week if a rental occurs in these time-periods. Guest must select this option during the reservation process.

PROPERTY SPECIFICS
Cleaning: The property will be professionally cleaned before and after the rental with the cleaning fee. Above normal cleaning charges will be billed to guest at $35 per hour.
Air Conditioning: No - but fans are located in each bedroom
Heat Source: Electric Heaters
Washer & Dryer: Yes
Dishwasher: Yes
Coffee Maker: Yes, Standard automatic drip with filters and Keurig machine
Grill: Propane Gas Grill
Usable Fireplace: Yes, some wood available on property
Outdoor Firepit: No, Beach fires below the high tide line are possible
Trash Removal Service : Included with rental
Water Source : Well water, OK to drink from the tap
Internet Access: Yes, with Wi-Fi
TV: TV with DVD for movie watching only. No cable/satellite/antenna service
Closest Shopping Village: Camden, 1.8 Miles away
Number of Restaurants within 5 Miles: 30 Plus
Water Frontage: Yes
Beach Access: Yes, sandy, pebbly and rocky shoreline
Dock/Pier Access: Yes, there is a dock at the property that is good for launching kayaks. This dock is NOT suitable for power or sailboats.
Additional Amenities: Minimum Standards List
NAUTICAL CHART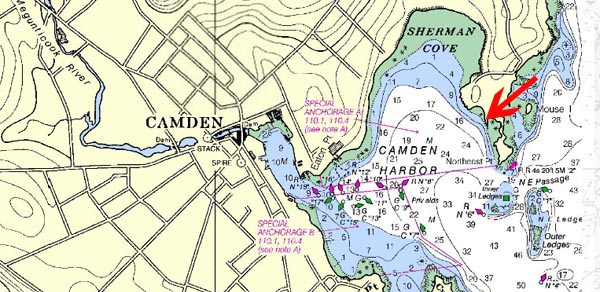 Exploring Area
Map
Calendar
Oct - 2021
S
M
T
W
T
F
S

1

2

3

4

5

6

7

8

9

10

11

12

13

14

15

16

17

18

19

20

21

22

23

24

25

26

27

28

29

30

31
Nov - 2021
S
M
T
W
T
F
S

1

2

3

4

5

6

7

8

9

10

11

12

13

14

15

16

17

18

19

20

21

22

23

24

25

26

27

28

29

30
Dec - 2021
S
M
T
W
T
F
S

1

2

3

4

5

6

7

8

9

10

11

12

13

14

15

16

17

18

19

20

21

22

23

24

25

26

27

28

29

30

31
Jan - 2022
S
M
T
W
T
F
S

1

2

3

4

5

6

7

8

9

10

11

12

13

14

15

16

17

18

19

20

21

22

23

24

25

26

27

28

29

30

31
Feb - 2022
S
M
T
W
T
F
S

1

2

3

4

5

6

7

8

9

10

11

12

13

14

15

16

17

18

19

20

21

22

23

24

25

26

27

28
Mar - 2022
S
M
T
W
T
F
S

1

2

3

4

5

6

7

8

9

10

11

12

13

14

15

16

17

18

19

20

21

22

23

24

25

26

27

28

29

30

31
Apr - 2022
S
M
T
W
T
F
S

1

2

3

4

5

6

7

8

9

10

11

12

13

14

15

16

17

18

19

20

21

22

23

24

25

26

27

28

29

30
May - 2022
S
M
T
W
T
F
S

1

2

3

4

5

6

7

8

9

10

11

12

13

14

15

16

17

18

19

20

21

22

23

24

25

26

27

28

29

30

31
Jun - 2022
S
M
T
W
T
F
S

1

2

3

4

5

6

7

8

9

10

11

12

13

14

15

16

17

18

19

20

21

22

23

24

25

26

27

28

29

30
Jul - 2022
S
M
T
W
T
F
S

1

2

3

4

5

6

7

8

9

10

11

12

13

14

15

16

17

18

19

20

21

22

23

24

25

26

27

28

29

30

31
Aug - 2022
S
M
T
W
T
F
S

1

2

3

4

5

6

7

8

9

10

11

12

13

14

15

16

17

18

19

20

21

22

23

24

25

26

27

28

29

30

31
Sep - 2022
S
M
T
W
T
F
S

1

2

3

4

5

6

7

8

9

10

11

12

13

14

15

16

17

18

19

20

21

22

23

24

25

26

27

28

29

30
Reviews
Write a Review
Property Manager
Everyone I worked with was professional, prompt and saw to all Of our needs. Great experience.
Property
What an honor it was to stay in such a unique home. We felt like guests of the family as we enjoyed their fantastic home, family photos, the best summer home library and the panoramic views from every window at all hours of day and night.
Property Manager
All encounters were great! We didn't need anything while we were in the rental, but all phone conversations up to that point were professional and prompt.
Property
This home was FANTASTIC! Location, location, location. Windows. Windows. Windows. View. View. View. Enough said.
Property Manager
Everyone was responsive and knowledgeable. We loved the views and privateness of this property. We loved the small town of Camden.
Property Manager
The team was excellent. The agency was excellent. I booked from the UK having found you on a google search so had literally no recommendation to go on and had no idea if you were any good or not. It quickly became apparent that you were very good! The location of On the Rocks was unbeatable. The views were amazing. We also liked the fact that whilst the house was amazing it didn't feel too precious and we couldn't relax and enjoy it. Ideal for us!
Property
Property Manager
Property
Property Manager
Responsive to our requests
Property
Beautiful site at the mouth of the Camden Maine harbor.
Property Manager
Property
Property Manager
A wonderful experience all around!
Property
The property was the perfect location in Camden and we felt very lucky to be staying in such a unique home. The house has panoramic ocean views and has a very cozy living room with a large fireplace. We loved having our own private beach to launch kayaks and build fires in the evening.
Property Manager
What a responsive team with a great attention to detail. All the people we dealt with were friendly, courteous and worked together like a well-oiled machine.
Property
The 180 degree view from this property is stunning... the rocky coast harbor view that we all drive to Maine for was ours to enjoy from one of many vantage points the property offered. The beach, one of the several decks, the dock, the yards. Wonderful. The unique home design provided my husband and I and our adult children all having a bedroom with a semi-private patio and a door to the outside. The fishing was great. We caught many mackerel and a striper from the dock. The place does need a lot of updating and better seating. We had a great time.
Property Manager
Except for one early phone call, all was transacted by email. That all worked well. Informational, timely updates. Easy to share info with our other guests.
Property
"On the Rocks" is spectacular, including the fabulous views from large windows in almost every room and very comfortable sleeping accommodations, four of rooms having their own doors and deck access. The quiet wooded location was perfect, and close to town so quite convenient. The home's architecture, history, and family lore provided lots of interest value for all five of us. The very basic kitchen and baths need some updating, but the rest more than made up for it. Not for those who can't handle sets of three stair steps.
Property Manager
Everyone at On the Water is super attentive and lovely.
Property
The view from On the Rocks is unparalleled. We also spend a lot of time sitting on the dock, enjoying the sway of the ocean, the breeze, and watching the cormorants dive for fish.
Property Manager
It was very simple to contact On the Water in Maine agency, and when no one could be reached, we left a message and a return call was made almost immediately. Thx!!
Property
Love the 'quirck-i-ness' about the place! Two kitchen sinks for prep are a real plus in seafood boils. Bedrooms off the main part of house are quiet & is a plus. Love the old photos & trying to piece together the original 'family' story...would love to know about all of them! Decor was attractive in living space & bdrms. View off deck & from all rooms is splendid. When looking for a place for our family we look for plenty of seating in living area, which this place had; also need sufficient beds, which we also had.
Property Manager
This is the second time I have used On the Water in Maine and both times have been totally satisfied. You are very organized and professional.
Property
I can't say enough about the property On the Rocks. It had breathtaking views and was such a peaceful place to stay. I loved that the house has remained the same with the interior. My mom who passed away three years a go would have loved this home. I felt such at peace in this home that I can't explain. I will definitely be renting this home again.
Property Manager
Smooth operation. Very thorough.
Property
Views are fantastic. "Beach" very nice for just sitting and also searching for seaglass.
Property Manager
Property
Property Manager
Property
Property Manager
Ben at On the Water in Maine was responsive, kind, and informative, as was Justin. You made every aspect of the rental experience clear, easy, professional, and with excellent care of us as guests. We cannot thank you enough!!!! We loved the Serenity, Peace, Beauty, Privacy, and Grace in Abundance in every aspect of the setting, the home, the layout of the home, and the furnishings. Elegant, but welcoming and informal, all at the same time. Proximity to Camden town made walking to town an easy and fun reality.
Property
Thank you for your generosity of spirit and trust, to allow us the incredible joy os sharing your most precious sanctuary of peace and beauty. The family photos of all generations felt like very special additions, to be able to see the loyalty and love of family over the years. Every single member of our extended family felt honored and joyful to be experiencing the multitude of pleasures your home and setting afford, inside and outside. Our exuberant adult children swam and swam every day, many times, with gratitude! THANK YOU.
Disclosures
Smoking Is Not Permitted anywhere on or inside of any of our rental properties nor are those who may partake in tobacco smoking allowed to occupy any of our properties.

Occupancy may not exceed what is posted for each home. Maximum occupancy could include infants and children.

Amenities offered through On the Water in Maine Inc. are not available at all the properties we offer for rent. Boat Rentals through Maine Watercraft Rentals Inc. are offered Sunday morning to Friday after 4pm and include free delivery to the property. Check with an agent to find out what boats are available to rent at this property, or, when you process the booking here online, only the boats available for the property will be listed as available to rent.

Please see our Rental Guidelines Page for further questions regarding how to book this property and additional charges and fees. Contact a reservation agent for more details or to ensure you are booking the right property for you.
Town Info - Camden & Rockport
Well-loved by visitors and residents alike, the towns of Camden and Rockport were one until 1890. Even though governed separately today, they are essentially the same town combined with village centers a mile apart. The mountains tumble down to meet the ocean's edge, creating some of the best views and hiking opportunities in the state.
| | |
| --- | --- |
| Shopping | In Camden Village |
| Restaurants | Over 30 Restaurants in both towns combined, several recent James Beard Award winners |
| Golf Course | Goose River & Samoset Resort courses in Rockport |
| Airport | Knox County Regional (RKD) 20 minutes, Portland (PWM) 1.5 hrs, Bangor (BGR) 1 hour, Boston (BOS) 3 Hours, Manchester NH (MHT) 3 Hours |
| Groceries | French & Brawn, Megunicook Market, and Hannaford in Camden |
Learn More