| | |
| --- | --- |
| Guests | 6 |
| Bedrooms | 3 |
| Bathrooms | 2.5 |
| Allows Pets | No |
Property Info
THIS PROPERTY ONLY RENTS ON A FRIDAY TO FRIDAY SCHEDULE - 7 NIGHT MINIMUM REQUIRED
ROOM LAYOUT:
1st Floor- Kitchen, Dining Area, Sitting Room, Living Room, Half bathroom with laundry
2nd Floor- Queen Bedroom with en suite shower stall bathroom, 2 bedrooms with 2 twin beds in each, Full bathroom with tub-shower
3rd Floor- Loft play area

DOGS PERMITTED? Sorry, Dogs are NOT permitted at this property.
Warning: Once you come vacation on Vinalhaven Island, you will become addicted and want to come back every year!

This beautiful waterfront house is located on the island of Vinalhaven in Penobscot Bay. Maines most populated island, despite being a 90 minute car ferry ride from Rockland, is not too far from the rest of the world. It is just far enough away to enter another world and have a unique Maine experience. The island has a small village with restaurants and a grocery store. The majority of people on the island are either seasonal visitors like you, or year-round residents making their living as lobster fisherman, carpenters, artists or supporting the small community.

Arey Cove Farmhouse is a 19th century home located a short distance from the town beach. It features over an acre of mowed grassy yard and several hundred feet of waterfront with great water views. The home belongs to a family that started out vacationing on Vinalhaven themselves and fell in love with the island. They are now sharing their vacation home with others to enjoy. This is a perfect property for kayaking from. In a secluded cove, there is lots to explore. There are two fresh water swimming quarries and several beaches scattered about the island to explore and swim at.

Please note that because this property is located on an island that is difficult to access, if there are problems at the house, such as an appliance stops working or internet/phone goes down - it can take much longer than normal to resolve these issues. Guests renting this property will need more patience than normal in the event of any issues.
THINGS TO DO NEAR PROPERTY: Click HERE to see the Vinalhaven Chamber of Commerce Website.
Nautical Chart
The red star and arrow indicate this Property location on a nautical chart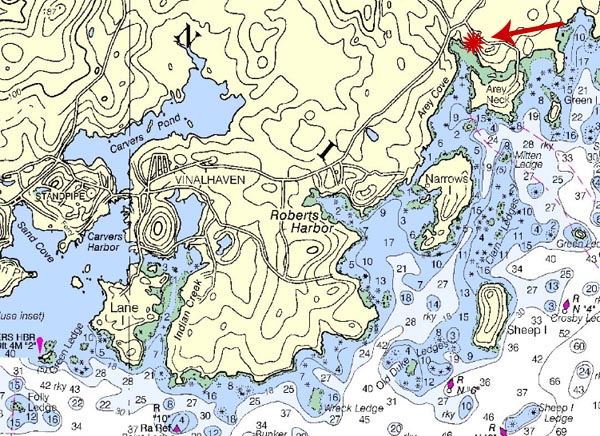 Details
OWNER BOATS INCLUDED?: No. However, the Tidewater Motel does offer kayak and canoe rentals for $25 per day (and old-fashioned single speed bikes for $15 per day). And they deliver! Guests who plan to bring their own kayaks over to the island will need to car-top or tow boats to the island - this property is great to kayak from.
CLEANING FEE: Not required

SECURITY DEPOSIT: Not required, accidental damages are covered under the Damage Waiver Plan included with rental of the cottage

Property Details:
Linens & Bath Towels: Yes, one set of bed linens and one bath towel set for each guest are included (beds are made up prior to guest arrival).
Cleaning: The property will be professionally cleaned before and after the rental. Above normal cleaning charges will be billed to guest at $35 per hour.
Air Conditioning: No - but fans are located in each bedroom
Heat Source: Furnace
Washer & Dryer: Yes
Dishwasher: Yes
Coffee Maker: Yes, Standard automatic drip with filters
Trash Removal Service : Guest must take trash to refuse location
Water Source : Well water, OK to drink from the tap
Fireplace Usable : No
Internet Access: Yes, with DSL Wi-Fi
TV: No Television
Grill Charcoal - bring your own briquettes
Outdoor Fire pit: No
Closest Shopping Village: Carvers Harbor, 2.5 Miles away
Number of Restaurants within 5 Miles: 4
Water Frontage: Directly on Arey Cove
Property Good For Fisherman: No
Beach Access: Rocky with tidal waterfront - Sandy Beach 1/4 mile away
Dock/Pier Access: No Dock or Pier at property
Swimming Quarry: Booths Quarry 9/10th`s mile away (Clothing optional quarry a little further)
Additional Amenities: Minimum Standards List
Exploring Area
Google Map
Calendar
Feb - 2018
S
M
T
W
T
F
S

1

2

3

4

5

6

7

8

9

10

11

12

13

14

15

16

17

18

19

20

21

22

23

24

25

26

27

28
Mar - 2018
S
M
T
W
T
F
S

1

2

3

4

5

6

7

8

9

10

11

12

13

14

15

16

17

18

19

20

21

22

23

24

25

26

27

28

29

30

31
Apr - 2018
S
M
T
W
T
F
S

1

2

3

4

5

6

7

8

9

10

11

12

13

14

15

16

17

18

19

20

21

22

23

24

25

26

27

28

29

30
May - 2018
S
M
T
W
T
F
S

1

2

3

4

5

6

7

8

9

10

11

12

13

14

15

16

17

18

19

20

21

22

23

24

25

26

27

28

29

30

31
Jun - 2018
S
M
T
W
T
F
S

1

2

3

4

5

6

7

8

9

10

11

12

13

14

15

16

17

18

19

20

21

22

23

24

25

26

27

28

29

30
Jul - 2018
S
M
T
W
T
F
S

1

2

3

4

5

6

7

8

9

10

11

12

13

14

15

16

17

18

19

20

21

22

23

24

25

26

27

28

29

30

31
Aug - 2018
S
M
T
W
T
F
S

1

2

3

4

5

6

7

8

9

10

11

12

13

14

15

16

17

18

19

20

21

22

23

24

25

26

27

28

29

30

31
Sep - 2018
S
M
T
W
T
F
S

1

2

3

4

5

6

7

8

9

10

11

12

13

14

15

16

17

18

19

20

21

22

23

24

25

26

27

28

29

30
Reviews
Write a Review
Property Manager
Property
Property Manager
On the Water in Maine was always quick to answer any questions related to our stay. We found the whole experience easy!
Property
I've been hesitant to reply with comments regarding our stay at Arey Cove Farmhouse for fear that this gem of a property will be discovered and booked for eternity! The Arey Cove Farmhouse has been lovingly restored and is absolutely charming perched atop a hill overlooking the serene Arey Cove. We have daughters,age 9, who found limitless activities at and around the house. Favorites included: pogo sticking down the hill, biking to the nearby beach, exploring, playing ping pong, four-square and basketball in the red barn, playing in the upstairs loft, and reading. Nearby hikes, and daily trips to the ice cream shop were equally as exciting. We could have stayed forever. Sincere thanks to the owners of the Arey Cove Farmhouse for opening up their home for all to enjoy.
Property Manager
Property
Property Manager
Every time I contacted On the Water in Maine the staff was courteous and quick to respond. Emails were usually answered the same day. Both calls we placed to On the Water in Maine during our vacation were received pleasantly and all questions were answered without hesitation. On the very first day of our vacation the doorknob on the main outside door broke off and the company sent a repair man out to fix it the very next day.
Property
The property was great. It had everything we needed for an enjoyable stay - good quality cooking equipment, random supplies that we forgot (like tupperware containers and paper towels) and even a lot of toys for our 3-year-old to play with! The location couldn't have been better and the view was spectacular.
Property Manager
Property
Property Manager
Property
We loved our time at the Arey Cove Farmhouse. It is a beautiful spot. We will definitely return again. The place has been restored lovingly and attentively. There wasn't anything we'd change. Spacious, comfortable, charming. We will definitely rent it again. The location is spectacular. Great for kayaking and watching the tide roll in and out. Vinalhaven is a special place. We loved swimming in the quarry nearby. There's plenty of hiking to do, and a beach just down the road. We loved this property!
Property Manager
Property
Property Manager
Property
Disclosures
Smoking Is Not Permitted anywhere on or inside of any of our rental properties nor are those who may partake in tobacco smoking allowed to occupy any of our properties.

Occupancy may not exceed what is posted for each home. Maximum occupancy could include infants and children.

Amenities offered through On the Water in Maine Inc. are not available at all the properties we offer for rent. Boat Rentals through Maine Watercraft Rentals Inc. are offered Sunday morning to Friday after 4pm and include free delivery to the property. Check with an agent to find out what boats are available to rent at this property, or, when you process the booking here online, only the boats available for the property will be listed as available to rent.

Please see our Rental Guidelines Page for further questions regarding how to book this property and additional charges and fees. Contact a reservation agent for more details or to ensure you are booking the right property for you.