Sleeping Arrangement
Bedroom 1- Main Level Master
1 Queen
Bedroom 2- Upstairs Master
1 King
Bedroom 3- 2nd Floor
1 King
Bedroom 4- 2nd Floor
1 Double / Full, 1 Twin
Bedroom 5- 2nd Floor
1 Queen
Property Info
THIS PROPERTY ONLY RENTS ON A FRIDAY TO FRIDAY SCHEDULE - 7 NIGHT MINIMUM REQUIRED
ROOM LAYOUT:
1st Floor -
Kitchen with breakfast nook and laundry, Dining room, Living Room, Family room, Queen Bedroom with en suite-shared tub-shower bathroom, Sun porch, Deck
2nd Floor -
King bedroom with en suite shower bath, King bedroom (not pictured), Queen bedroom, Bedroom with Full bed and 1 Twin (not pictured), Bedroom with 2 Twins, Shared shower bathroom, Kids play area, Reading area
DOGS PERMITTED?
Sorry, Dogs are NOT permitted at this property.
This grand oceanfront home overlooking the Atlantic ocean and Higgins Beach is located on the 400 acre Sprague Family property founded in 1920 by Phineas Warren Sprague, who made his money in coal and oil. The land remains in the Sprague family for preservation purposes and to benefit the family. With miles of carriage and walking trails as well as 2 beaches, a horse farm, and incredible views, there is much to explore on the parts of the property open to guests. Many of the various homes on the property are still owned by Phineas' descendants, and most are used as summer vacation homes.

Just a short 15 minute drive from the bustling City of Portland, you will find yourself winding down a road surrounded by fields and instantly feel at peace. Arriving at this nicely updated oceanfront house you will be greeted by panoramic views, quality furnishings and a fantastic spot for a large family get-away. The large house boasts enough space to sleep 12 people. Enjoy the screened sun room, the large deck or head out on your bike or by foot to see some of the picturesque private beaches on the property after exploring the carriage trails.

Entering the house, you'll find spacious rooms with high ceilings and large windows letting in plenty of natural light. This property is a perfect destination for those looking to get away. It is also a great property for biking, walking, and swimming or for card games at night with family and friends after long fun days in the sun and at the beach. However,if you want to experience Maine's largest city, you can be down in the Old Port of Portland shopping, dining, or bar hopping within 15 minutes.

BEACH CLASSIFICATION: We have categorized this property as having or being near a sandy beach. More specifically for this property - there is a sandy beach in a where the Spurwink River meets the ocean a 5 minute walk away, and another amazing private beach, Strawberry Beach about a 5 minute drive away while still staying on the Sprague Property. You can access the rocky waterfront directly in front of the house via stairs but there is not an actual usable sandy beach directly in front of the cottage. The nearby beaches are great for kids and that is why we have classified it as being on or in this case - "near" a sandy beach.
Details
OFF-SEASON PRICING:
In order to make some of our larger properties more attractive to smaller groups in the Off-Season, we've created a Custom Pricing Option. Pricing for rentals that occur in the advertised Off Season (1/1/19-6/15/19 and 9/7/19-12/31/19) for this property are based on 4 people. Additional people, up to the maximum allowed for the property, will be charged an additional $175 per person - per week if a rental occurs in these time-periods. Guest must select this option during the reservation process.
SECURITY DEPOSIT:
Yes, a $250 Refundable Security Deposit is required for all transactions. The security deposit is due 60 Days prior to arrival and refunded within 30 days of departure. Please note the Instant Quote price
does not
include the security deposit cost. It will be added after booking.
Property Specifics:
Cleaning:
The property will be professionally cleaned before and after the rental with the cleaning fee. Above normal cleaning charges will be billed to guest at $35 per hour.
Linens & Bath Towels:
Yes, one set of bed linens and one bath towel set for each guest are included (beds are made up prior to guest arrival)
Washer & Dryer:
Yes
Dishwasher:
Yes
Coffee Maker:
Yes, Standard automatic drip with filters
Grill:
Propane Gas Grill
Air Conditioning:
No, however there are fans in every bedroom
Central Heat Source:
Yes, Furnace
Usable Fireplace:
No
Outdoor Firepit:
No
Trash Removal Service :
Included with rental
Water Source :
Well water, OK to drink
Internet Access:
Yes, with Wi-Fi
TV:
Yes, TV with
Blu-Ray player with media apps
, No cable/satellite/antenna service
Closest Shopping Village:
South Portland-Scarborough, 7.5 Miles away
Number of Restaurants within 10 Miles:
100+
Water Frontage:
Directly on the Atlantic Ocean
Beach Access:
Yes, 2 private sandy beaches on the Sprague Property, read more in the beach classification for the property
Dock/Pier Access:
None
Additional Amenities:
Minimum Standards List
Floor Plan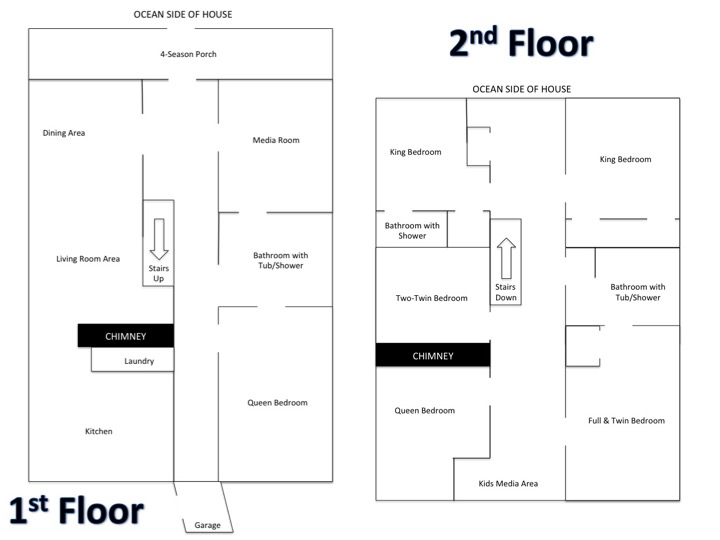 Exploring Area
Google Map
Calendar
Oct - 2019
S
M
T
W
T
F
S

1

2

3

4

5

6

7

8

9

10

11

12

13

14

15

16

17

18

19

20

21

22

23

24

25

26

27

28

29

30

31
Nov - 2019
S
M
T
W
T
F
S

1

2

3

4

5

6

7

8

9

10

11

12

13

14

15

16

17

18

19

20

21

22

23

24

25

26

27

28

29

30
Dec - 2019
S
M
T
W
T
F
S

1

2

3

4

5

6

7

8

9

10

11

12

13

14

15

16

17

18

19

20

21

22

23

24

25

26

27

28

29

30

31
Jan - 2020
S
M
T
W
T
F
S

1

2

3

4

5

6

7

8

9

10

11

12

13

14

15

16

17

18

19

20

21

22

23

24

25

26

27

28

29

30

31
Feb - 2020
S
M
T
W
T
F
S

1

2

3

4

5

6

7

8

9

10

11

12

13

14

15

16

17

18

19

20

21

22

23

24

25

26

27

28

29
Mar - 2020
S
M
T
W
T
F
S

1

2

3

4

5

6

7

8

9

10

11

12

13

14

15

16

17

18

19

20

21

22

23

24

25

26

27

28

29

30

31
Apr - 2020
S
M
T
W
T
F
S

1

2

3

4

5

6

7

8

9

10

11

12

13

14

15

16

17

18

19

20

21

22

23

24

25

26

27

28

29

30
May - 2020
S
M
T
W
T
F
S

1

2

3

4

5

6

7

8

9

10

11

12

13

14

15

16

17

18

19

20

21

22

23

24

25

26

27

28

29

30

31
Reviews
Write a Review
Property Manager
The reservation, contract, and check-in/check-out processes were very efficient. Location was fabulous. House was very roomy and well-appointed. Beautiful property right on ocean, large home great yard.
Property
Property Manager
Property
Property Manager
It was all positive - and even better on our second stay
Property
The house is beautiful and the views spectacular. Furnishings done with exquisite taste.
Property Manager
Your agency feels like you're family, from the very first time I called you five years ago, you have been nothing but accommodating, caring and friendly. I don't think I could deal with anyone else.
Property
Rosemoor,specifically,and the Sprague property generally, are the most fabulous locations in Maine. The friendliness of people on the property, the beauty of the surroundings, the beaches and, Oh, the house at Rosemoor - perfect location, perfect amenities, down to the library of books, the bountiful supply of kitchen needs, the comfort of the beds and couches - it's all breathtaking.
Property Manager
Staff was helpful, friendly, knowledgeable and competent. They communicated frequently and kept us informed.
Property
A large, charming 6 bedroom house with spectacular views of the ocean. The house was comfortable and welcoming, and met the needs of our 9-10 member family. The favorite spot was the house-wide porch overlooking the ocean where everyone gathered many times a day. Sunset was a favorite time. We enjoyed the various dining spaces that met our large family's needs for breakfast, lunch or dinner, as well as the nicely furnished kitchen. The ocean breezes provided the air-conditioning, but we did use the fans provided from time to time. Some minor problems were corrected promptly by the caretaker.
Property Manager
Your agency is absolutely top-notch. I always feel like the person answering the phone remembers me and would rather do nothing else than meet our family's needs. What a perfect combination of professionalism and warmth. Everyone I've ever spoken with at On the Water in Maine has been 100 per cent competent.
Property
Where do I begin? We thought Blueberry Hill was always our favorite house, but now it's unanimous: Rosemoor is perfect in every way! Such a well-stocked kitchen, such a gorgeous view, such cozy rooms , perfect access to one of the most beautiful rocky ledges. We always love walking to the river where the kids can explore and - at low tide- learn to paddle board.Whenever we happen to run into someone on the property, they are always friendly and make us feel like we're part of the family.
Property Manager
We were extremely pleased with our interactions with the staff at On the Water, they were so helpful, accessible and pleasant. They went above and beyond our expectations to meet a request of ours during our stay. Your staff did assist us with an unusual request - a member of the family has a bad back and found the soft mattresses difficult to sleep on. A member of your team rented a firm mattress and had it delivered within the same day. We were thoroughly impressed and thankful. The excellent customer service will definitely lead us to renting from On the Water again in the future!
Property
We thoroughly enjoyed our stay at Rosemoor, the house was spacious, comfortable and perfectly situated overlooking breathtaking water views.
Property Manager
The folks at On the Water in Maine were friendly, informative and thorough. It was a very pleasant experience.
Property
Rosemoor was beautiful and comfortable. The setting was stunning with breathtaking views. The area was great for walking and biking with little traffic and great scenery.
Property Manager
Very helpful staff, always available for inquiries.
Property
Beautiful house, very spacious and nicely renovated, wonderful setting. Very quiet and peaceful.
Property Manager
Property
Disclosures
Smoking Is Not Permitted anywhere on or inside of any of our rental properties nor are those who may partake in tobacco smoking allowed to occupy any of our properties.

Occupancy may not exceed what is posted for each home. Maximum occupancy could include infants and children.

Amenities offered through On the Water in Maine Inc. are not available at all the properties we offer for rent. Boat Rentals through Maine Watercraft Rentals Inc. are offered Sunday morning to Friday after 4pm and include free delivery to the property. Check with an agent to find out what boats are available to rent at this property, or, when you process the booking here online, only the boats available for the property will be listed as available to rent.

Please see our Rental Guidelines Page for further questions regarding how to book this property and additional charges and fees. Contact a reservation agent for more details or to ensure you are booking the right property for you.
Town Info - Casco Bay & Portland
Situated on the southern coast of Maine, the Greater Portland area is a hub of arts, entertainment and dining. With a natural deepwater harbor in Casco Bay that doesnt freeze, the port of Portland is also a destination for over 50 cruise ships every year between June and November.
Learn More
Similar Properties
Starting at (USD)
$343.00 Starting at (USD)
$215.00 Starting at (USD)
$272.00 Starting at (USD)
$500.00 Starting at (USD)
$358.00