Sleeping Arrangement
Bedroom 1- Main Level
1 Queen
Bedroom 2- Upstairs
1 Queen
Bedroom 3- Upstairs
2 Twins
Property Info
THIS PROPERTY ONLY RENTS ON A FRIDAY TO FRIDAY SCHEDULE - 7 NIGHT MINIMUM REQUIRED

**New for 2023- two new bathrooms, new kitchen flooring and countertops!!

ROOM LAYOUT:
1st Floor- Kitchen with dining area, Sitting room, Queen bedroom with en suite shower bath, Deck
2nd Floor- Living Room with 40" flat screen cable TV, Queen bedroom, Bedroom with 2 twin beds, Shared tub/shower bathroom Finished Basement- Family room, Laundry, Screened porch, large TV with no cable hook-up for movie watching

DOGS PERMITTED? Smaller non-shedding dogs are considered at this property. All dogs must first meet our Pet Guidelines before being considered. OA

Located on Owls Head Harbor, this thoughtfully constructed home overlooks some of the best views in the Midcoast. The Mussel Ridge Channel passes right in front of the house, which is a major traffic lane for boats, allowing ample opportunities to watch various maritime activities.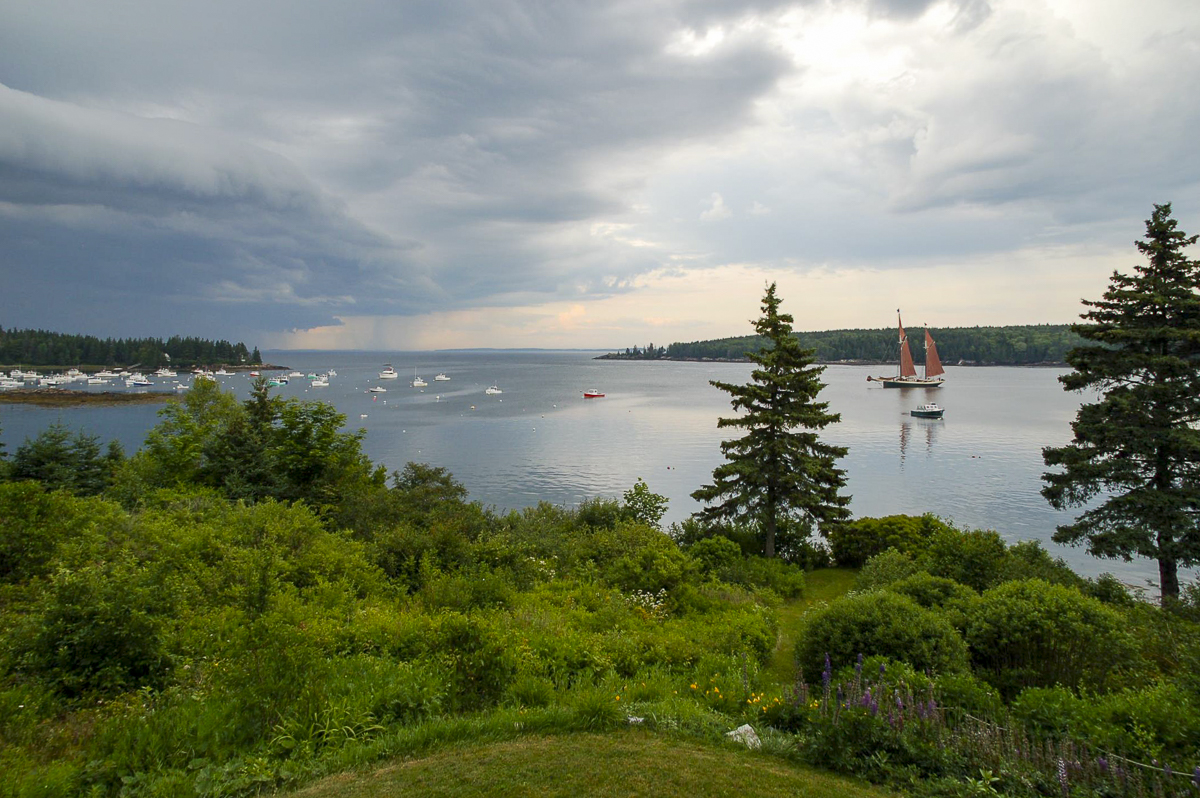 Beautiful views from the property.

Access to the water is down a short mowed path. The water access is rocky, but okay for launching kayaks. Designed and built with renting in mind, this house has many wonderful features for the vacationer. Almost all of the rooms in the house have water views and enjoy fresh, comfortable furnishings and decor. Enjoy sitting outside on the deck or in the screened porch or on a chilly night sit by the fireplace.

BEACH CLASSIFICATION: We have categorized this property as having or being near a sandy beach. More specifically for this property - it is a short 5 minute drive to three great area beaches. The closest is Crescent Beach, but also Birch Point Beach State Park and Crocketts Beach are other public beaches within 5 minutes of the property. You can walk a 1/2 mile to Owls Head State Park Lighthouse where there are some small beaches as well. There is not an actual usable sandy beach at this property, but the nearby beaches are great for kids and that is why we have classified it as being on or in this case - "near" sandy beaches.
NEED EXTRA ROOM?
Just a short distance away, is a quaint comfortable guest suite, which can accommodate another couple (2 guests), while remaining close to the rest of the group. Click
HERE
to visit the Owls Head Guest Suite property page.
Details
BOATS INCLUDED? None, however SUP & Kayak Rentals are available in Port Clyde at Port Clyde Kayaks 20 minutes south, or from Maine Sport, 20 minutes north in Rockport. Both deliver to the property. Sometimes, if the order is big, Ducktrap Kayaks will deliver as well to this property.
LINENS & TOWELS: The rental of this property includes all bed linens and towels. Beds will be made up upon arrival and there will be one bath towel and wash cloth per listed occupancy, two hand towels per bathroom, one bath mat per full bathroom, and two kitchen towels in the kitchen. Additional bath towels can be rented.

SECURITY DEPOSIT: No, the owner of this property does not require a security deposit, however, guests are still financially responsible for non-accidental damages at the property.

Property Specifics:
Cleaning: The property will be professionally cleaned before and after the rental. Above normal cleaning charges will be billed to guest at the current hourly rate.
Washer & Dryer: Yes
Dishwasher: Yes
Coffee Maker: Yes, Standard automatic drip with filters
Trash Removal Service : Included with rental
Water Source : Well water
Air Conditioning: Yes - AC throughout the home by mini-split wall-mounted units
Heat Source: Furnace
Fireplace Usable : Yes - Guests must supply firewood, which can be purchased in bundles locally
Outdoor Fire pit: Yes - Guests must supply firewood, which can be purchased in bundles locally
Internet Access: Wi-Fi Cable Broadband through Time-Warner Cable
TV: 2 Televisions with DVD and basic cable service, Living room TV has streaming Netflix access. Guests must supply account info
Grill: Propane Gas Grill
Closest Shopping Village: Rockland – 4.7 miles away
Number of Restaurants within 5 Miles: 20 plus
Water Frontage: Yes
Beach Access: Yes (rocky shore)
Dock/Pier Access: No
Property Good For Fisherman: No
Additional Amenities: Minimum Standards List
Exploring Area
Map
Calendar
Sep - 2023
S
M
T
W
T
F
S

1

2

3

4

5

6

7

8

9

10

11

12

13

14

15

16

17

18

19

20

21

22

23

24

25

26

27

28

29

30
Oct - 2023
S
M
T
W
T
F
S

1

2

3

4

5

6

7

8

9

10

11

12

13

14

15

16

17

18

19

20

21

22

23

24

25

26

27

28

29

30

31
Nov - 2023
S
M
T
W
T
F
S

1

2

3

4

5

6

7

8

9

10

11

12

13

14

15

16

17

18

19

20

21

22

23

24

25

26

27

28

29

30
Dec - 2023
S
M
T
W
T
F
S

1

2

3

4

5

6

7

8

9

10

11

12

13

14

15

16

17

18

19

20

21

22

23

24

25

26

27

28

29

30

31
Jan - 2024
S
M
T
W
T
F
S

1

2

3

4

5

6

7

8

9

10

11

12

13

14

15

16

17

18

19

20

21

22

23

24

25

26

27

28

29

30

31
Feb - 2024
S
M
T
W
T
F
S

1

2

3

4

5

6

7

8

9

10

11

12

13

14

15

16

17

18

19

20

21

22

23

24

25

26

27

28

29
Mar - 2024
S
M
T
W
T
F
S

1

2

3

4

5

6

7

8

9

10

11

12

13

14

15

16

17

18

19

20

21

22

23

24

25

26

27

28

29

30

31
Apr - 2024
S
M
T
W
T
F
S

1

2

3

4

5

6

7

8

9

10

11

12

13

14

15

16

17

18

19

20

21

22

23

24

25

26

27

28

29

30
Reviews
Page: 1 of 2 Write a Review

Property Manager

The whole process, from November booking to final checkout, works like a charm!

Property

Since this is our 9th stay at Juniper Bank, we obviously like the property ALOT! Its best feature is its location: not only literally on the water but also ideally positioned for day trips from Boothbay to Belfast.

Property Manager

We have been renting vacation properties with OTWIM for many years. All of our dealings with the staff at OTWIM have been prompt & professional.

Property

This is one of our favorite properties. Beautiful cottage in a picture perfect setting. We love the layout of the cottage & the privacy of the different levels overlooking the ocean views & and access to the shoreline.

Property Manager

I have worked with OTWIM for many years and have been completely satisfied with their service from beginning to end.

Property

This was our 4th year at Juniper Banks-we absolutely love the set up of the cottage, the location, the view & the convenience of traveling Mid-Coast Maine. We have vacationed in the Mid-Coast for over 20 years. We are Maine born & raised, have traveled extensively-but this our favorite place to vacation.

Property Manager

Property

Property Manager

The rental experience through on the Water in Maine was excellent. This was our fourth time renting through OWM and we will certainly utilize your services again. The process is smooth and simple and the communication from OWM is excellent.

Property

This was our third time renting Juniper Bank. The location of the property is excellent and you can't beat the view!

Property Manager

Property

Property Manager

Everything went smoothly and on time. The staff was courteous and helpful.

Property

The home was clean and well furnished. Spectacular view. quiet, great area and close to everything. We have stayed in Owl's Head before, so we knew the area. But still enjoy the great people at The Black Harpoon in Port Clyde and the Atlantic Baking Co. and Rockland Cafe in Rockland.

Property Manager

Tiffany and her daughter came over to help out with the heating situation and were very responsive and helpful (and her daughter was quite entertaining!). The staff in the main office were also very helpful. I feel very confident in the property when renting from On the Water in Maine. Everything is spelled out clearly and if there are problems the agency is very responsive. We did have trouble with the instructions to get in the house and believe that we had the same problem two years ago.

Property

Property Manager

Property

Property Manager

Meg and team were great and very responsive as usual. On the Water in Maine is a great agency.

Property

Spectacular views,great location. View from the deck is one of the best we've had in many years of renting on the mid-coast. House itself is a bit odd, with shared bathrooms and uncomfortable seating throughout. Overall, a wonderful spot that we'd consider renting again.

Property Manager

Dear Meg and Tiffany, My family and I would like to again express our sincere appreciation for your efforts to go above and beyond in helping us to settle into Juniper Bank for a lovely vacation stay. Joan Juniper Bank's peaceful natural setting and spectacular views served as inspiration for the artists among us. With glorious sunrises over the bay, lobster boats heading out to service their traps, and schooners sailing in to anchor for the night - Juniper Bank provides the perfect opportunity to relax amidst the best of coastal Maine

Property

Property Manager

Everyone was great! I worked with Meg mainly and she is a delight. Thank you for helping us find a reliable dog sitter and with our transition to the second home go smoothly and allowing us to have a late check-out and early check-in. And, thank you Tiffany for delivering items that we shipped to the office. Staff is five star!

Property

Property Manager

Property

Property Manager

As always, we enjoyed working with Tiffany and everybody at On the Water in Maine.

Property

The house and garden are beautiful. We loved the fireplace and the big table in the living room (big enough to hold large board games).

Property Manager

Property

Property Manager

Their instructions prior to arrival were very complete and helpful. They tried to be very responsive to problems we encountered.

Property

Like the view and the location on the water and near the General Store.

Property Manager

Very efficient.timely and thorough!

Property

We loved the view and proximity ( walking distance) to the lobster docks and the General Store in Owls Head. We like the layout of the house with the two bedrooms and bath and a sitting room upstairs in addition to the downstairs area.We would love to see a bigger more comfortable sofa in the downstairs living room area and the removal of the very large coffee table as it makes it more difficult to enjoy sitting in that area. We love the beautiful antiques and coziness of the property.

Property Manager

Working with OTWIM continues to be a breeze because every detail of the rental process has been so thoroughly developed and shared with the renter.

Property

This is our 4th stay at Juniper Bank, so obviously we really love this property and it's location. We love the view, especially from the upstairs living room, and look forward each morning to the departing lobsterman in their boats.

Property Manager

Well run organization with absolutely no hitches.

Property

Just spectacular views,and the firepit is a nice addition since we last visited.

Property Manager

The staff is always courteous and responsive. The property is well managed, well kept and updates are made every year. They listen to their guests and do an outstanding job of attending to their needs. Renting through them is efficient, informative and highly organized. They have an outstanding website that is easy to navigate and contains all the information needed to decide on a property to rent.

Property

We return to Juniper Bank year after year because the house is large, comfortable and is equipped with all the necessities of modern living. The view of the water, islands and Owls Head harbor is our favorite feature of the house. It is also convenient to Rockland and all the boating, entertainment, restaurants, art galleries, walking trails, etc. the area has to offer.

Property Manager

I have been renting properties in Mid Coast Maine for many years through On The Water in Maine. This is a top shelf operation with wonderful rental properties and staff. The check in and check out are quick and easy and they provide great directions to the rental property. Thanks for a seamless vacation.

Property

Juniper Banks is a beautiful property with great landscaping, flower gardens and a well built fire pit with plenty of deck and outside seating. There is a mowed path with a rope guide going down to the water where the children searched for sea glass and rocks. It is close to Rockland and numerous restaurants as well as a short walk to the Owls Head Store and Owls Head Light House which we hiked in the early morning with not another person in sight. The living accommodations were spacious and homey with 3 levels,2 separate living rooms, a well equipped kitchen and ocean views from all floors and 2 of the 3 bedrooms. We look forward to returning next year.

Property Manager

Small company that remembers people from previous stays.

Property

Great house. This was our 2nd visit and we enjoyed it very much. The netflix was a great thing to have. We would be back again next year, but my wife is a painter and has painted out all the vew from this property. I would recomend this house to anyone.

Property Manager

Working with OTWIM continues to be a no-lose experience because of how well the whole process, from e-checks to check-in, has been perfected.

Property

We love the view out over the water to Monroe Island, whether from the deck or the upstairs living room and bedroom. Believe it or not, we enjoy hearing the lobster boats moving out, beginning about 4:45 a.m.! Besides being well-appointed, Juniper Bank is ideally situated for many day trips in the mid-coast region. These are the features we like best about the property.

Property Manager

Property

This property is ideal for sunrise. There are unobstructed views of the sun from the deck with a beautiful pink and orange sky. The property is quite large, with three living spaces (one on each floor), three bedrooms, two bathrooms and a good size kitchen. The kitchen is also well equipped with little gadgets not found at some other properties. The lawn isn't so idea for sunbathing or running around as it is for meandering, it's quite sloped and the large side is out front. The flowers are lovely though and the fire pit is nice. The house floor plan is a bit odd, with lots of doors since you go around and around in a circle on both floors. The disorientation fades though. I imagine they will work on the sulphur taste of the water, but if not bottled is suggested. Also the yard doesn't have lounge chairs so bringing those would be suggested.

Property Manager

Could not have been a more seamless, professional, and overall positive experience.

Property

Location, location, location. Owls Head is ideally situated to enjoy both the qualities of the waterfront its mesmerizing maritime activity and exquisite natural scenery and the convenience of proximity to Rockland, with its wonderful restaurants and museums.
Disclosures
Smoking Is Not Permitted anywhere on or inside of any of our rental properties nor are those who may partake in tobacco smoking allowed to occupy any of our properties.

Occupancy may not exceed what is posted for each home. Maximum occupancy could include infants and children.

Amenities offered through On the Water in Maine Inc. are not available at all the properties we offer for rent. Boat Rentals through Maine Watercraft Rentals Inc. are offered Sunday morning to Friday after 4pm and include free delivery to the property. Check with an agent to find out what boats are available to rent at this property, or, when you process the booking here online, only the boats available for the property will be listed as available to rent.

Please see our Rental Guidelines Page for further questions regarding how to book this property and additional charges and fees. Contact a reservation agent for more details or to ensure you are booking the right property for you.
Town Info - Owls Head / Rockland / South Thomaston
Still rooted in its historic past, Rockland's downtown is a designated National Historic District, with vivid examples of Italianate, Greek Revival, and Colonial architecture. Here you'll find a small city experiencing a renaissance, anchored by the first-class Farnsworth Art Museum and the Wyeth Center. Home to a substantial collection of Wyeth family artworks, the Farnsworth is one of the finest regional art museums in the country, with a spec...
Learn More