Sleeping Arrangement
Bedroom 1- Main Level
1 Queen
Bedroom 2- Upstairs
1 Queen
Bedroom 3- Upstairs
2 Twins
Property Info
THIS PROPERTY ONLY RENTS ON A FRIDAY TO FRIDAY SCHEDULE - 7 NIGHT MINIMUM REQUIRED

**New for 2023- two new bathrooms, new kitchen flooring and countertops!!

ROOM LAYOUT:
1st Floor- Kitchen with dining area, Sitting room, Queen bedroom with en suite shower bath, Deck
2nd Floor- Living Room with 40" flat screen cable TV, Queen bedroom, Bedroom with 2 twin beds, Shared tub/shower bathroom Finished Basement- Family room, Laundry, Screened porch, large TV with no cable hook-up for movie watching

DOGS PERMITTED? Smaller non-shedding dogs are considered at this property. All dogs must first meet our Pet Guidelines before being considered. OA

Located on Owls Head Harbor, this thoughtfully constructed home overlooks some of the best views in the Midcoast. The Mussel Ridge Channel passes right in front of the house, which is a major traffic lane for boats, allowing ample opportunities to watch various maritime activities.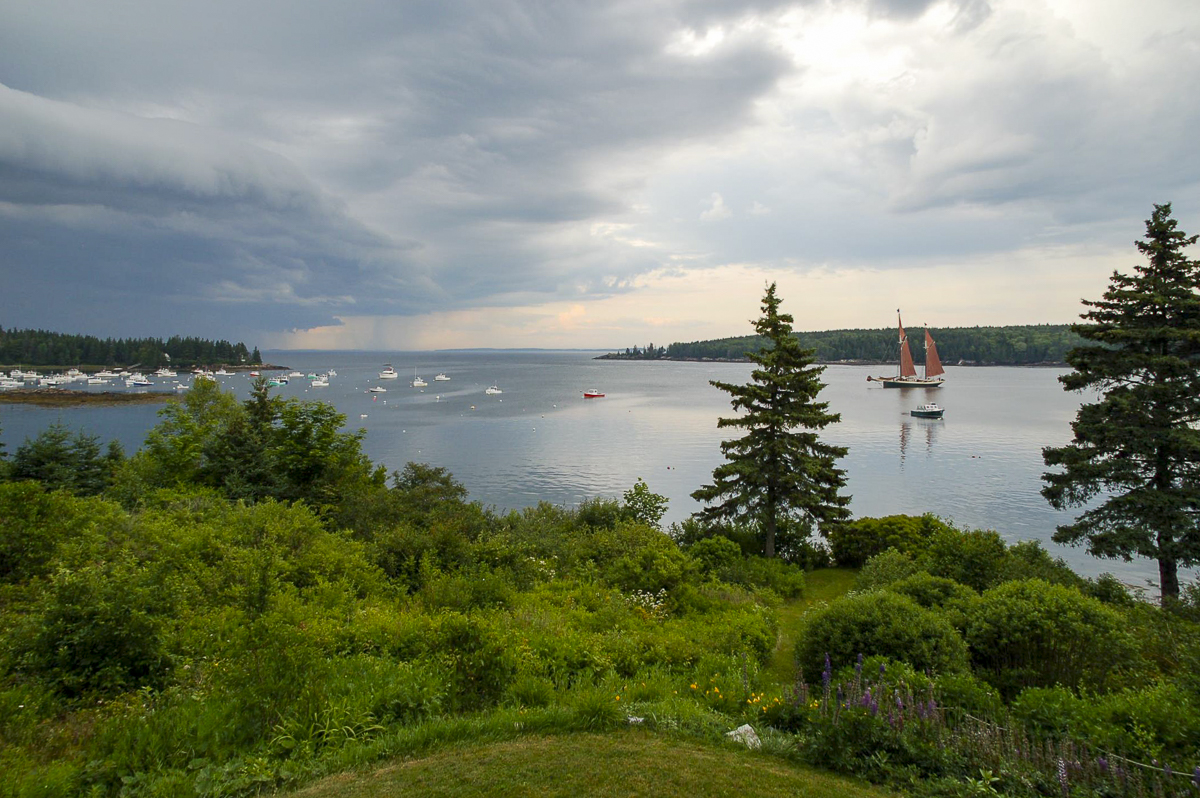 Beautiful views from the property.

Access to the water is down a short mowed path. The water access is rocky, but okay for launching kayaks. Designed and built with renting in mind, this house has many wonderful features for the vacationer. Almost all of the rooms in the house have water views and enjoy fresh, comfortable furnishings and decor. Enjoy sitting outside on the deck or in the screened porch or on a chilly night sit by the fireplace.

BEACH CLASSIFICATION: We have categorized this property as having or being near a sandy beach. More specifically for this property - it is a short 5 minute drive to three great area beaches. The closest is Crescent Beach, but also Birch Point Beach State Park and Crocketts Beach are other public beaches within 5 minutes of the property. You can walk a 1/2 mile to Owls Head State Park Lighthouse where there are some small beaches as well. There is not an actual usable sandy beach at this property, but the nearby beaches are great for kids and that is why we have classified it as being on or in this case - "near" sandy beaches.
NEED EXTRA ROOM?
Just a short distance away, is a quaint comfortable guest suite, which can accommodate another couple (2 guests), while remaining close to the rest of the group. Click
HERE
to visit the Owls Head Guest Suite property page.
Details
BOATS INCLUDED? None, however SUP & Kayak Rentals are available in Port Clyde at Port Clyde Kayaks 20 minutes south, or from Maine Sport, 20 minutes north in Rockport. Both deliver to the property. Sometimes, if the order is big, Ducktrap Kayaks will deliver as well to this property.
LINENS & TOWELS: The rental of this property includes all bed linens and towels. Beds will be made up upon arrival and there will be one bath towel and wash cloth per listed occupancy, two hand towels per bathroom, one bath mat per full bathroom, and two kitchen towels in the kitchen. Additional bath towels can be rented.

SECURITY DEPOSIT: No, the owner of this property does not require a security deposit, however, guests are still financially responsible for non-accidental damages at the property.

Property Specifics:
Cleaning: The property will be professionally cleaned before and after the rental. Above normal cleaning charges will be billed to guest at the current hourly rate.
Washer & Dryer: Yes
Dishwasher: Yes
Coffee Maker: Yes, Standard automatic drip with filters
Trash Removal Service : Included with rental
Water Source : Well water
Air Conditioning: Yes - AC throughout the home by mini-split wall-mounted units
Heat Source: Furnace
Fireplace Usable : Yes - Guests must supply firewood, which can be purchased in bundles locally
Outdoor Fire pit: Yes - Guests must supply firewood, which can be purchased in bundles locally
Internet Access: Wi-Fi Cable Broadband through Time-Warner Cable
TV: 2 Televisions with DVD and basic cable service, Living room TV has streaming Netflix access. Guests must supply account info
Grill: Propane Gas Grill
Closest Shopping Village: Rockland – 4.7 miles away
Number of Restaurants within 5 Miles: 20 plus
Water Frontage: Yes
Beach Access: Yes (rocky shore)
Dock/Pier Access: No
Property Good For Fisherman: No
Additional Amenities: Minimum Standards List
Exploring Area
Map
Calendar
Jun - 2023
S
M
T
W
T
F
S

1

2

3

4

5

6

7

8

9

10

11

12

13

14

15

16

17

18

19

20

21

22

23

24

25

26

27

28

29

30
Jul - 2023
S
M
T
W
T
F
S

1

2

3

4

5

6

7

8

9

10

11

12

13

14

15

16

17

18

19

20

21

22

23

24

25

26

27

28

29

30

31
Aug - 2023
S
M
T
W
T
F
S

1

2

3

4

5

6

7

8

9

10

11

12

13

14

15

16

17

18

19

20

21

22

23

24

25

26

27

28

29

30

31
Sep - 2023
S
M
T
W
T
F
S

1

2

3

4

5

6

7

8

9

10

11

12

13

14

15

16

17

18

19

20

21

22

23

24

25

26

27

28

29

30
Oct - 2023
S
M
T
W
T
F
S

1

2

3

4

5

6

7

8

9

10

11

12

13

14

15

16

17

18

19

20

21

22

23

24

25

26

27

28

29

30

31
Nov - 2023
S
M
T
W
T
F
S

1

2

3

4

5

6

7

8

9

10

11

12

13

14

15

16

17

18

19

20

21

22

23

24

25

26

27

28

29

30
Dec - 2023
S
M
T
W
T
F
S

1

2

3

4

5

6

7

8

9

10

11

12

13

14

15

16

17

18

19

20

21

22

23

24

25

26

27

28

29

30

31
Jan - 2024
S
M
T
W
T
F
S

1

2

3

4

5

6

7

8

9

10

11

12

13

14

15

16

17

18

19

20

21

22

23

24

25

26

27

28

29

30

31
Reviews
Page: 2 of 2 Write a Review

Property Manager

Property

Property Manager

The agency, On the Water in Maine, Inc., was top notch. Communications were excellent, description of the property we rented was accurate. Everything was efficiently handled and left me with no questions to ask or concerns. All interaction was professional and caring.

Property

Juniper Bank was a lovely, well-maintained and furnished home with a pristine view of Penobscot Bay, an island and Owl's Head harbor. Spending time on the deck overlooking all of this was most relaxing and entertaining.

Property Manager

On The Water In Maine has thoroughly task-analyzed the process of dealing with clients electronically. It is a pleasure to work with this agency because everything plays out so seamlessly.

Property

Juniper Bank is a well-appointed property ideally situated on the mid-coast for day trips to nearby towns or for simply enjoying the property's setting. We probably enjoy most, however, the view of the water and the working and the pleasure boats that travel it.

Property Manager

On the Water in Maine is the most customer oriented firm we have ever worked with. They take excellent care of their properties, provide detailed information to tenants and are always available should you have questions or concerns. They make the rental experience easy and enjoyable from start to finish.

Property

Juniper Bank sits high above Owls Head Harbor. It provides beautiful views of Penobscot Bay and the sailboats and lobster boats that pass by. The house is spacious and comfortable and is equipped with all the modern features of a year-round home. It is within easy reach of Rockland and the many things mid-coast Maine has to offer. We love making Juniper Bank our home for a month every summer.

Property Manager

We have rented from your company all 3 of our trips to Maine. Your personalized service ensures that we will use your agency for as next vacation in Mane.

Property

This was an awesome property! We loved the views from the deck as well as the flower gardens! The house was perfect in every way!

Property Manager

Agency, 'On The Water' was very professional and easily available if needed.

Property

We totally enjoyed Juniper Bank! We had not stayed in this area of Maine before and we loved it's quiet and private location. House was very comfortable and had everything one would need, so well equipped, neat, clean, spacious and organized. we enjoyed gorgeous sunrises in the morning and had most of our meals at the table and chairs on the back deck overlooking the beautiful water and it was very private!

Property Manager

On the Water in Maine was a pleasure to deal with. They were informative and professional. They were quick to take care of any issues we had while we were there for the week.

Property

Juniper Bank is a wonderful home to spend some time in. The views of the water are amazing! Every morning my sister and I got up early to watch the sunrise over the water. Just spectacular! The house is spacious and its really nice to have several living areas to enjoy. The kitchen is very well stocked and everything you need for cooking meals is there. The house is located in a quiet residential area and we enjoyed the peace and quiet of the area.

Property Manager

Working with OTWIM is so easy because every facet of the rental process has been well thought out. Necessary information is shared to renters in timely emails, so that the renter really knows at all times what needs to be done and when.

Property

The view from the house is fantastic, whether sitting on the deck or reading from the upstairs living room or waking up to the sunrise in the bedroom.

Property Manager

On the Water in Maine, Inc. makes every step effortless for the renter. Everyone I have worked with is thorough, knowledgeable and polite. The level of detail and transparency that this company provides is really appreciated, there are never any surprises when you get to your vacation property.

Property

This property was beautiful inside and out. The house was airy and bright with beautiful views of the water and the extensive gardens.

Property Manager

On the Water in Maine is never a disappointment. The description of the cottages have always been accurate and up to date.

Property

House was lovely, well appointed and very clean. We did rent kayaks from On the Water in Maine and they delivered them to the house. It was a hike to put the kayaks in the water, but we found ourselves only heading to the water at high tide - which was fine. Carrying a kayak over the rocks can be dicey when the tides are lower.

Property Manager

Always professional. I left some of my clothes at an Inn on the way to Maine. They shipped them to On the Water in Maine and they brought the package to me when it arrived.

Property

Our 3rd stay at Juniper Bank - We love the view!

Property Manager

On the Water in Maine was very easy and pleasant to work with. They were attentive to our needs, responded immediately to questions and kept us informed via email of severe weather alerts as well as traffic issues. The process they use for checking in and out is convenient and hassle free. They had regular email contact with us in the time preceding the rental and provided detailed information on the house and how to make the most of our stay. They are a very professional group that takes its mission seriously in providing quality properties and excellent customer service.

Property

Juniper Bank is located in the heart of Owls Head for ultimate convenience to the mid-coast region and beyond. It has all the modern conveniences, a beautifully landscaped yard and a gorgeous view of Owls Head harbor and Penobscot Bay from the deck. Having two master suites was a plus for us and for our visitors. The basement recreation room was great for teenagers to have a space of their own. This is a very nice rental property with lots to recommend it.

Property Manager

Excellent in every way! I'd hate to rent from anyone else than On the Water in Maine

Property

We had an absolutely perfect week at Juniper Bank. The lupines were in bloom and every day was clear and sunny. We loved the views from the house - the best of all the rentals we've had - and the easy access to the water was a big plus. We spent hours hunting sea glass as we watched the lobster boats motor to and from Owls Head harbor, just around the bend. The house itself is beautifully decorated and the rooms are bright and sunny. We also enjoyed all of the original artwork on the walls.

Property Manager

Had some difficulty getting in to the place when I arrived as the code I was emailed didn't work. I called On The Water and Justin came out within a few minutes, let us in and changed the code. Turns out there was a mix up and he was professional, apologetic and helpful.

Property

Loved the incredible water views from the living room, downstairs bedroom and upstairs bedroom and living area. Although it was a bit cold outside, we also enjoyed the deck when we could.

Property Manager

Everyone at the On the Water in Maine was very helpful even to explaining Wi-Fi since I'm new at that. And the patience you showed after Mom had a heart attack & we were not sure if we could make it. And it all worked out, thank goodness!

Property

What a lovely summer home! Thank you for sharing! And I loved the finishing touches this year.

Property Manager

On the Water in Maine staff were fast, helpful, efficient, and non-defensive (most important). They seemed to be well-trained and focused on us our enjoying the vacation.

Property

We loved the direct view of the ocean, lobster boats on the little harbor, the sun, sky, clouds. The sunrise over the ocean at 5 AM. The fog obscuring the ocean one morning. The closeness to Rockland. And the house itself was modern, clean, comfortable, and had everything we needed. Maine needs no reason to visit! It is just heaven. I only wish I lived closer!

Property Manager

Property

Property Manager

Property

Property Manager

Property

Property Manager

It was a pleasure to deal with you folks. From the time we booked our reservations in November to our departure, you were responsive, helpful and resourceful(when we had the water issues.) We had a lovely week and thank you for making it such a pleasant experience. We will be in touch next fall! Have a terrific summer!

Property
Disclosures
Smoking Is Not Permitted anywhere on or inside of any of our rental properties nor are those who may partake in tobacco smoking allowed to occupy any of our properties.

Occupancy may not exceed what is posted for each home. Maximum occupancy could include infants and children.

Amenities offered through On the Water in Maine Inc. are not available at all the properties we offer for rent. Boat Rentals through Maine Watercraft Rentals Inc. are offered Sunday morning to Friday after 4pm and include free delivery to the property. Check with an agent to find out what boats are available to rent at this property, or, when you process the booking here online, only the boats available for the property will be listed as available to rent.

Please see our Rental Guidelines Page for further questions regarding how to book this property and additional charges and fees. Contact a reservation agent for more details or to ensure you are booking the right property for you.
Town Info - Owls Head / Rockland / South Thomaston
Still rooted in its historic past, Rockland's downtown is a designated National Historic District, with vivid examples of Italianate, Greek Revival, and Colonial architecture. Here you'll find a small city experiencing a renaissance, anchored by the first-class Farnsworth Art Museum and the Wyeth Center. Home to a substantial collection of Wyeth family artworks, the Farnsworth is one of the finest regional art museums in the country, with a spec...
Learn More