Sleeping Arrangement
Bedroom 3
1 Queen, 2 Twins
Property Info
THIS PROPERTY ONLY RENTS ON A FRIDAY TO FRIDAY SCHEDULE - 7 NIGHT MINIMUM REQUIRED
***New for 2021- AC in two master king rooms and main living room!
ROOM LAYOUT:
1st Floor - 1st Master King Bedroom with en suite tub/shower bathroom and ocean views, Living Room with wood-burning fireplace, Media Room with large flat screen TV, dining room, kitchen, 1/2 Bath, Deck
2nd Floor - 2nd Master King Bedroom with en suite bath including jetted-tub and stall shower, Queen Bedroom with en suite bathroom, (kids room) Queen bedroom including twin trundle pullout twins with flat screen TV and en suite bathroom.
DOGS PERMITTED? Sorry, No Dogs Allowed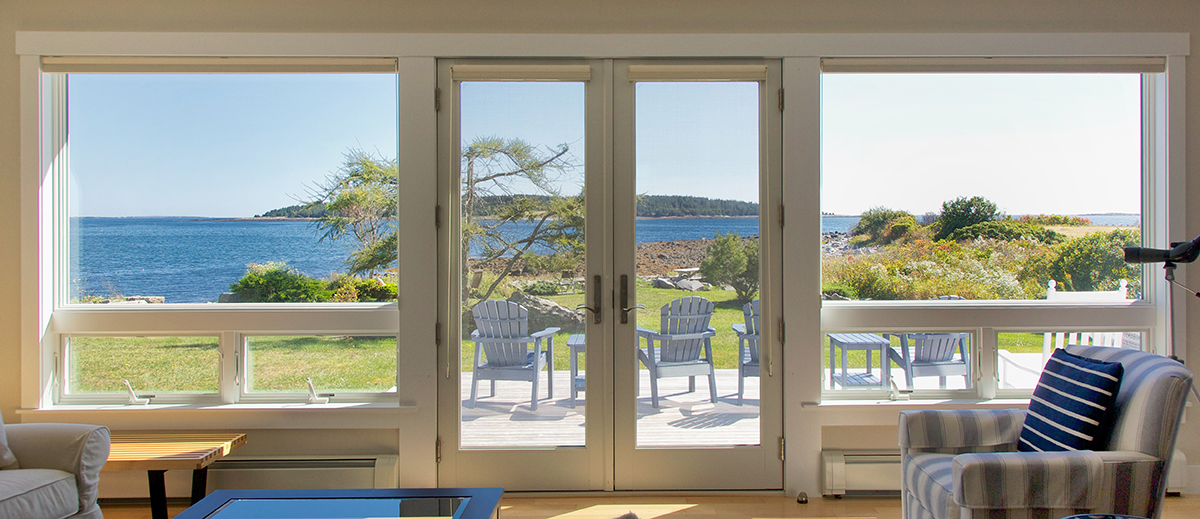 This waterfront home, built in 1995, underwent a major rehab in 2014 and the kitchen in 2020. A 175' long pier leading out to a 60' aluminum ramp landing on a 12' x 24' floating dock was completed then as well. All of the furnishings were new then as are all of the stainless steel kitchen appliances in the gourmet kitchen. Bathrooms were all redone and exceptional attention to detail by the contractors is recognized throughout the house. Most of the furnishings represent the Maine cottage feel. The media room at the rear of the house features a sectional corner couch. The dining table is hand-crafted in PA by an Amish company and comfortably sits 10 people. From the expansive private deck and yard, enjoy the birds, an occasional seal, and other forms of coastal wildlife. Sailboats and lobster boats often go by. A picnic table and wood-burning fire pit are located by the shore. Sit in Adirondack chairs and enjoy the quiet seascape from this elite property.
Details
BOATS INCLUDED? None, however Port Clyde Kayaks, just down the road, offers SUP and Kayak Rentals.
LINENS & TOWELS: The rental of this property includes all bed linens and towels. Beds will be made up upon arrival and there will be one bath towel and wash cloth per listed occupancy, two hand towels per bathroom, one bath mat per full bathroom, and two kitchen towels in the kitchen. Additional bath towels can be rented.

SECURITY DEPOSIT: No, the owner of this property does not require a security deposit, however, guests are still financially responsible for non-accidental damages at the property.

Property Specifics:
Cleaning: The property will be professionally cleaned before and after the rental. Additionally cleaning charges at $35 per hour may apply if the property takes longer to clean than normal after the stay.
Dishwasher: Yes
Coffee Maker: Yes, standard automatic drip with filters. There is also a coffee press.
Washing Machine & Dryer: Yes
Air Conditioning: Yes, AC pumps in downstairs king suite and master king suite upstairs as well as the main living room
Heat Source: Boiler
Usable Fireplace: Yes, wood burning
Outdoor Firepit: Yes, at the edge of the shore
Trash Removal Service : Included with rental
Internet Access: Yes, with Wi-Fi
TV: 3 Televisions with DVD players and basic cable service
Grill: Propane Gas Grill
Closest Shopping Village: Port Clyde, 1 Mile away
Number of Restaurants within 5 Miles: 7
Water Frontage: Directly on the Ocean
Beach Access: Rocky with a sandy beach located 1/2 mile south
Dock/Pier Access: Yes
Mooring: Yes - 2 moorings available: one is for a boat up to 40'
Property Good For Fisherman: Yes
Additional Amenities: Minimum Standards List
Exploring Area
Map
Calendar
Jun - 2021
S
M
T
W
T
F
S

1

2

3

4

5

6

7

8

9

10

11

12

13

14

15

16

17

18

19

20

21

22

23

24

25

26

27

28

29

30
Jul - 2021
S
M
T
W
T
F
S

1

2

3

4

5

6

7

8

9

10

11

12

13

14

15

16

17

18

19

20

21

22

23

24

25

26

27

28

29

30

31
Aug - 2021
S
M
T
W
T
F
S

1

2

3

4

5

6

7

8

9

10

11

12

13

14

15

16

17

18

19

20

21

22

23

24

25

26

27

28

29

30

31
Sep - 2021
S
M
T
W
T
F
S

1

2

3

4

5

6

7

8

9

10

11

12

13

14

15

16

17

18

19

20

21

22

23

24

25

26

27

28

29

30
Oct - 2021
S
M
T
W
T
F
S

1

2

3

4

5

6

7

8

9

10

11

12

13

14

15

16

17

18

19

20

21

22

23

24

25

26

27

28

29

30

31
Nov - 2021
S
M
T
W
T
F
S

1

2

3

4

5

6

7

8

9

10

11

12

13

14

15

16

17

18

19

20

21

22

23

24

25

26

27

28

29

30
Dec - 2021
S
M
T
W
T
F
S

1

2

3

4

5

6

7

8

9

10

11

12

13

14

15

16

17

18

19

20

21

22

23

24

25

26

27

28

29

30

31
Jan - 2022
S
M
T
W
T
F
S

1

2

3

4

5

6

7

8

9

10

11

12

13

14

15

16

17

18

19

20

21

22

23

24

25

26

27

28

29

30

31
Feb - 2022
S
M
T
W
T
F
S

1

2

3

4

5

6

7

8

9

10

11

12

13

14

15

16

17

18

19

20

21

22

23

24

25

26

27

28
Mar - 2022
S
M
T
W
T
F
S

1

2

3

4

5

6

7

8

9

10

11

12

13

14

15

16

17

18

19

20

21

22

23

24

25

26

27

28

29

30

31
Apr - 2022
S
M
T
W
T
F
S

1

2

3

4

5

6

7

8

9

10

11

12

13

14

15

16

17

18

19

20

21

22

23

24

25

26

27

28

29

30
May - 2022
S
M
T
W
T
F
S

1

2

3

4

5

6

7

8

9

10

11

12

13

14

15

16

17

18

19

20

21

22

23

24

25

26

27

28

29

30

31
Reviews
Write a Review
Property Manager
Staff is friendly and helpful, the process from beginning to end is made easy.
Property
Both the house and setting were beautiful - exceeded our expectations.
Property Manager
Very helpful and pleasant. Always picked up the phone when we called. Atlantic Sunrise was spectacularly clean and amazingly well appointed. It had everything we wanted in the kitchen, and we cook a lot, so that is saying something. We are used to traveling with a lot more stuff as we have found other homes are not as well equipped. The firepit was a great way to spend the evenings and it was perfectly perched on the edge of the beach. The dock also provided many hours of enjoyment, so much that my husband went and bought a fishing rod!
Property
Property Manager
We have rented with On the Water in Maine before, and our experience has consistently been great. The house and our interaction with OTWIM has always been superb.
Property
The house and our entire stay was outstanding. The house and entire setup were incredible. We were extremely pleased with our entire experience at the house.
Property Manager
Again, just a pleasure every time. The process is seamless and the staff the best.
Property
Property Manager
Property
Property Manager
Prompt responsive efficient Quickly connected us to the property we were seeking based on need for deep water dock Great follow up Professional to a fault
Property
Stunning , absolutely stunning , location and resulting panoramic view Incredibly organized owners who left nothing to chance and missed nothing Extremely comfortable for family Very clean Good fishing We are vrbo owners down south so are familiar w the owners effort and the dealings between owners and agents OTWIM is off the charts
Property Manager
Justin and his staff at On the Water in Maine were a pleasure to work with. The website was easy to navigate and it provided excellent pictures of the rental home and clearly described the property. All correspondence to reserve the property and the check in/check out information was handled efficiently. The staff was always kind and helpful throughout our stay.
Property
We loved our week at the Atlantic Sunrise. The cottage is beautiful, immaculately maintained, and well stocked with everything you need to feel at home. The view looked like a postcard. We rented a boat for the week and enjoyed making sunset trips to Port Clyde to have dinner. The kids had fun playing in the backyard by day and roasting marshmallows in the fire pit at night. It was an amazing getaway for our family.
Property Manager
You can read my past reviews of OTWM! I'm afraid it's beginning to look like I'm a paid promoter - which, of course, I'm not! I can't say any more than I have in the past about the agency and all the people involved. They are simply the most professional group I have ever dealt with and you will have absolute peace of mind if choose OTWM to assist with your vacation plans. They are honest in their claim of 24/7 attention to any problems that may arise during your stay, they are always friendly, helpful and patient during the rental process and you can trust the description of the properties they offer. Again, this group knows how to make your vacation worry-free. They are a great group of professionals!
Property
We have rented Atlantic Sunrise four times over the past year for a total of 34 days. We enjoyed absolutely each and every day of our stay. As I have noted in past reviews, there is simply nothing that I don't like about this property. The house, the setting, the amenities are all lovely. A wonderful vacation experience.
Property Manager
If you have never worked with a rental agency, you might not fully appreciate the level of professional service you receive at On the Water in Maine. One bad experience with a rental agency can destroy much anticipated vacation plans. And, as I can personally attest, it happens more than you might imagine. You will always have peace of mind with OTWM. The properties are accurately depicted, they are always available to answer any questions you may have about a particular property, are present 24/7 to address any issues that might arise during your stay, and, as always, they are professional, patient and accommodating. As I've said before in other reviews, these people know what they're doing and I can't recommend them highly enough! Plus, everyone is so nice!!
Property
We have rented this property three times since last July with another scheduled visit in August! That says it all! We were so happy the owners graciously shared their beautiful home for another season. The property, the house, the view and, my favorite, the dock, combine to make a wonderful vacation experience. We look forward to our August visit and, hopefully, many more in the future.
Property Manager
As I noted the first time I reviewed the agency, this is a great rental agency! I would not hesitate to recommend them. Consummate professionals. You will not be disappointed with your experience with this group.
Property
This was our second stay at Atlantic Sunrise this season. It's a lovely property with great amenities and we enjoyed this stay even more than the first. Weather was perfect and I got a kick out of the wild turkeys that strolled through once a day!
Property Manager
Very professional staff, answered all my questions patiently and thoroughly. I have already recommended your agency to my friends.
Property
Wonderfully comfortable house rental. Setting has a beautiful view of the water and an island. Furnishings both inside and outside made looking at the sunrise relaxing. Kitchen had every utensil we could have needed and then some. Large kitchen allowed for 3 cooks. Having private baths for each of the bedrooms is hard to find and these bedrooms/bathrooms were awesome!
Property Manager
It was a pleasure to work with On the Water in Maine. They were attentive to every detail and kept us informed throughout the process.
Property
The views from the property were beautiful! The house itself was very comfortable with a keen attention to everything a guest may want. We were very pleased with the fresh and newness to everything, and the space that allowed areas for the group to be together, and special spots for someone to find privacy if wanted.
Property Manager
Property
Property Manager
Property
Property Manager
On the Water in Maine was very well organized, followed up to make sure our needs were met, and made the rental process a breeze.
Property
Wow, I'm not sure where to begin! This home is so lovely, such amazing views, and so well appointed, it has more kitchen gadgets than my own home! Love the fireplace for the chilly rainy day, and the outdoor fire pit for starry nights! The dock was amazing too.
Property Manager
Property
Property Manager
Property
Property Manager
Very personable and professional family run business that made the rental arrangements easy.
Property
Atlantic Sunrise is an top notch,lovely and comfortable home in a setting that takes your breath away from sunrise, high and low tide to stargazing.
Property Manager
On the Water Maine was very helpful in sorting through a few logistical challenges. All staff was very professional and very helpful.
Property
Atlantic Sunrise was well located and very well appointed. We enjoyed our stay very much!
Disclosures
Smoking Is Not Permitted anywhere on or inside of any of our rental properties nor are those who may partake in tobacco smoking allowed to occupy any of our properties.

Occupancy may not exceed what is posted for each home. Maximum occupancy could include infants and children.

Amenities offered through On the Water in Maine Inc. are not available at all the properties we offer for rent. Boat Rentals through Maine Watercraft Rentals Inc. are offered Sunday morning to Friday after 4pm and include free delivery to the property. Check with an agent to find out what boats are available to rent at this property, or, when you process the booking here online, only the boats available for the property will be listed as available to rent.

Please see our Rental Guidelines Page for further questions regarding how to book this property and additional charges and fees. Contact a reservation agent for more details or to ensure you are booking the right property for you.
Town Info - St. George Peninsula (Rackliff Island, Port Clyde, Tenants Harbor)
Primarily a fishing and lobstering community, St. George is made up of several distinct villages Clark Island, Wiley's Corner, Martinsville, Tenants Harbor, and Port Clyde. Although the harbor villages of Tenants Harbor and Port Clyde are the best known (and most visited), you'll find dining facilities, art galleries, and small businesses all along the diverse and beautiful coastal town.
| | |
| --- | --- |
| Shopping | 6 miles |
| Restaurants | 1 mile |
| Golf Course | 8 miles |
| Airport | 4 miles |
| Groceries | 3 miles |
Learn More
Similar Properties
Starting at (USD)
$258.00 Starting at (USD)
$872.00 Starting at (USD)
$215.00 Starting at (USD)
$429.00 Starting at (USD)
$500.00